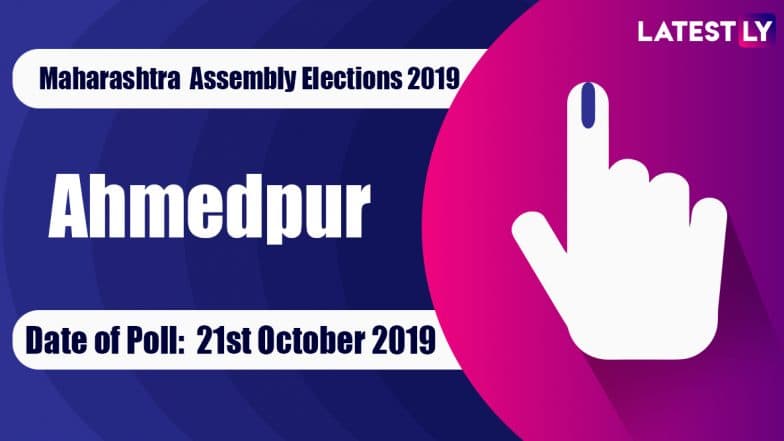 The Ahmadpur  Assembly seat in Maharashtra will go to polls on October 21. The counting of votes for the Ahmadpur  Assembly seat in Maharashtra will take place on Thursday, October 24 and the results would be announced on the same day itself. The sitting MLA from Ahmadpur Assembly seat is Independent Candidate Jadhav Patil Vinayakrao Kishanrao. From the Ahmadpur  Vidhan Sabha Seat, NCP has fielded Babasaheb Mohanrao Patil, BSP has fielded Tigote Balaji Sambhaji and BJP has given the ticket to Jadhav Patil Vinayakrao Kishanrao.
As per the election commission website, the schedule of polls in Maharashtra points that nomination papers for the candidature can be filed till October 4. Following this, the nomination paper would be scrutinised nomination papers on October 5, and the aspiring candidate can withdraw candidature till October 7. The polling will take place on October 21 and Election Commission will count votes on October 24 and announce results on the same day. The new government in Maharashtra should be formed before November 9 because the current assembly expires on that day. Sangamner Vidhan Sabha Constituency in Maharashtra: Sitting MLA, Candidates For Assembly Elections 2019, Results And Winners.
The main contest for the 288-member Maharashtra Assembly is between ruling Bharatiya Janata Party (BJP) -- which has allied with Uddhav Thackeray's Shiv Sena, and Sharad Pawar's Nationalist Congress Party (NCP) which is contesting the elections in alliance with Indian National Congress. In 2014 Maharashtra Assembly Elections, BJP secured 122 seats, while Shiv Sena clinched 63 seats. NCP managed to win 42 seats, and Congress could secure only 41 seats. Both Bahujan Vikas Aaghadi, and Peasants and Workers Party of India won 3 seats. Asaduddin Owaisi's All India Majlis-e-Ittehadul Muslimeen (AIMIM) won 2 seats, while Bharipa Bahujan Mahasangh clinched one seat.
According to the census 2011, Maharashtra's total population was 11.24 crores, which is expected to rise to 12.35 crores in 2019. The population of females in 2011 was 5.41 crores, while the male population was 5.82 crores. Considerably, Maharashtra forms 9.28 percent of India's total percentage. The average literacy rate of the state is 82.34 percent, while the female to male ratio (Census 2011) is 929.