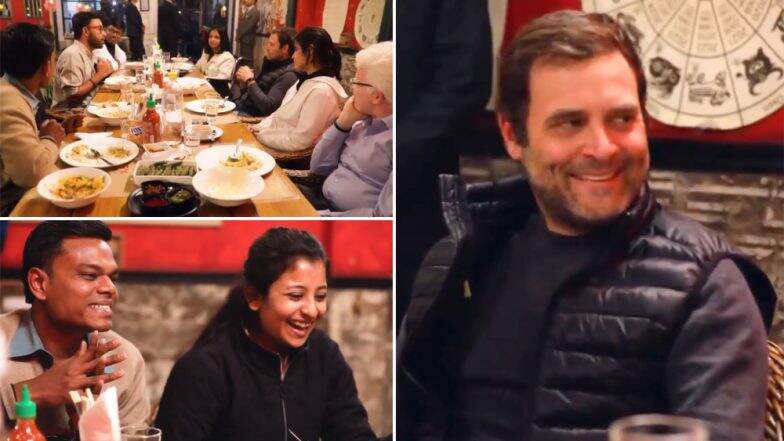 New Delhi, February 6: Congress President Rahul Gandhi recently met with a group of students at a restaurant in Delhi to discuss the issues of the youth ahead of Lok Sabha Elections 2019. The Congress party took to the social media to share a video clip of the interaction as part of the 'Apni Baat Rahul Ke Saath' campaign in the run-up to the elections. The video of the first episode of the series shows some candid conversations between Rahul Gandhi and some select students from different parts of the country.
Among the issues raised during the interaction were the EWS reservation for General category, Dalit issues, concerns of the differently-abled voters and the LGBTQ community. The video also included reactions from the students as to what they felt during their interaction with the Congress President.
Watch: First Episode of 'Apni Baat Rahul Ke Saath'
I met a group of really interesting students from all over India, for dinner a few days ago. I learnt a lot from the wonderful exchange of ideas & perspectives. Here's a short video with the highlights of our interaction.#ApniBaatRahulKeSaath pic.twitter.com/H9pW3t1ur1

— Rahul Gandhi (@RahulGandhi) February 5, 2019
It is being said that Rahul Gandhi is also scheduled to interact with youth icons, social media influencers, and members of the film industry including Swara Bhaskar and Alia Bhatt.
The Congress party's 'Apni Baat Rahul Ke Saath' comes close on the heels of the ruling Bharatiya Janata Party's (BJP) 'Bharat Ke Mann Ki Baat, Modi Ke Saath' and is also being seen as the Opposition party's response to Prime Minister Narendra Modi's 'Mann Ki Baat'. His scheduled interaction with influential personalities is also being said to be in response to BJP's 'Sampark Se Samarthan' campaign as part of which, BJP President Amit Shah recently met celebrities and submitted a summary of the party's work done in the past 4 years.
The BJP has launched its national campaign 'Bharat Ke Mann Ki Baat, Modi Ke Saath', aimed at connecting directly with 100 million people and taking their suggestions to prepare the party manifesto for the upcoming Lok Sabha elections. As the fight for the 2019 elections goes all out on the social media, the Lok Sabha Elections are definitely set to offer some interesting optics.