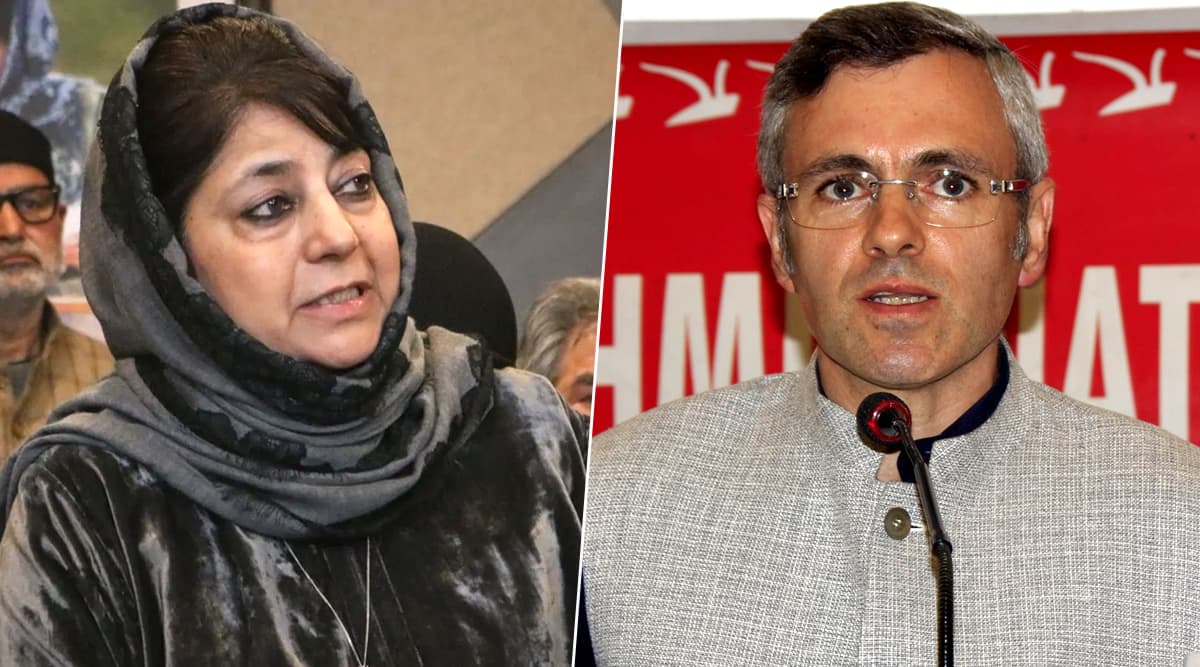 Srinagar, October 21: Detained former Chief Ministers of Jammu and Kashmir are inciting people of the Valley to take up guns, said Bharatiya Janata Party (BJP) general secretary Ram Madhav on Sunday. Ram Madhav did not name anyone but it is a known fact that former Chief Ministers Farooq Abdullah, Omar Abdullah and Mehbooba Mufti have been under detention since August 5 when the Centre revoked the provisions of Article 370 that gave special status to the state. Omar Abdullah Works Out at Gym And Watches Hollywood Movies in Detention, Mehbooba Mufti Confines Herself to Books.
Addressing a convention of the BJP's youth wing at Tagore Hall in Srinagar, Madhav said that detained former Chief Ministers were sending messages - by word of mouth - to the people of the Valley to pick up guns and make sacrifices, Times of India reported. "Nepotism and family rule has been the main reason for violence and, now, the need of the hour is new leadership. BJP is ready to create new leadership. These politicians should first make sacrifices themselves and then ask others to do so," Madhav said.
Ram Madhav Makes Serious Allegation Against Detained Chief Ministers:
#WATCH BJP National General Secretary Ram Madhav at a party event in Srinagar(J&K): Some leaders sitting in jail are sending messages to people, 'pick up gun and sacrifice yourselves'. People of J&K should tell such leaders to come forward & sacrifice themselves first. (20.10.19) pic.twitter.com/SbTVTNoVcK

— ANI (@ANI) October 21, 2019
Omar Abdullah, the vice-president of the National Conference, is detained at the government guesthouse at Hari Niwas Palace in Srinagar, while People's Democratic Party (PDP) chief Mehbooba Mufti is placed under detention at a JKTDC-owned hut at Chashme Shahi. Farooq Abdullah is under house arrest at his Srinagar residence. Silent on Article 370 Repeal, National Conference to Focus on Securing Full Statehood For Jammu and Kashmir.
On Agust 5, the Parliament scrapped the special status of Jammu and Kashmir granted under Article 370 and passed the Jammu and Kashmir Reorganisation Act which bifurcates the state into two union territories - Jammu and Kashmir with a legislature, and Ladakh without one. Several mainstream politicians were detained prior to the unprecedented move.
The BJP leader asserted that if the detention of politicians would help in bringing peace in Jammu and Kashmir then it will be done. "There will now be only two paths for J&K— peace and development and whosoever come in between will be dealt with sternly. If detaining 200-300 people helps maintain peace, then let them stay there for a little longer. Anyone harming peace process in J&K will be jailed. We can detain 300-400 more people for the new system and there are many jails for such people in India," he said.
Madhav dismissed claims that the employment prospects of youths in Jammu and Kashmir would be hampered following the dilution of Article 370. "Some people are talking nonsense about job losses and losing land with the repeal of Article 370. No step will be taken against your interests. Each job in the state will be provided to the youth of the state. I will not hesitate in telling you that the Centre is ready and new jobs and opportunities will be created here. All precautions will be taken so that there is no harm to the identity, culture, jobs, and education of the people of J&K," he was quoted as saying.