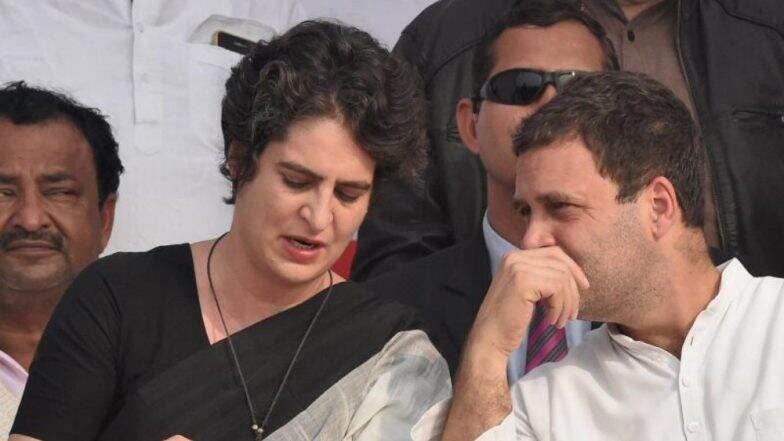 Lucknow, February 10: Congress's general secretary and eastern Uttar Pradesh in-charge Priyanka Gandhi on Sunday took on the BJP government both UP and Uttarakhand over the death of more than '100' people after consuming poisonous liquor. The young Congress leader also said that state governments should take stringent actions against those responsible for the tragedy and offered her condolences.
Expressing her concern over the death of people in both states, Gandhi said, "Sad and stunned by the death of more than 100 people in Uttarakhand and UP due to illicit liquor. This is condemnable. It couldn't have been imagined that the trade of illicit liquor flourished at such a large scale in the two states." 'Priyanka Gandhi Wears Jeans & Top in Delhi But Turns Up in a Saree Whenever She Visits Her Constituency', Says BJP MP Harish Dwivedi.
Adding more, she also sought compensations and demanded that members of the bereaved families should be provided with government jobs. Gandhi said, "I hope that the state governments take strict action against culprits and provide compensation and government jobs for the families of the deceased. I express my condolences to bereaved families."
Earlier, the locals in Saharanpur of Uttar Pradesh sit in protest and block road against the deaths due to consumption of illicit liquor. Protesters say "Our children should get free of cost education. Women who lost their husbands should be given jobs. Culprits should be given strict punishment."
Taking cognisance of the matter, the Uttar Pradesh police arrested more than 130 people for making and selling illegal liquor. Though political parties claim the death toll to cross 100, official sources say the number of deaths reached 75 on Sunday – 32 died in Uttarakhand and 43 in Uttar Pradesh.