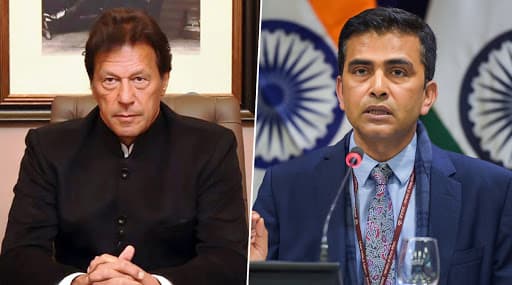 New Delhi, October 4: Days after Pakistan Prime Minister Imran Khan called for jihad against India and allegedly asked people to march across the Line of Control (LoC), the Union Ministry of External Affairs strongly criticised the former's remarks on Friday stating such comments did not behove the office held by him. The MEA condemned Khan's speech at Muzaffarabad in Pakistan-occupied Kashmir on September 13.
Addressing a press briefing on Friday, MEA spokesperson Raveesh Kumar said, as reported by Hindustan Times: "We condemn such irresponsible and provocative rhetoric in the strongest words. He doesn't know how international relations are conducted. But the more serious thing is that he made an open call that you march on, and for jihad against India." EAM S Jaishankar Says Nationalism Not Negative Ideology, Takes Swipe at Pakistan Over Regional Cooperation.
Adding on, he said, "His open call to cross the border and violate another country's sovereignty and territorial integrity and enter it, this statement does not behove the office he occupies." Earlier on September 13, Khan had said, "Don't go towards the LoC till I tell you to. I will tell you when to go, and you shouldn't go now."
The comments by MEA arrived after Imran Khan repeatedly tried to invoke the Kashmir issue at the global forum, following which India stated that the remarks by Pakistan were factually incorrect and biased. The whole issue gained momentum post the abrogation of Article 370 from the state of Jammu and Kashmir. Sourav Ganguly Joins Former Indian Cricketers in Criticising Imran Khan, Says Pakistan PM's UNGA Speech Was 'Poor, Rubbish'.
Calling the behaviour of Pakistan abnormal, Kumar said, "This isn't normal behaviour, and we have repeatedly said Pakistan, and its leaders do not behave the way a normal neighbour should. Not that we expect it from them, but sometimes, we do because they are a neighbour." Not only in the political arena, but even former India skipper Sourav Ganguly has also strongly criticised Imran Khan for his recent speech at the 74th session of the UN General Assembly (UNGA). He labelled Khan's speech as "rubbish" and said the former was not the cricketer the entire world knew.