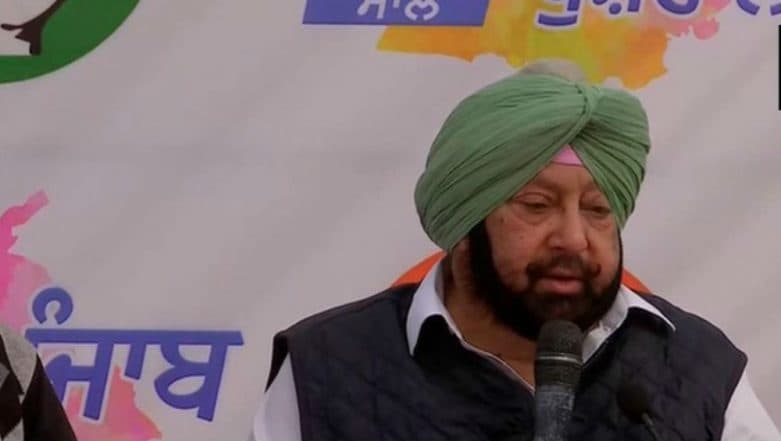 Chandigarh, March 16: Punjab CM Captain Amarinder said on Saturday that Pakistan should show magnanimity in terms of accommodating as many pilgrims possible via the Kartarpur corridor. The Punjab CM's comment comes a day after Pakistan said that the number of pilgrims should be restricted and that only 500 pilgrims be allowed per day. India had proposed 5,000 pilgrims a day and 15,000 on special occasion for visit to a historic Gurdwara in Kartarpur in Pakistan. Kartarpur Corridor Talks: Gurudwara Land Encroached Rampantly in Pakistan, India Seeks Early Restoration.
The Punjab CM also spoke on Pakistan's demand for visas to every pilgrim. Singh questioned Pakistan's emphasis and said, "why have a corridor if you want passports?" Kartarpur Corridor Talks: India Asks Pakistan to Grant Visa-Free Entry to 5,000 Indian Pilgrims Per Day; Next Meeting on April 2.
Read the ANI Tweet Below:
Punjab CM Capt Amarinder Singh: We disagree with some of the things Pakistan has recommended.1st,we said 15,000 ppl should go.2nd, we said you can't have passports. Why have a corridor if you want passports?The very fact that you've a corridor indicates it should have free access pic.twitter.com/GL2lQgnq6h

— ANI (@ANI) March 16, 2019
Singh said that the "very fact that you've a corridor indicates it should have free access." He expressed disappointment at Pakistan's reported response to the issues raised by New Delhi during the first meeting on the Kartarpur corridor that took place on Thursday at the Attari-Wagah border.
The chief minister said the response of Islamabad to India's demands was "totally inadequate" and the neighbouring country needed to reconsider its stand if the corridor was to serve its purpose.
The governments of the two countries took a historic decision by agreeing to open the corridor to mark the 550th birth anniversary of Guru Nanak Dev, the Sikh faith's founder, in November this year, Singh said. "The limitation of 500 pilgrims a day, as proposed by Pakistan, is insufficient to cater to the aspirations of the large number of devotees desirous of paying obeisance at the gurdwara," Singh said.