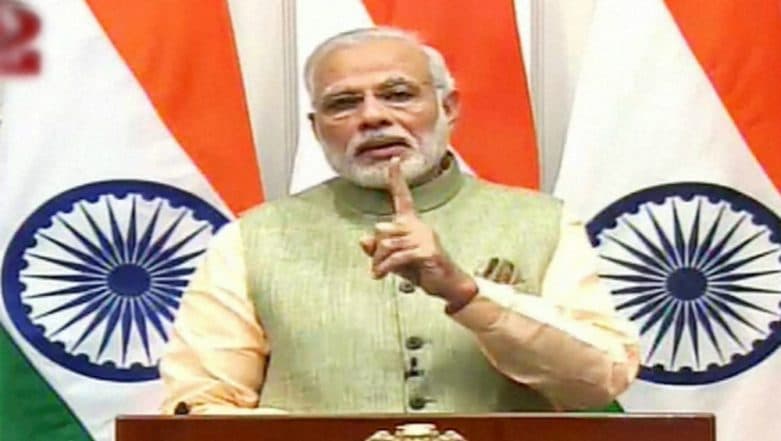 New Delhi, March 9: Prime Minister Narendra Modi will contest from Varanasi in the Lok Sabha elections 2019. The decision regarding this was taken by the Bharatiya Janata Party (BJP) parliamentary board meeting on Friday. The meeting was conducted under the leadership on Narendra Modi. The Prime Minister currently represents Varanasi in the Lok Sabha. In the 2014 elections, PM Modi had defeated Aam Aadmi Party (AAP) chief and Delhi Chief Minister Arvind Kejriwal with over 3 lakh votes.
In the meeting, it was also decided that there would be no blanket ban on leaders above 75 years of age. Now anybody capable of winning election will be given a ticket. Meanwhile, the board also decided to ally with All Jharkhand Students Union (AJSU) in Jharkhand ahead of the parliamentary elections. Lok Sabha Elections 2019 Schedule Likely To Be Announced By EC Between March 7 and 10, Dates For Assembly Elections 2019 To Be Finalised Too.
According to the deal, the BJP will contest 13 seats in Jharkhand while one seat has been left for AJSU chief Sudesh Mahato. Sources in the BJP said that Mahato, the AJSU chief and former Deputy Chief Minister of Jharkhand, could be given the Ranchi parliamentary seat presently represented by Ram Tahal Choudhary of the BJP. Lok Sabha Elections 2019: Chandrababu Naidu Sees PM Modi's Ploy Behind KCR-Proposed Federal Front.
In the meeting, the party also discussed poll strategy ahead of the parliamentary elections. The party has recently joined hands with AIADMK in Tamil Nadu. It also decided to continue its alliance with Shiv Sena in Maharashtra and Janata Dal (United) in Bihar.
(With Inputs from IANS)