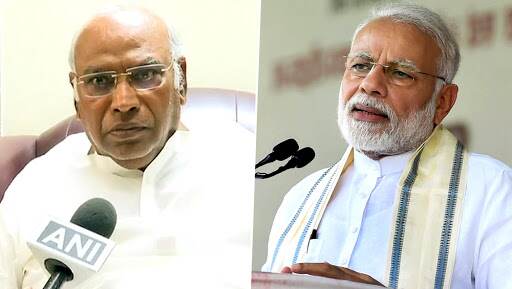 New Delhi, March 4: Contradicting the statements of Prime Minister Narendra Modi's allegation on Opposition for trying to destroy the unity of the nation, senior Congress leader Mallikarjun Kharge on Monday slammed PM Modi for taking the credit of IAF strike in Balakot on last Tuesday. Kharge added that nobody is questioning the strike in opposition and Modi should not teach lessons to people on patriotism.
Expressing his views on the allegations of Narendra Modi, Kharge said, "Nobody is questioning, Modi himself is questioning, he wants to take credit; we support our Army. We shouldn't learn patriotic lessons from Modi." Adding more, Kharge stated that BJP is trying to politicise the armed forces' actions and taking credit for it, which they are should not take. PM Modi in Gujarat: Rebuts Opposition's Attack on Rafale, Flags Off Bandra-Jamnagar Humsafar Express. 
Meanwhile, PM Modi – while addressing a public meeting in Gujarat's Jamnagar – on Monday said reiterated that if the Indian Air Force had the Rafale fighter jets, the results of recent aerial engagement with Pakistan could have been different. The Premier also pointed out opposition parties are uniting to destroy him politically.
He said, as reported by the Indian Express, "Recently, I delivered a speech in Delhi wherein I said if the Indian Air Force had Rafael, the result would have been different. Is it my fault if someone does not have the capacity to what comprehend what I am saying! It is their limitation and I can't do anything about it."
Questioning the opposition, he added, "When I made that statement, they said I was questioning the achievements of the IAF. Dear friends, do use some common sense. This is my calculations."