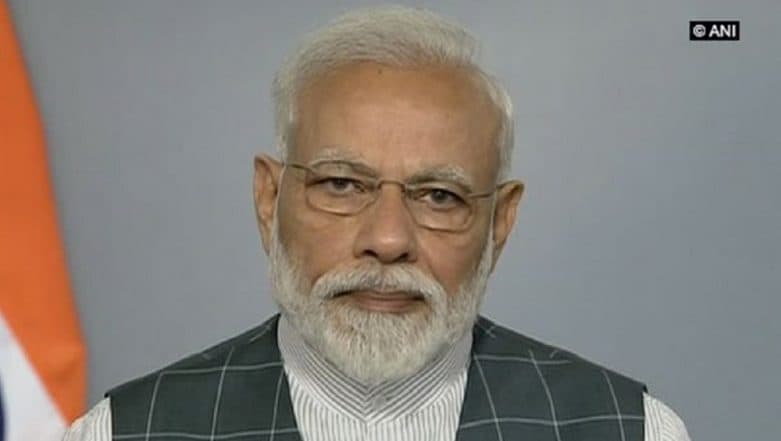 New Delhi, May 12: Furthering his narrative of projecting his critics as elitists, Prime Minister Narendra Modi said he is unaffected of the flak drawn from the "Khan Market gang". Khan Market is one of the most high-scale and posh localities of the national capital. PM Modi attempted to imply that the working and middle class is solidly behind him, whereas, the elite class is disappointed with his ascent.
"Modi's image has not been created by the Khan Market gang, or Lutyens Delhi, but 45 years of tapasya (toil)," the Prime Minister said while giving an interview to The Indian Express. He further added that his persona cannot be dismantled as it has not been constructed by the Lutyens' group. Rajiv Gandhi Didn't Use INS Viraat For Holiday: Retd Vice Admiral Rejects PM Narendra Modi's 'Personal Taxi' Charge
Modi's "dismantle" remarks were directed at Congress president Rahul Gandhi, who had in a recent interview said that he would shred apart Modi's image and defeat him in the parliamentary polls.
"The Prime Minister can't stand on a stage and say the things he was saying in 2014. We have dismantled the Prime Minister of India," the Gandhi scion had said.
Modi cited the Congress chief's remarks to justify his recent tirade against late former PM Rajiv Gandhi, saying that it was leaders akin to him whose image was constructed by the Khan Market.
"You cannot dismantle it. But Lutyens and the Khan Market gang created an image for a former Prime Minister [Rajiv Gandhi], 'Mr Clean, Mr Clean'; how did it end up," Modi was quoted as saying in the English daily.
The Prime Minister further justified his "picnic on INS (Virat)" barb against late Rajiv Gandhi, saying that the matter was brought up by his son who had in a recent press conference claimed that Modi is using the armed forces as his personal fiefdom.
"When the Congress president, at a press conference, says that the Army isn't a personal jagirdari of Modi — all of you missed this — then I have to say what's it like to have a personal fiefdom. Rajiv Gandhi is not my issue," Modi said.