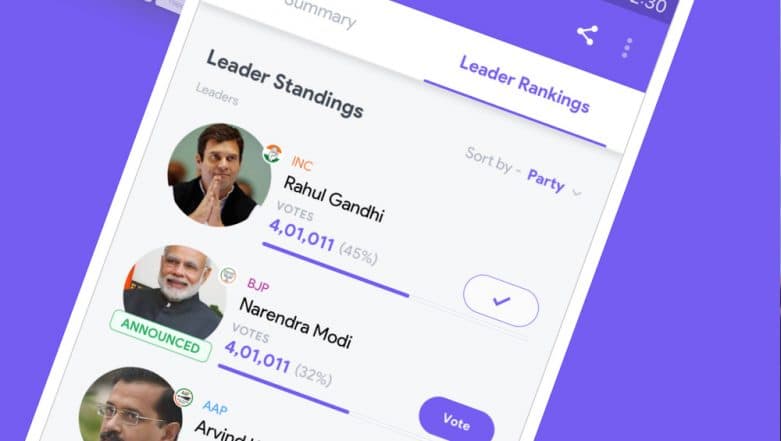 In the run up to the Lok Sabha Elections 2019, political leaders across the nation are leaving no stone unturned to woo voters. Amid tough competition, people now have an option to rate and review the performance of the various ministers at the center and state government level. Citizens can now track the work done by the local MPs and MLAs on their smartphone with the help of Neta App. The app is the first of its kind technology platform that enables citizens to rate their leaders - PM, CMs, local MPs and MLAs, thereby keeping them accountable. Lok Sabha Elections 2019 Schedule: Polls Will be Held in 6-7 Phases. 
The app is free for Android and iOS while the website i..e. neta.co.in lets you review the performance of the ministers. According to reports, the  app has been developed by Pratham Mittal, alumini of Doon School in Dehradun and University of Pennsylvania. Mittal is believed to be big politics lover. Such ratings are used not only by voters to make informed choices, but also by political parties to select the best candidates. Lok Sabha Elections 2019 Schedule: Voting In 7 Phases From April 11 to May 19, Counting And Results On May 23; Check All Dates For General Elections.
Here's How To Check The Report Card of Political Leaders:
You need to download the NETA app from PlayStore or iOS and support the candidate who he thinks should get the ticket from his/her favorite party.

With your help, parties will now be able to select the best candidates for the upcoming Lok Sabha Elections 2019.

Individuals can download, search for 'Neta' on the App Store.
Here's how you can use the NETA App:
Select your constituency

Select your favourite party

Select your most favorite Candidate

See which candidate/party is leading in polls. The app also has an option of nominating a candidate as well as going for NOTA (None Of The Above), in case you don't find your favorite candidate.
The app is available on Android, iOS and web in 16 languages keeping in mind the diverse user profile. The  Neta app uses multiple mediums like the app, IVR calls, SMS and even offline activations with the help of Aashawadi and Aanganwadi workers, to gather data on the evolving political inclinations. Reports inform that the app uses Aadhaar data and data from voter rolls, so that each profile is verified and is unique.