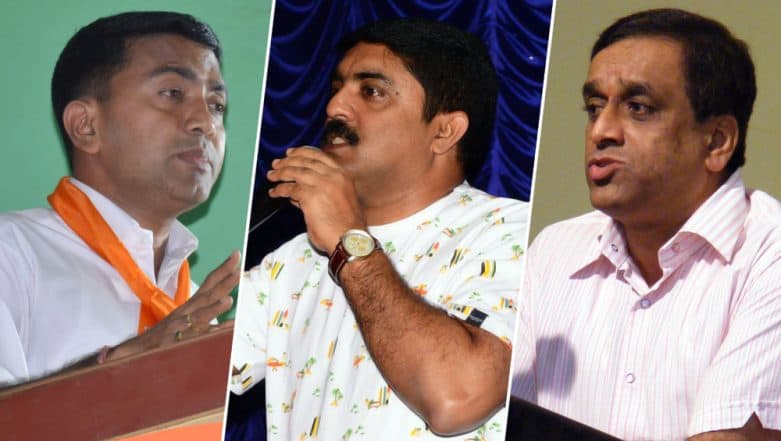 Panaji, March 18: After Manohar Parrikar's demise, the ruling Bharatiya Janata Party (BJP) has begun its search for a new CM candidate in Goa. From BJP's camp, Pramod Sawant, the Goa assembly speaker, is the frontrunner for the top post, while Sudhin Dhawalikar and Vijay Sardesai, who head the Maharashtrawadi Gomantak Party (MGP) and the Goa Forward Party (GFP), have thrown hat in the ring for the Goa CM post.
BJP MLA and state health minister Vishwajeet Rane is also a probable candidate for the CM post but the ex-Congress leader's chances are low. Union Minister Nitin Gadkari, who arrived in Goa late on Sunday, held a meeting with BJP legislators and allies to reach consensus on who will be the next chief minister of Goa. However, the meeting remained inconclusive. The BJP is pushing for its own candidate. Manohar Parrikar Funeral Procession, Last Rites Live News Updates.
Life and times of Manohar Parrikar:
"During a meeting with Nitin Gadkari, Sudin Dhavalikar expressed his willingness to become the Chief Minister of Goa. He said he has sacrificed many times by supporting the BJP, and now, he has put in his demand, but the BJP will not agree to that," Michael Lobo, BJP MLA and Deputy Speaker of the Goa Assembly, told reporters on Sunday. "Definitely, among the 12 of us BJP MLAs should lead the state, it is but obvious," BJP MLA Glenn Ticlo said.
Manohar Parrikar Dies at 63: Watch Life And Times of Late Goa CM
It is vivid BJP's allies are driving a hard bargain. During the meeting with Gadkari, while Dhavalikar, an MGP MLA, has pitched his candidacy, Sardesai stressed that his party had strongly supported Manohar Parrikar and not the BJP, reported NDTV. Goa has descended into a political crisis, following Parrikar's death on Sunday evening due to advanced pancreatic cancer. Manohar Parrikar Dies at 63: From IIT Graduate to Defence Minister — Life And Times of The Late Goa CM.
The strength of the Goa Assembly has reduced from 40 to 36 after Parrikar's death. Currently, the Congress party has 14 MLAs, while the BJP has 12 MLAs. Three MLAs of MGP and GFP each and three independents have been supporting the BJP-lead coalition government from 2017, which was headed by Parrikar. The Congress on Sunday formally staked its claim for the second time to form a government in Goa with Governor Mridula Sinha.