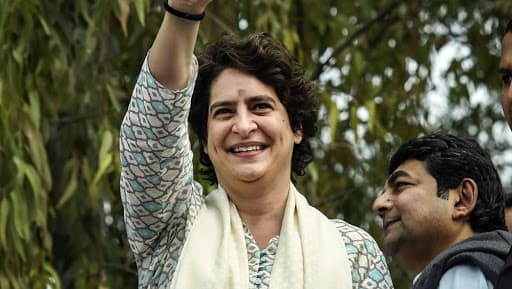 New Delhi, March 15: With the Election Commission sounding the poll bugle on March 10, political parties have geared up their initiatives to reach to their prospective voters. In the latest development, Congress has announced that its newly appointed general secretary for Uttar Pradesh- East – Priyanka Gandhi – would take a 3-day, 140 km long 'Ganga-yatra' on a steamer boat, starting with Chhatnag in Prayagraj on March 18. In fact, the party's state unit has approached the election commission to seek permission for Priyanka's boat ride.
Considered as the second face of Congress after party president Rahul Gandhi, Priyanka would also interact with people of the villages and towns falling en route her final stop Assi Ghat in Varanasi. Though in the recently released list of candidates for the 17th Lok Sabha Elections, the name of Priyanka Gandhi has not surfaced, insiders from the party are of the opinion that she should contest from Varanasi, from where Prime Minister Narendra Modi won the Lok Sabha Elections in 2014. This time also, BJP has made it clear that Modi would be contesting from Varanasi. Priyanka Gandhi Vadra Should Act Like a Politician if She Wants to Take on PM Narendra Modi. 
Informing more, Congress said that during the three-day 'Ganga-yatra', the newly appointed general secretary of the party would be addressing several political rallies and listen to the woes of the people residing nearby the sacred river. She is most likely to take stock of the development programmes launched by BJP governments – both at the Centre and the state.
Since there is an old saying – Dilli ka rasta UP se ho kar jaata hai (The road to Delhi goes through UP) – political parties contest their toughest and safest candidates from the state, the Uttar Pradesh has 80 Lok Sabha seats. With the 'yatra' in place and Priyanka Gandhi all set to explore the winning possibilities of the party, it is most expected that the most important leader would decide on the list of candidates to be fielded in the region for the Lok Sabha polls. Uttar Pradesh Lok Sabha Elections 2019 Schedule: Constituency Wise Dates Of Voting And Results For UP General Elections. 
Till now, the Congress had released a list of 27 candidates for the polls, but it would be significant and interesting to see, how and when the party announces its candidate for the much-hyped Varanasi seat. In 2014 elections, the Congress had won only two seats of Amethi and Rae Bareli, represented by Congress President Rahul Gandhi and UPA Chairperson Sonia Gandhi, respectively, while the BJP had won 71 seats.
(Opinion of the writer is personal)