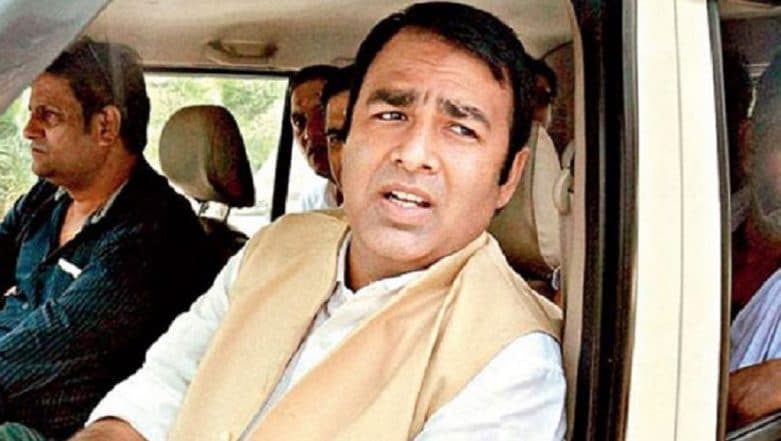 Lucknow,  August 13: The Yogi Adityanath government in Uttar Pradesh is preparing to withdraw the cases against riot accused BJP MLA Sangeet Som, reported IANS. The UP government plans to withdraw seven cases against the MLA, said reports. Sangeet Som is an MLA from the Sardhana constituency in Uttar Pradesh. Azam Khan is 'Land Mafia', Cheat, Says BJP MLA Sangeet Som.
The cases were registered against Sangeet Som between the years 2013-2017. The cases pertain to his alleged role in the Muzaffarnagar riot case and in Saharanpur, Meerut and Gautam Buddh Nagar. 2002 Gujarat Riots, 1993 Mumbai Riots, 2013 Muzaffarnagar Riots Cited by Delhi HC in Verdict Convicting Sajjan Kumar in 1984 Anti-Sikh Riots Case.
While the Muzaffarnagar case is in relation to the 2013 riots, the Saharanpur and Gautam Buddh Nagar cases are in connection to violation of Section 144.
Sangeet Som also has an FIR against him for leading a procession in Sardhana, which is also the assembly seat represented by the constroversial MLA.
Sangeet Som was booked for inciting violence and giving provocative speeches. The Uttar Pradesh government has asked for details of the cases against the MLA, reported IANS quoting sources in the law department. The report also said that the UP government is mulling over quashing the cases.
MLA Sangeet Som, on the other hand, has always denied the charges and claimed that the cases against him are "politically motivated." The MLA has time and again blamed the then Samajwadi Party (SP) government that was in power in 2013 in the state at the time of riots.
Akhilesh Yadav was the chief minister when the devastating riots took place, killing several and displacing many. "The police has not even filed a chargesheet in some cases. It is good if the government is withdrawing these false cases," Som was quoted saying by IANS.