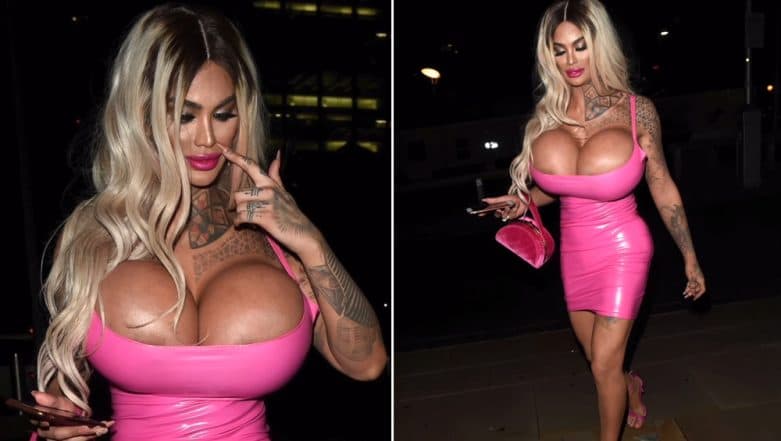 How would one fit their 34 NN busts into a tiny pink dress? This British model who spent £40,000 on boob jobs to have the biggest breasts will show you how. 26-year-old Nicki Valentina Rose is a famous model who is known for having the perkiest breast dropped jaws to the floor of people who watched her in one of her night outs on Boxing day. Nicki was seen in a racy pink bodycon dress which contained her boobs making people drool. Woman with Super Big Breast! Claims Her 34JJ Boobs Can't Squeeze onto Tube Trains and That She Can't Sleep on Her Front.
In the swanky Spinning fields area of Manchester, Rose was seen after the news of her spending a whopping £68,000 on plastic surgery. The sexy model was wearing a body-hugging dress with shoes matching her attire in the colour hot pink.
Here's how the large-breasted model looks like-
View this post on Instagram
She had earlier claimed that she feels comfortable in sleeping on her chest also said to the Mirror that doctors had warned Nicki that the boob job might have put her health is at risk. The health issue may include back pain and chronic tiredness, etc. She, however, ignored the doctor's advice and wanted to have a huge 5,000cc (cubic centimetre) breast implant volume.
Rose feels comfortable sleeping on her chest-
View this post on Instagram
Take a look at the video of Rose in the little pink dress-
The model had previously said to The Sun: "It makes me happier when I have big boobs — it's something I've always wanted since I was really young. I'm the only British girl that lives in the UK that has the largest implants and the largest breasts in this country."