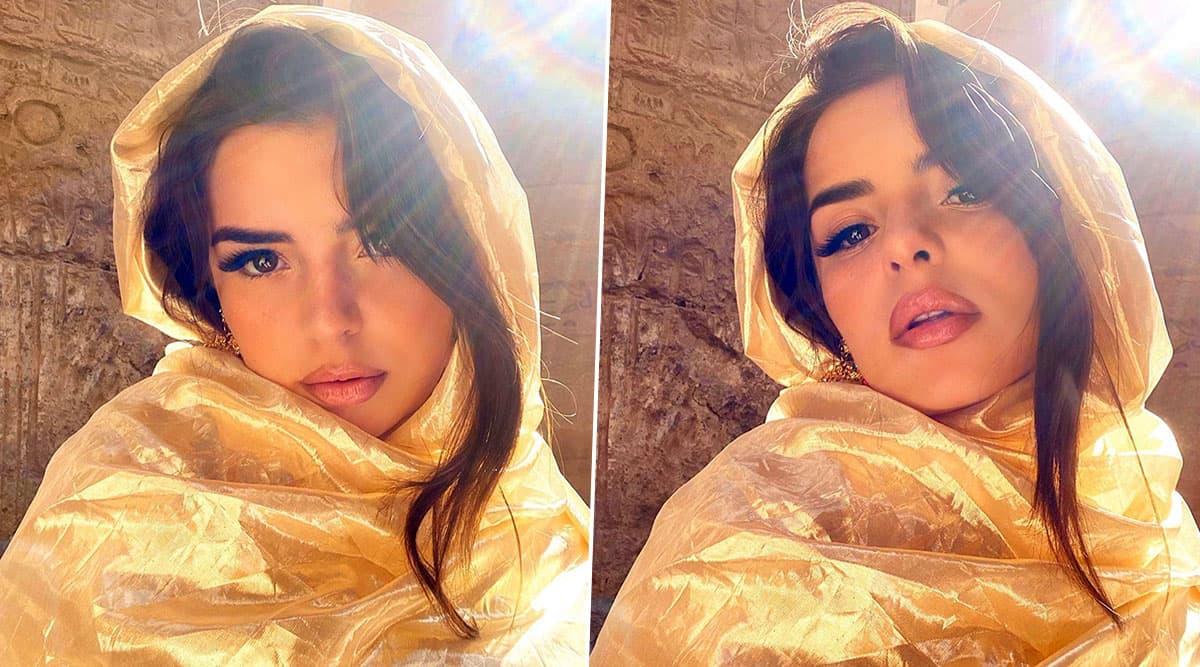 Fans rarely get to see moments of Demi Rose not sporting a bikini. And the curvaceous beauty recently posted a picture on herself from Egypt that is very unlike Demi Rose. She is wearing a gold shiny scarf around her head and it is everything you want to see to kill your mid-week blues. Rose can look as brilliant as in a revealing bikini as she does in a fully covered scarf. Just a day ago, the bikini queen had shared with us a shot of herself wearing an XXX-tra small string bikini and Instagram was hooked! The beautiful, social media star posted a picture from Laguna Beach, California wearing a salmon pink coloured bikini and is now in Egypt look hot AF.
In the picture, Demi Rose's make-up looks seductively dewy with her pouty lips donning a glossy pink lipstick. Her beautiful lashes with muted eye-makeup, looks extremely stunning. She can be seen wearing a gold Jhumka but it is not completely seen in the pictures. The caption couldn't contain her happiness. It reads: "Somewhere magical. I am so fascinated with ancient Egypt. I loved exploring here. I finally just got home after spending a couple of months away. Egypt, Jordan, Colorado, Careres, Tulum and LA. From the people I met to the beautiful places I have seen. I feel so blessed. They say time is money, but I say time is life. You can always make back your money but you can't make more time." Check Demi Rose's scarf pictures below:
View this post on Instagram
Demi Rose had recently shared braless, semi-nude pictures of herself on Instagram and they will make you ask for more. She shared two pictures in a single post that they have been taken in a picturesque spot of Mexico, the Tulum Quintana Roo. Posing by the clear blue water and a Rocky background, Demi Rose looked breathtakingly sexy.