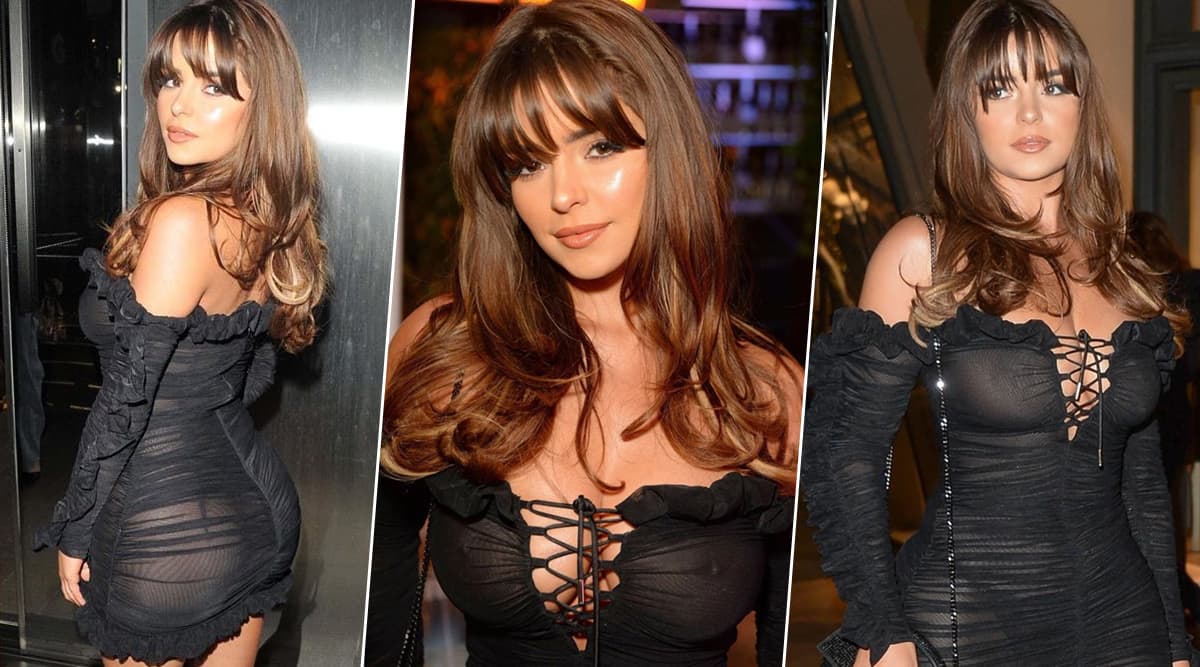 Demi Rose surely knows how to handle trolls and give it back to the haters in the hottest way possible without even getting into dirty trolls. After the criticism Demi was subject to last week, the super sexy lingerie model stepped out in a sheer black dress dropping jaws all the way. She was spotted heading to the Skinny Tan Choc launch at London's Madison rooftop looking as sexy as ever. Turning up the heat in London that is freezing, RN, Demi Rose didn't shy away from flashing her curves in the see-through black dress. Demi Rose Wearing a Racy Black Dress That Flaunts Her Cleavage and Under-Boob at Once Leaves the Internet Gasping for Breath (View Pic). 
She was seen rocking a pair of Louboutins and left her hair in loose curls. To complete her whole look were her bangs falling on her forehead. This comes soon after the brutal criticism Rose faced last week because of one of her old ramp walk videos re-surfaced. But looks like Demi is done will all kinds of internet bullies and knows exactly how to give it back to them. Check out the pictures of Demi Rose to have your screen blessed, LOL:
View this post on Instagram
Here's the Back Profile of the Dress
View this post on Instagram
For those who don't know, Demi was trolled last week after her ramp walk video in an Oh Polly fashion show resurfaced that showed her struggling to maintain her balance in super high heels. She recieved a lot of unnecessary backlash for the video. However, Demi later replied to the criticism and explained how the ramp-walk and the deaths of her parents were just eight months apart and she pulled herself together for the show.
Here's The Video That Was Trolled:
Here's a video of Demi Rose walking but with Stone Colds entrance music pic.twitter.com/uvvPPY6ImH

— ROME RENA$ANCE (@ROMERENASANCE) November 12, 2019
She replied to the trolls saying, "I was super nervous, didn't want to do it, my top went missing backstage, my shoes were too big for me in height and size not to mention I was dealing with personal issues loosing my parents, my mom a month before [sic]. I wanted to push myself out of my comfort zone, make them and myself proud and that takes a lot of bravery, so for that I'm proud of myself because there's a lot that wouldn't have done it. But it's done now. I can laugh too but I'm still here and it's all Gucccci! [sic]"
Well, more power to our girl! She is turning into an expert in hitting it back at the trolls. BTW, if you are planning a vacation you might want to take inspiration from, the lingerie model and social media celebrity. Take a look at some of the hot and sexy bikini pictures from her trip to Bali, Indonesia, earlier this year, that gave us major vacay fashion goals!