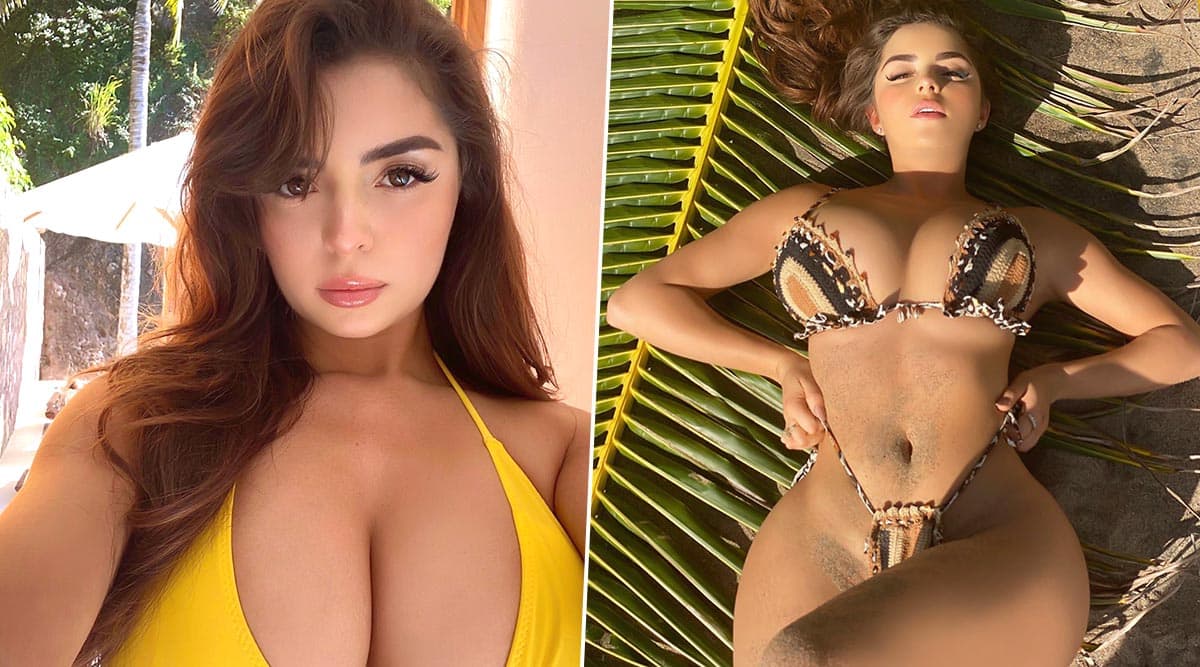 Demi Rose's Instagram is a treat. Right from her vacay pictures to her random selfies, the curvy bombshell is one of the most popular social media celebrities. The sexy diva is in Mexico and we cannot get enough of Demi Rose's hot pictures. Demi Rose was in Phuket recently and she shared some x-rated nude pictures from an infinity pool. Instagram legit broke and went gaga over the pictures of Demi Rose showing her perky peaches. From Mexico, the hot model has shared some pictures and you're in for a treat.
Out of the twos sets of pictures, Demi Rose has shared, in one of them she can be seen donning a teensy-weensy crochet bikini while flaunting her famous curves in Puerto Vallarta, Jalisco. She is lying on a large coconut leaf laid on a sandy beachside. She gave the pictures a twist by rubbing some sand on her abdomen. She is pulling her bikini string while giving a seductive expression in the sun-kissed picture. She has captioned the picture with: "Do damage to you but you love it" View Pic:
View this post on Instagram
In the next one which is a selfie from Tulum, Mexico, Demi Rose is seen wearing a yellow low-cut bikini showing ample cleavage. She has left her hair loose in beachy waves and is flaunting glossy lips. While the makeup is minimal, Demi Rose has let her eyes do all the talking in the selfie. The caption read: "A little selfie never hurt anybody". View Pic:
View this post on Instagram
This reminds us of Demi Rose's super hot Bali trip! Flaunting her perfect hourglass figure, Demi had posted 13 pictures from her Bali trip on Instagram and they were all fiyah. She legit gave us a masterclass on how to style for the beaches and pools. Right from meshed swimsuits to animal prints, Demi had worn some amazing bikinis and monokinis for the Bali trip.