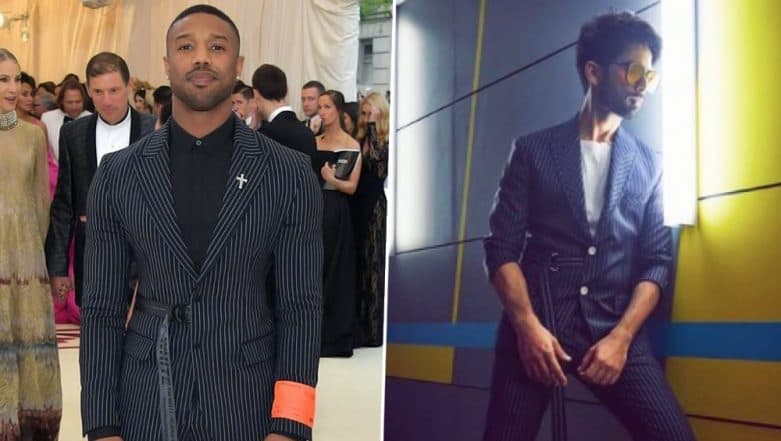 Diet Sabya is at it again and this time it's not a Bollywood actress but an actor who's involved in a case of what they call 'gandi copy'. Shahid Kapoor has been a regular on Diet Sabya's list and has once again featured for wearing an outfit that was a copy of the popular brand Off White's suit. What's interesting is that Shahid wore the same suit as Black Panther star Michael B Jordan. The Instagram account dedicated to calling out designers whose lined are inspired from other brands, shared a picture of Shahid and Michael in their new post.
In the picture, we see Shahid wearing a striped suit that is quite similar to the one worn by the Creed actor but clearly, we thought it was Michael who donned it better. If you look through Diet Sabya's feed, Shahid has been on their radar for long. Kabir Singh New Poster: Shahid Kapoor's 'Bad Boy' Look is a Stunner, Trailer All Set to Release on May 13
The Diet Sabya account wrote, "@shahidkapoor wearing a rather unfortunate copy of acclaimed international brand Off-white is definitely NOT the first time Kapoor has been in 'The Chilling Adventures Of Copystaan'. But, what we can't seem to wrap our head around, is the fact that the actor (and his stylist @theanisha) continue to get copies made, by designers claiming to design couture. @anujmadaancouture looking at you."
Take a look at the picture here:
On the work front, Shahid will be seen in the remake of popular Telugu film, Arjun Reddy. The film titled Kabir Singh will have its trailer releasing on May 13. The film is all set to release on June 21.