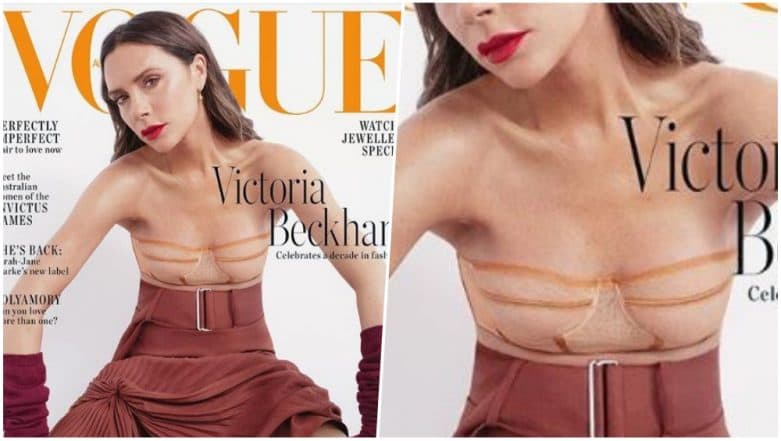 When it comes to style, Posh Spice AKA Victoria Beckham does live up to her stage name. But if you thought the former spice her was only about fashion, you couldn't be more wrong. She and her superstar husband David Beckham have been associated with various social causes and charities. Victoria herself has lent her support to AIDS Research and Cancer Research UK. In her latest cover shoot for Vogue Australia, she's seen looking fierce in a £1,250 high waisted midi-length skirt with an architectural pleated circle detail from her own autumn-winter collection. But it's not just the skirt that has caught our eyes, it's also the bustier she's teamed it with. The details on the garment are strikingly reminiscent of the mastectomy scars of breast cancer survivors. Is the latest cover shoot for Vogue Australia Victoria's way of showing solidarity with the survivors of the disease?  Serena Williams Goes Naked Singing 'I Touch Myself' In This Breast Cancer Awareness Clip (Watch Video).
Here's The Pic:
Victoria's stylist paired the pleated skirt with a flesh-toned bustier which had patterns that looked like mastectomy incisions. As much as we loved the pic and the statement she made, Instagrammers weren't completely bowled over, probably because there isn't much awareness about mastectomy or what the scars look like. Breast Cancer Awareness Month 2018: Are You More Prone to Breast Cancer? Here Are a Few Associated Risk Factors.
One user said, "OMG This is unforgivable" and another said, "Bad choice definitely!" Some users also pointed out that the picture was offensive to women who had to endure mastectomy and trivialising their pain for fashion was wrong. Maybe Posh and the Vogue team didn't intend for the picture to turn out offensive. It could be the magazine's efforts to focus attention on the disease since October is Breast Cancer Awareness Month worldwide. Victoria has also been associating herself with breast cancer charities. We want to know what you think. Let us know in the comments below.