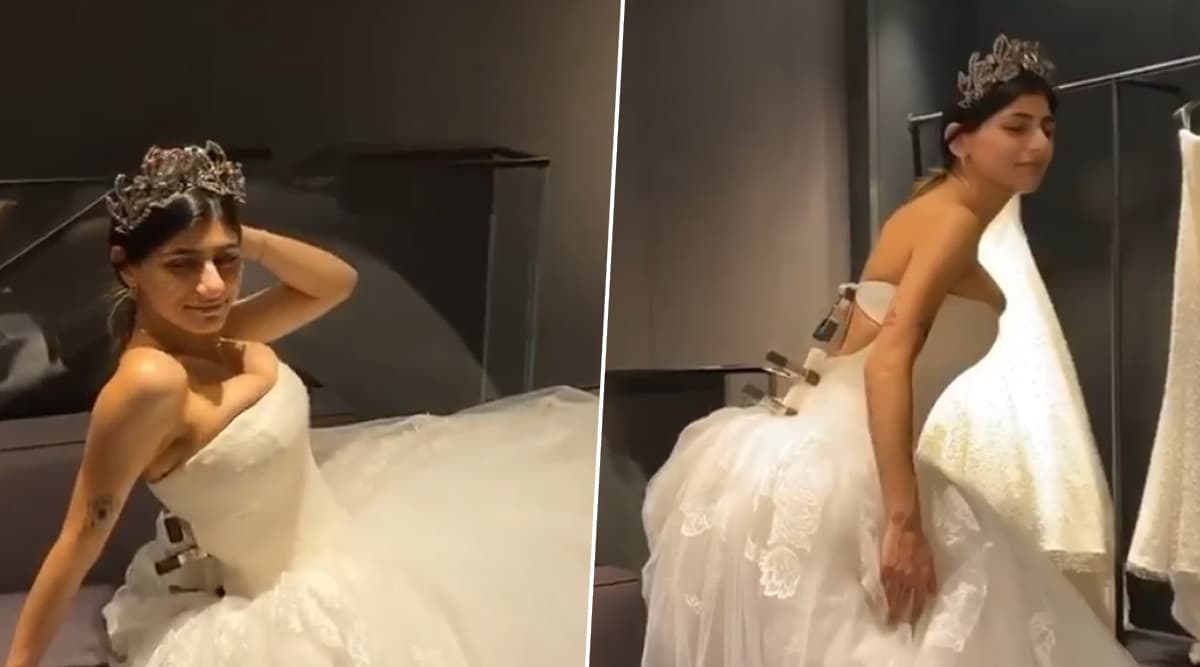 Mia Khalifa is giving us a total wedding vibe. The Pornhub legend recently posted a video of herself in a white wedding gown and a beautiful tiara and all we can say is GORGEOUS! She was twirling in a white off-shoulder wedding gown, wearing a sparkly tiara on her head and laughing candidly while we cannot take our eyes off the video that she shared on her social media. In the caption, she wrote: Imagine if I was this extra and stressed on the word *if*. It looks like this video has been shot amidst her wedding gown trial session. The pretty corset gown wasn't fit according to her yet and in the video, you could see it tightened using clips.
Mia Khalifa was all smiles posing for video and couldn't help blushing in the princess tiara. XXX Porn star turned sports presenter, Mia Khalifa is engaged to boyfriend Robert Sandberg after she said yes to the Swedish chef who proposed Khalifa in Chicago. Mia Khalifa is one of the most famous porn stars and hundreds would kill to be with her Robert Sandberg has finally won the sexy woman's heart! Even Mia Khalifa shared glimpses of her recovery from deflated boobs she got by a flying hockey puck, she shared how her fiance Robert Sandberg stood by her side like a rock!
Watch Video:
The year 2020 seems to have great things in store for Mia Khalifa. Recently, while announcing her wedding plans she also cleared the air around her pregnancy. This pregnancy rumour came soon after Mia Khalifa released her super hot 2020 calendar. The drool-worthy calendar for the coming year, features some of her sizzling hot photos of herself. Former XXX star Mia Khalifa announced on her Instagram that also includes some never-released photos of her.