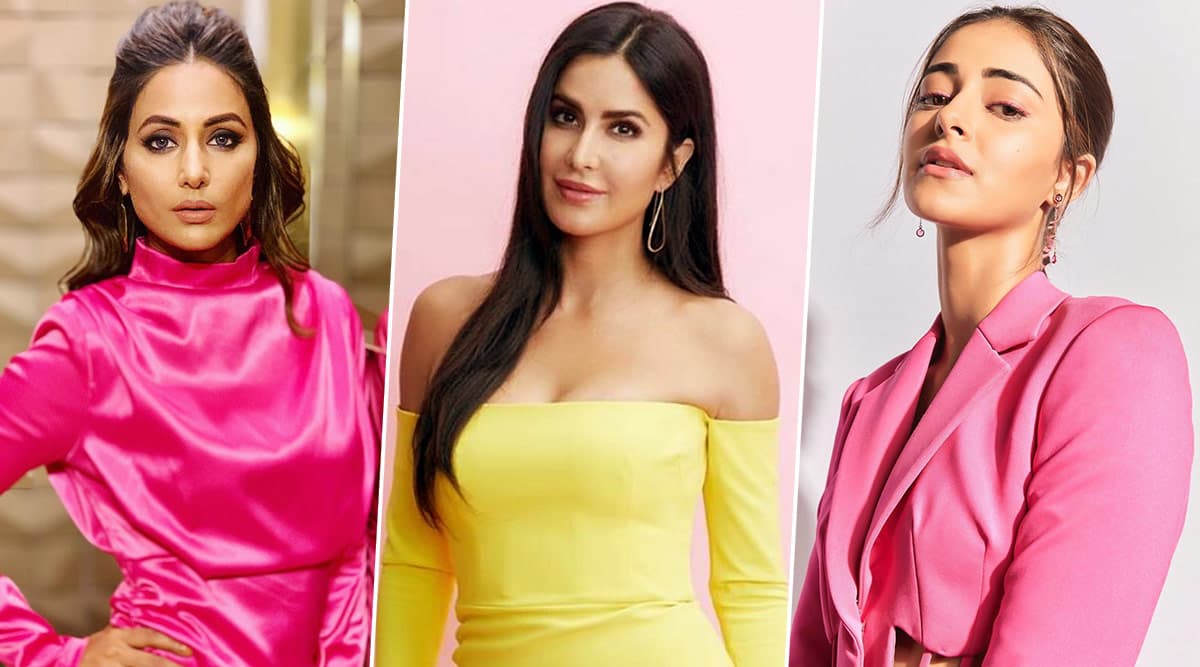 Love or hate this Instagram account, but you definitely cannot ignore it. Well, here we are talking about none other than the only fashion police of Bollywood, Diet Sabya. While the photo and video sharing app might have many dedicated 'who wore what' kinda accounts, Diet Sabya stands out amongst the rest for being brutally honest and unmasking the copycats from showbiz. Right from the moment this account came into existence, many claimed it to be biased and blah blah, but over the years, the amount of stylish 'reality checks' this Insta account gave it to the world is indeed noteworthy. And well before this year (2019) comes to an end, we thought of bringing to you some of the hit posts from Diet Sabya's IG account. So without further, let's dig in. Diet Sabya Schools Rhea Kapoor and Masaba Gupta, Corrects Them That the Fashionable Page Does Not Comment on 'Bodies' (View Post).
Copy 'Kat' ha!
First things first, while the world went gaga over Katrina Kaif's newly launched beauty brand, Kay. The self-proclaimed style icon, Diet Sabya was on a rather important mission and revealed how the 'art direction' of Kay was a copy past version. Looks like Kat was Keeping Up with the Kardashians!
Shibani Dandekar In A Tulle Trouble
Not in her worst nightmare, Shibani might have thought that her pink tulle dress will get in her into a mess. As Diet Sabya brought to light how Dandekar's tulle dress by Shehlaa Khan was heavily borrowed from the King of tulles, Giambattista. See for yourself.
Janhvi Kapoor On The Radar
Janhvi's Cosmopolitan look was caught by DS for style plagiarism. For the shoot, Kapoor was seen in an outfit by Purple Paisley, which was so much similar to luxury designer Balmain's blue sequined dress from their 2018 collection. You decide, see below:
Sanya Malhotra in a Polka Dot Mess
Bollywood actress Sanya turned into a post on DS's IG wall when the girl was spotted wearing a polka-dotted jumpsuit which was a blatant rip off of an Australian brand Sheike. But the best part about the post was DS's a bit apologetic tone.
Spot the Difference?
Even the fashionista, Hina Khan was not spared. The unfiltered IG account trolled Khan as well as Nora Fatehi for wearing almost ditto outfits from Bebe Rexha closet. Hina had worn the pink dress at Daboo Ratnani's 2019 calendar launch.
Is that Priyanka Chopra's Waist?
Not just keeping an eye on fashion copycats, DS as an Insta page has time and again slammed inappropriateness with regards to anything related to Bollywood. And here's how PeeCee unintentionally or intentionally promoting unrealistic body standards was caught by Sabya's eagle's eye. Check it out.
Ananya Panday Was Also Not Spared!
Last but not the least is the SOTY 2 actress Ananya who was called out for her pink blazer skirt dress from Nauman Piyarji. DS claimed that the dress the actress donned was a kinda copy of a dress by Mugler. Pictures of both designs were shared online to reveal the truth.
So these were the posts we loved to the t, courtesy Diet Sabya. In case your favourite DS post did not make it to our list, fret not, and share the same in the comment section below. Stay tuned to LatestLY for more such stylish scoops!