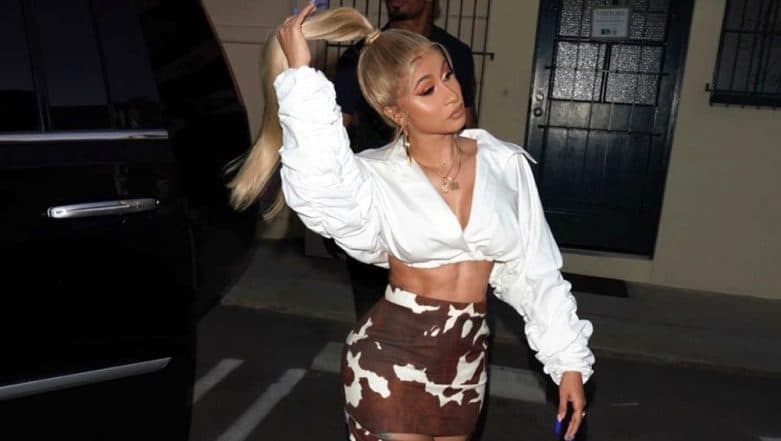 Cardi B has always dressed the way she likes. She has never followed any "rules" of fashion and does things her way. That is one of the main reasons Cardi B is loved by millions. The rapper was spotted out in West Hollywood wearing one of the most cowboy-inspired outfits. Thigh-high boots, and the skirt, give her a country look. When Cardi goes out, she makes sure to show off her best features. She paired the skirt with a low neck crop top that flaunted her cleavage and abs perfectly. Yo or Hell No! Cardi B in Fendi for Meeting With Bernie Sanders.
Cardi B posed with her long blonde ponytail when she was spotted out in West Hollywood. The rapper was wearing a white blouse from TLZ L'Femme called Cropped Collared Blouse. It retails for $98 on their website, and it's made on order. The shirt has a crushed elastic look on the sleeves that makes it a little different from basic white shirts. Different in a good way? No comments on that. Cardi B Gets Raunchy on Offset's Instagram as She Asks the Husband to Lick Her (See Pics Inside).
Cardi B in West Hollywood
View this post on Instagram
The skirt is from Burberry in the style, "Strap Detail Animal Print Cotton Linen Mini Skirt". The skirt retails for $1030 on their website. We know cardi loves her designer brands. She completes her look with the enormous white boots from Balenciaga. The knee-high stilettos cost $1014, after the discount on their website. Cardi loves flexing!
Yo or Hell No! Cardi B in Burberry Skirt and Knee High Boots