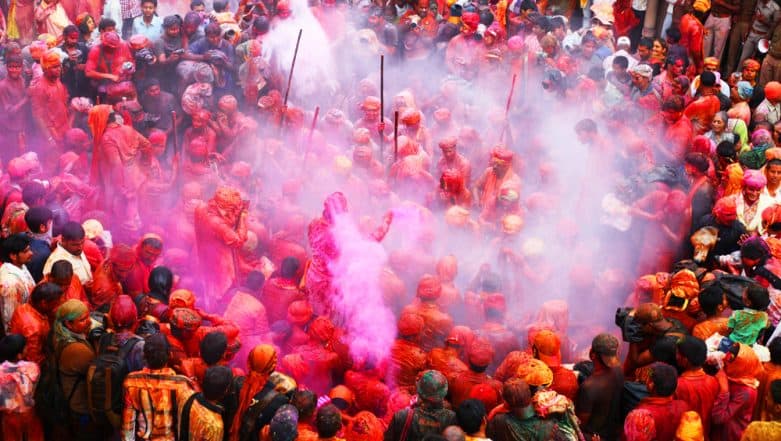 Holi is one of the majorly celebrated festivals across India. Holi 2019 began with Holika Dahan on March 20, which is also known as Choti Holi. The next day is called the rangwali Holi which sees people immersing in colours and water as a part of the festivities. Some parts of North India, especially the state of Uttar Pradesh has enthusiastic celebrations of this festival of colours. While the rest of the country marks the festival primarily on two days, in Uttar Pradesh's Brij region, Holi is celebrated with maximum enthusiasm. The towns of Mathura, Vrindavan, Nandgaon, the Holi celebrations are marked by following different traditions. The Raman Reti Ashram Holi, Lathmar Holi, Phoolon Ki Holi, Banke Bihari Holi are some of the traditional rituals followed during the festival. We give you a detailed Brij Holi calendar for 2019. Holi 2019 Date & Holika Dahan Puja Muhurat: Significance, Mythology, Celebrations Associated With the Festival of Colours.
Braj or Brijbhoomi is a region of Uttar Pradesh around the towns of Mathura and Vrindavan. Mathura is the place where Lord Krishna was born and he spent a lot of his childhood here and in the neighbouring town of Vrindavan. So a lot of Krishna temples are located here and each of them has a significant way of celebrating Holi. So much so, that the festivities begin just after Basant Panchami and continue for almost a month. Holi 2019 Dates & How to Watch Barsana, Mathura & Vrindavan Celebration Live Online: Free Video Live Streaming of Mathura Brij Holi from Uttar Pradesh.
Here is The Entire Calendar For Brij Holi 2019
March 10: Raman Reti Ashram Holi
March 14: Nandgaon Phaag Amantran Mahotsav
March 14: Laddu Holi, Barsana
March 15: Lathmaar Holi, Barsana
March 16: Lathmaar Holi, Nandgaon
March 17: Lathmaar Holi, Shri Krishna Janmasthaan
March 17: Banke Bihari Holi, Rangbharani Ekadashi
March 18: Chadimaar Holi, Gokul
March 20: Holika Dehan, Falen/Jatwaari
March 20: Chaturvedi Samaj Dola
March 21: Dhool Holi
March 22: Charkula Dance, Mukhrai
March 22: Dauji's Huranga, Baldeo
March 22: Huranga, Jaab/Nandgaon
March 23: Huranga, Baathen/Gidoh
The Lathmar Holi is one of the remarkable traditions that is followed in Braj. The story goes that Lord Krishna used to go to the neighbouring town to play with colours with Radha and her friends. They used to then drive him away. Continuing the same, the men from Nandgaon and Barsana celebrate the tradition which sees men being beaten up by the women with lathis. It is a thrilling experience to see the tradition that has been carried on for so long. But the dates of celebrating Lathmar Holi differ from town to town. This year Lathmar Holi was celebrated on March 15 in Barsana and March 16 in Nandgaon.
The Phoolon wali Holi is played with a lot of flower and petals along with a dash of colours. As soon as one enters the temple, people are showered with flower petals. It is a sight to see as a mix of colourful flowers don the area. Another celebration here, also involves the participation of widows. At other times, these widows live a very sad and banished life, but during Holi they all come together and share their happiness by celebrating with colours. The Best Place to Feel the Vibe of This Festival is in Uttar Pradesh, Here's Why!
While different states have different ways of ringing in the festival, Uttar Pradesh remains notable because of so many varieties. Tourists come from not just the country but also from outside to be a part of these massive celebrations. Long processions are also held in these towns with all the tourists and locals coming together to revel in these celebrations.