One of the longest Hindu festival filled with fun, excitement and fervour, Ganeshotsav is just two days away and people have geared up to welcome Bappa with open hearts like each year. Celebrated on a grand scale in Mumbai and Pune, joy knows no bounds for the devotees. In 2018, Ganesh Chaturthi will begin on September 13 and the lord will bid farewell on September 23. All 10 days the streets are brightly lit up, people visit several pandals throughout the city, and many also bring Ganpati idols to their humble abode. People decorate huge pandals with lights, flowers and other decorative items. Some even have specific theme for every year. While many bring Ganpati in their houses, people decorate the space where the Ganpati idol will sit as well. Ganesh Chaturthi 2018 Date: Significance, History, Importance, Rituals & Why is the Festival of Ganpati Celebrated for 10 Days.
People either use readymade thermocol makhar, artificial or real flower decoration or get creative with their own designs to decorate the area in and around where the Ganpati idol will sit. Many also experiment with different themes each year. With growing awareness, people are not only opting for eco-friendly Ganpati idols but also eco-friendly decorations. Below we present you with some decoration ideas that you can try this Ganesh Chaturthi.
Ganesh Chaturthi 2018 Decoration Ideas
1. Eco-Friendly Decoration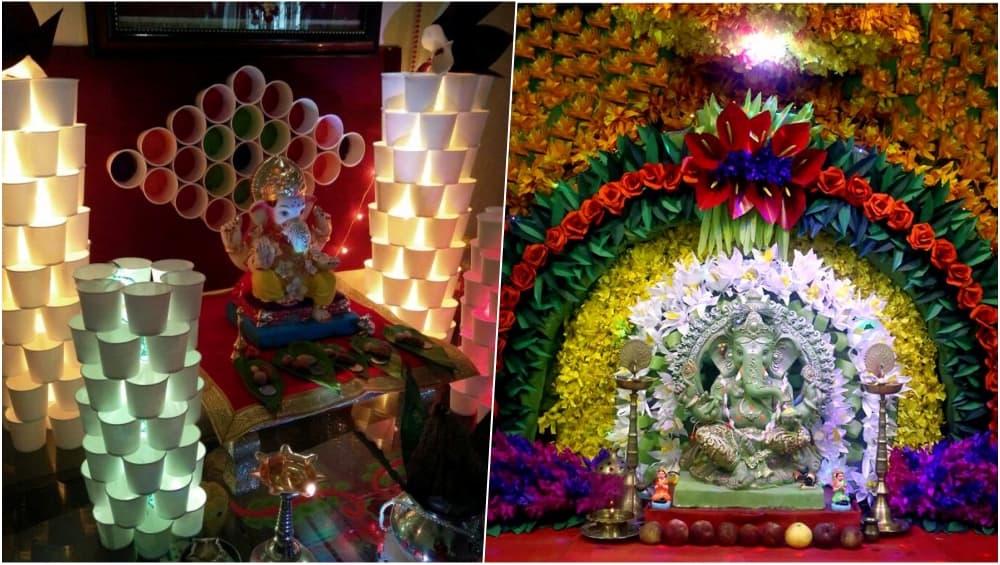 As people are getting more environmental friendly, many are opting for eco-friendly Ganpati decorations as well. From using paper flowers to paper cups or even bricks, there are many options one can choose from. No matter what design or decorative item you choose, lights are a must. They just add a whole new dimension to the decoration. You can use LED diyas or a string of lights. There are a range of lighting products available in the market for you to choose from. Lights create an appealing aura around the mandap. Ganesh Chaturthi 2018: Eco-Friendly Ganpati Idols You Can Make at Home (Watch DIY Videos).
2. Floral Decoration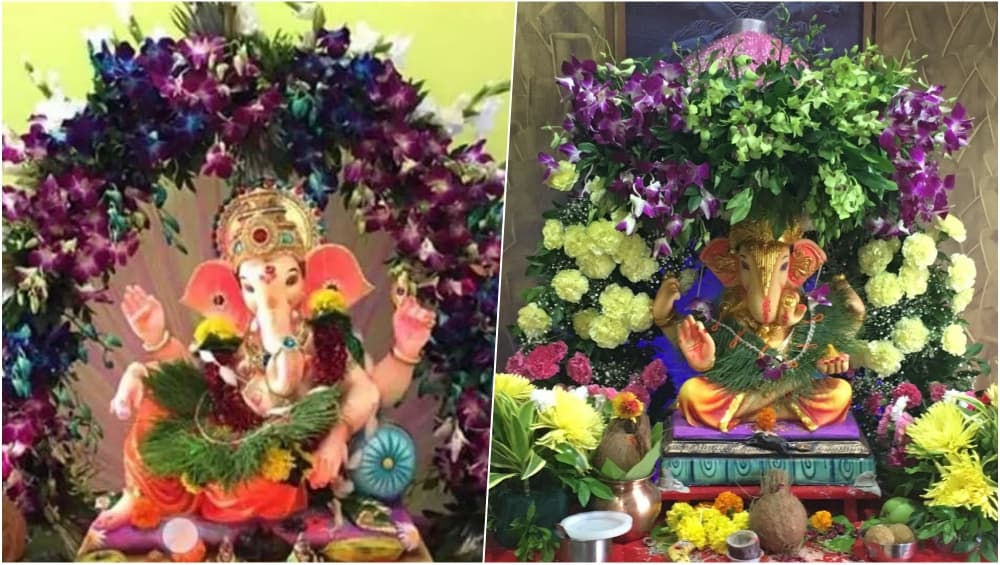 You can either use real flowers or artificial flowers. It is better to always use artificial flowers because if you plan to keep the Ganpati idol for all 10 days, it is difficult to maintain the freshness of the flowers. Stale flowers will also attract mosquitoes and will start having a bad odour. Instead opt for artificial flowers and you will not have to worry about any of these issues. You can create a floral background at home using cardboard. You can even hire people to do the floral decoration at home.
3. Theme Decoration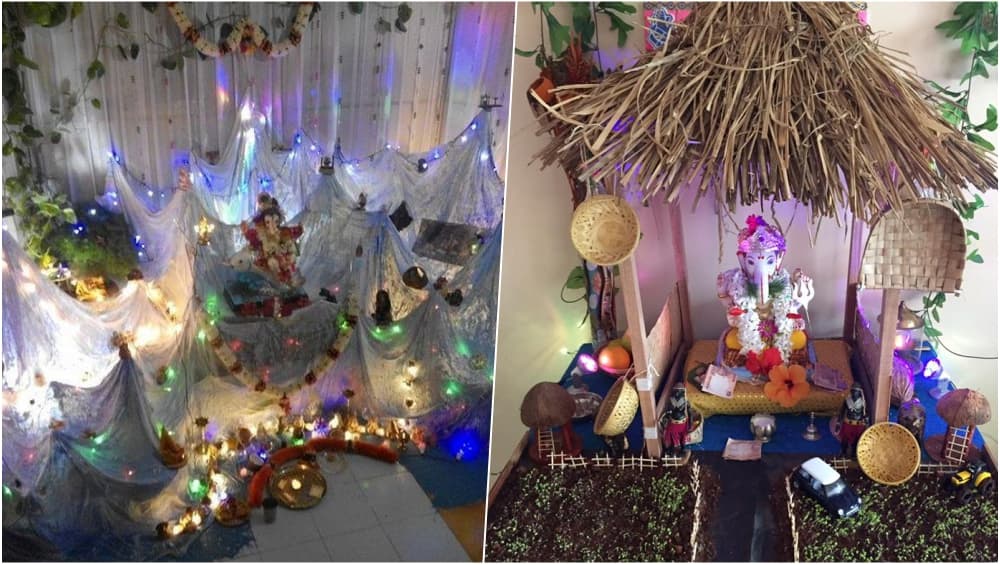 This is one of the difficult decorations to achieve as it totally depends on what your theme is. Over the years, we have come across many themes like mountain, village, musical, eco-friendly themes using paper cups or flowers and many more. For a theme decoration, it is important to keep in mind the size of your Ganpati. Your decoration should not overpower the size of your Ganpati, after all your beautiful idol should stand out.
4. Thermocol Makhar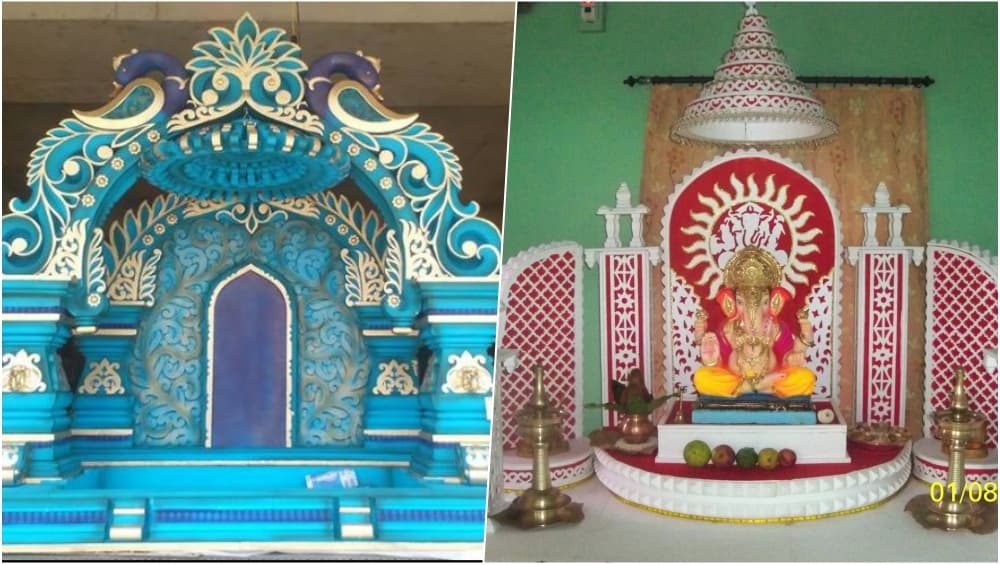 Now if you are not the creative one or do not have too much time on your hands, selecting a readymade thermocol is the best and safest bet. As the festival nears, the markets are flocked with vendors selling thermocol makhars of different sizes, shapes, colours and more.
To add as a part of your decoration, one can create beautiful floral Rangoli pattern at your doorstep or in front of the idol. No matter what type of design you select, always try and use bio-degradable items. Whether it is green Ganpati or simple floral decoration, the options are endless. We hope that these Ganesh Chaturthi decoration ideas and tips will come handy for you to decide which decoration you want to go for.