Ganesh Chaturthi or Vinayaka Chaturthi, a 10-day long festival marks the birth of Lord Ganesha and the propitious occasion is cheerfully celebrated in Mumbai and Pune in Maharashtra and some parts of South India. The auspicious festival is observed in the month of Bhadra (August-September) according to the Hindu Calendar. The festival begins on Shukla Chaturthi which is the fourth day of the waxing moon period and ends on the 14th day of the waxing moon period known as Anant Chaturdashi. In 2018, Ganesh Chaturthi festivities will commence on September 13 and the visarjan will take place on September 23. To honour the birthday of the elephant-headed God Ganesha and the younger son of Lord Shiva and Goddess Parvati, devotees celebrate the festival with vehemence and in high spirits. Below we discuss the significance, history, importance and rituals performed during the 10-day long festival of Ganesh Chaturthi. Ganesh Chaturthi 2018: Eco-Friendly Ganpati Idols You Can Make at Home (Watch DIY Videos).
Significance of the Festival
Known as the God of beginnings, no rituals or ceremonies in Hindu culture is begun without performing his puja first. He is known to ward off the evil eye. Ganesha has 108 different names and is also the Lord of arts and sciences and the deva of wisdom. Also, popularly called as Ganpati or Vinayaka, Hindu devotees worship him prior to all Hindu Gods. His name is repeated before starting any work and is believed to be very fortunate and auspicious. People even keep an idol or image of Ganpati on their door entrance to let positive vibrations enter the house. During Hindu marriage ceremonies, the first invitation is presented before Lord Ganesha to seek his blessings. He is also associated as the God of power and wisdom. There are various stories that show how cleverly and calmly he used to deal with complicated matters.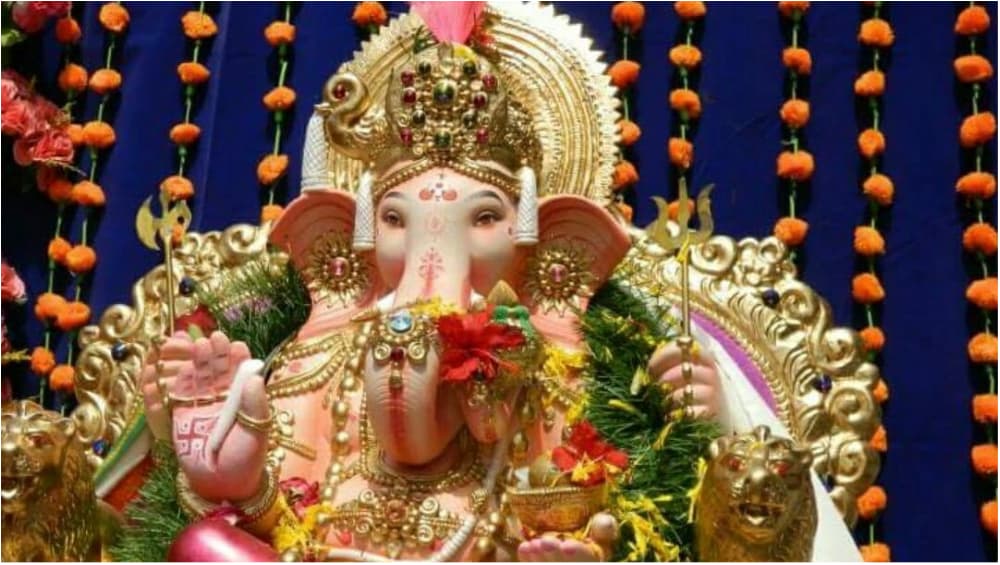 Mythological Significance
There are many legends associated with Ganpati's birth. But the most famous story goes like that once Maa Parvati asked his son Ganesh whom she created from the dirt that came out of her body while taking bath and then breathed life into him. She asked him to guard her from outside while she took bath. When Lord Shiva came, Ganesh stopped him to enter as he was obeying his mother's orders. Unaware that Parvati had ordered Ganesh to not let anyone enter, Lord Shiva got furious and severed Ganesh's head in anger. When Parvati came out after her bath she saw a headless Ganesha and explained everything to Lord Shiva. Shiva regretted but promised her that he will revive their son back. Shiva ordered his servant to bring the head of the first living being he would meet. The servant saw an elephant and cut his head and bought it to Shiva. Lord Shiva fixed the elephant's head on Ganesha's body and thus gave birth to our beloved Lord Ganesha.
According to legends and stories, it took 10 days for Lord Shiva to find a head and thus the festival of Ganesh Chaturthi is celebrated over 10 days. Although the last day of Anant Chaturdashi is the most significant day to perform Ganesh Visarjan, many families do it on odd number of days like one and a half day, 3rd, 5th, 7th and 11th day. Anant Chaturdashi falls on the 11th day.
According to another legend, Ganesha was created by Shiva and Parvati on the request of other devas. They wanted a vighnakartaa (obstacle-creator) in the path of rakshasas (demonic beings) and a vighnahartaa (obstacle-averter) to help the devas.
History
Although no one knows the exact date when the festival was first celebrated, however, according to history it has been estimated that Ganesh Chaturthi was celebrated as a public event in Pune during the time of Shivaji (founder of Maratha Empire). After the end of Peshwas, it remained as a family celebration but was revived again in 1893 by Indian freedom fighter and social reformer, Lokmanya Tilak who reshaped the annual Ganesh festival from private celebrations into a grand public event. Gradually, it was then celebrated as a national festival to remove the conflicts between Brahmins and non-Brahmins and to bring unity among people. People in Maharashtra started celebrating the festival with great fervour and enthusiasm during the British rule to get free from the cruel behaviour of Britishers. The ritual of Ganesh Visarjan was also established by Lokmanya Tilak.
Rituals
During the festival, colourful pandals (temporary shrines) are setup across the state of Maharashtra and the Lord is worshipped for 10 days. Beautiful Ganpati idols are created – some enormous in size for the pandals and some in size as tall as two feet for people's humble abode. Throughout the 10 days, cities like Mumbai and Pune are in high spirits, right from the first day of the festival to the last day. There are four main rituals during Ganesh Chaturthi. The first is Pranapratishhtha – the process of infusing the deity into a murti or idol; second is Shhodashopachara – 16 forms of paying tribute to Ganesha; third is Uttarpuja – puja after which the idol could be shifted after it's infusion; fourth is Ganpati Visarjan – immersion of the idol in a water body. Devotees also prepare Ganpati's favourite sweet, Modak, which is prepared with coconut and rice flour and is offered to the deity with incense and flowers. For the all the days, the idol is worshipped with Ganpati puja, devotional songs and Ganesh aarti in the morning and evening.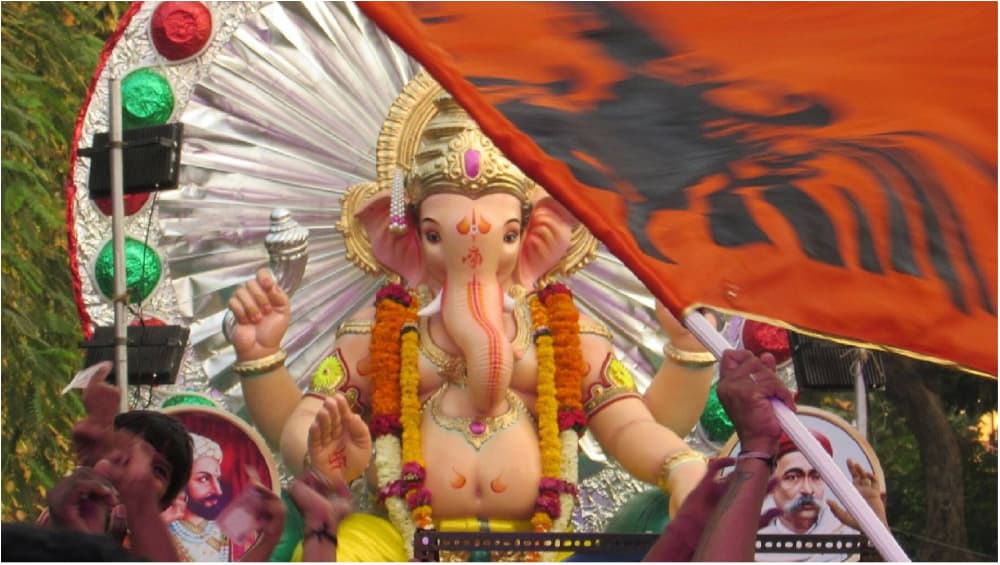 Celebrations
During these 10-long days of the festivity the most popular chant heard by the devotees is 'Ganpati Bappa Morya'. People visit iconic pandals throughout the city and offer prayers and prasad. People not only recite mantras but also sing and dance on devotional or popular Bollywood songs. On the last day of the festival, during Ganesh Visarjan, people gather on the streets and dance on the beats of the drums and bid adieu to their beloved Ganpati with utmost joy and happiness and pray to him to return next year as soon as possible.
In Mumbai alone, the festival is a huge celebration and around lakhs of statues are immersed annually. The Ganpati idols are usually made from POP (plaster of paris) which pollute the water bodies and clogs the water sources. It also contains harmful levels of mercury and cadmium which affect the marine ecosystem. With growing awareness, lot of people are now opting for eco-friendly Ganpati idols that are easily dissolvable. This Ganesh Chaturthi, celebrate the festival with great excitement but as a responsible citizen do not neglect your environment.