It is the time for all festivities with Ganeshotsav starting tomorrow, September 13. The day before the Ganesh Chaturthi is celebrated as Hartalika Teej and Gowri Habba. While Hartalika Teej is observed by women in the north, Gowri Habba is a festival celebrated in the south, especially in the state of Karnataka and Tamil Nadu. On this day, people worship Goddess Gowri, the companion of Lord Shiva. Goddess Gowri is the mother of Lord Ganesha. Hartalika Teej 2018 Images & Wallpapers in HD for Free Download: Send These Lovely Wishes to Married Women Observing Teej Vrat Today! 
Married women observe a Gowri Habba fast and they worship the idol of jalagauri or arishinadagauri, which is a symbolic idol of Gowri made with turmeric. Gowri is known as the Shakti behind Lord Shiva. Women worship her and seek courage and power. September 2018 Festivals and Holiday Calendar: Krishna Janmashtami to Ganesh Chaturthi, Know All Important Event Dates and List of Hindu Fasts for the Month. 
Significance of Gowri Habba:
According to Hindu mythology, Gowri is the incarnation of Aadhi Shakthi Mahamaya. There's a belief that on the third day of the month of Bhadra, Goddess Gowri comes home to a married woman. On the next day, her son, Lord Ganesha comes to the house to her back to Kailasa, where Lord Shiva resides with his family. To appease the Goddess, women keep a fast.
Puja Muhurat of Gowri Habba:
The Pratahkal Gowri Puja Muhurat is 06:28 am to 08:55 am. It lasts for 2 hours 26 minutes.
Tritiya Tithi Begins = 18:04 on September 11.
Tritiya Tithi Ends = 16:07 on September 12.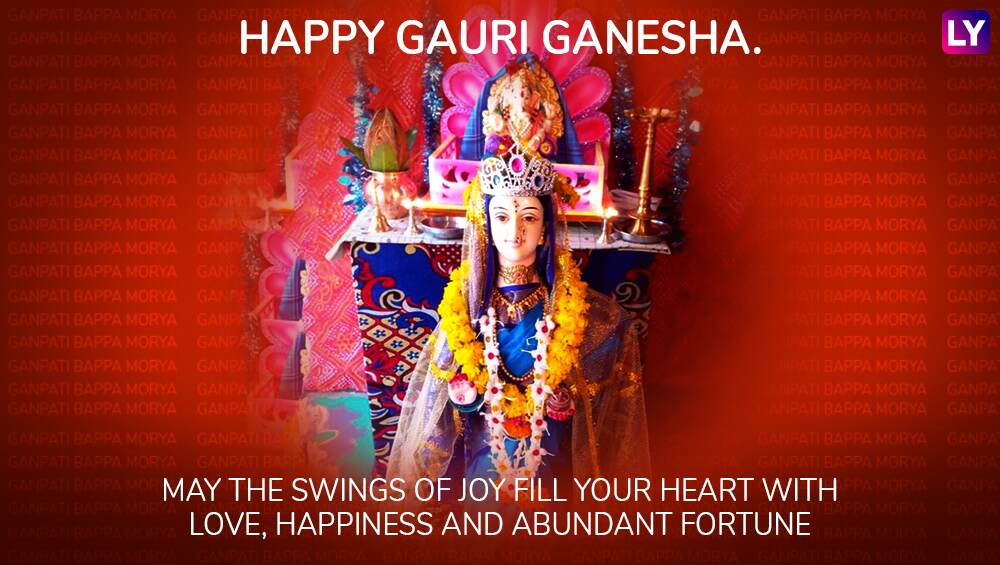 Message reads: May the Swings of Joy Fill Your Heart With Love, Happiness and Abundant Fortune.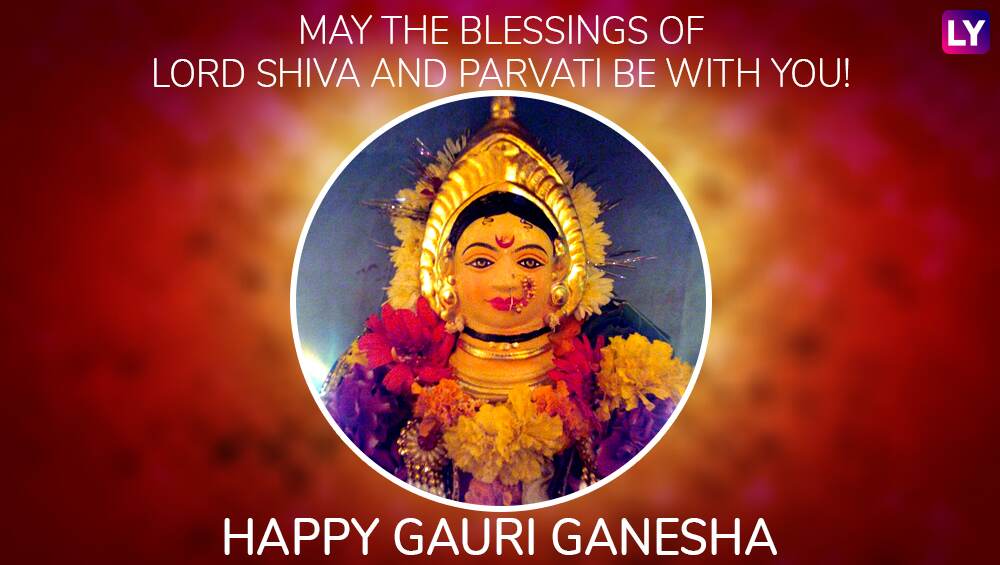 Message reads: May the blessings of Lord Shiva and Parvati be with you! Happy Gauri Ganesha.
On the occasion of Gowri Habba, a married girl's parents send a mangaladravya to the married women of their family. It is followed as a tradition of goodwill for years. Special food items are prepared on this occasion. Newly-wed couples are invited to the family and festive food is prepared for the day.