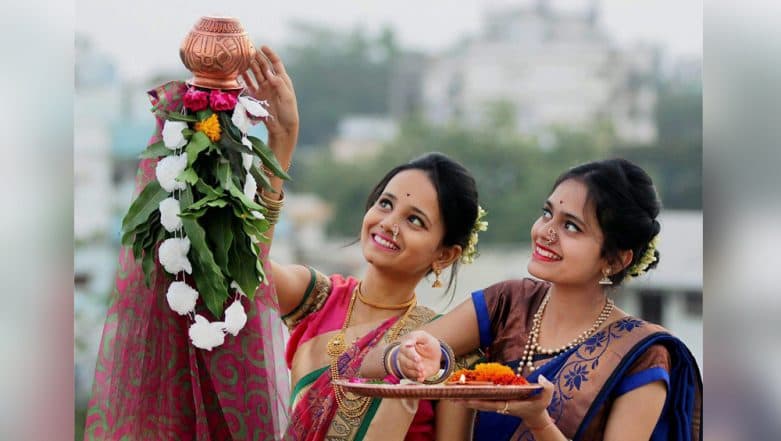 The Maharastrian New Year or the festival of Gudi Padwa is going to be celebrated on March 18 this year. The festival marks the beginning of the traditional Hindu calendar. So it is the first day of the Chaitra month. It is also symbolic of worshipping Lord Brahma. The festival is celebrated even in Karnataka, Andhra Pradesh and Tamil Nadu under different names, but what distinguishes it in the state of Maharastra is emerging the Gudi- an installation of a stick covered with a pot, mango leaves, neem and adorned with a garland and a silk cloth, sometimes a saree. The Gudi is installed in windows or doors and a small puja is performed.
Hosting of Gudi signifies warding off evil from your household. It is said to bring in good luck and prosperity. It is also considered as a sign of victory. A historical belief goes that Chhatrapati Shivaji led the troops to victory and attained freedom for the kingdom from the Mughals in Maharashtra. He hoisted an orange flag to signify the victory. Several people chose this day to start something new as it is considered auspicious. Why Do We Celebrate Gudi Padwa? Facts, Significance & Importance of the Maharashtrian New Year
Today, readymade Gudis are easily available in the market. There are small Gudi installations which people buy instead of hoisting their own. If you do not know how to make a Gudi, let us help you.
Watch video of how you can make your own Gudi at home:
Depending on your requirement you can choose the cloth size, kind of decoration and even the pot. Most of the times, a silver or copper pot is used but you can also use a mud one. Will you be installing your own Gudi this time? It is indeed an enthusiasm which you should participate in. Wish you all a very happy new year and Happy Gudi Padwa!