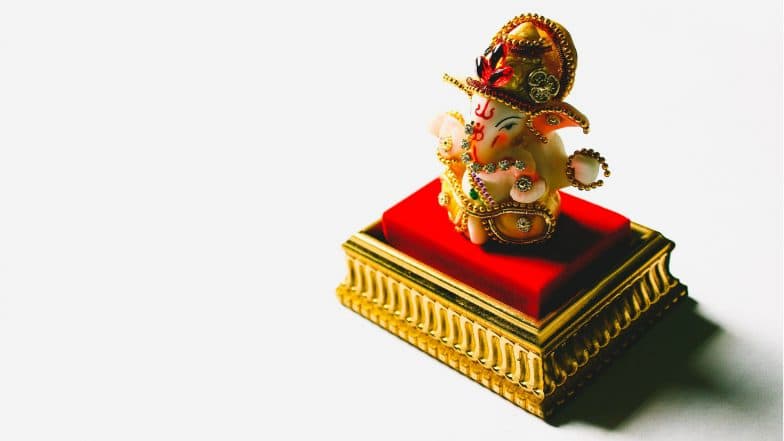 Sankashti Chaturthi is an auspicious day dedicated to Lord Ganesha, Hindu God of new beginnings and good luck. And Sankashti Chaturthi that falls during the Hindu month of Shraavana is called Heramba Sankashti Chaturthi. It will be observed in states such as Gujarat, Maharashtra, Karnataka, Andhra Pradesh, Tamil Nadu and Kerala who follow Amavasyant calendar. On this day, devotees observe fast (vrat) till moonrise (chandrodaya). Heramba Sankashti Chaturthi 2019 date falls on August 19 (Monday). While you know of the date, it is important to know the moonrise time on Sankashti day. You will find chandrodaya samay on Heramba Sankashti Chaturthi Chandra Darshan below.
Devotees observe fast to please Lord Ganesha on the fourth day of Krishna Paksha (dark lunar phase or the waning phase) every lunar month of the Hindu calendar. During each month, Ganpati Bappa, another name of Lord Ganesha is worshiped with a different name and peeta (seat). During Shravana month, Heramba Maha Ganapati is the name of Lord Ganesha of which the pooja is performed. The names of peeta is Ganapathi Peeta.
On these special 12 days of the year, the devotees keep stringent fast. They break the fast at night after Chandra Darshan, auspicious moon sighting followed by chanting mantra and prayers to Ganesha. Devotees offer modak as prasad. It is a popular Indian sweet that is considered to be the favourite sweet of Ganesha. In fact, the Hindu deity is given the moniker Modakapriya for his love for modak.
Chandrodaya Samay (Moonrise Time) for Heramba Sankashti Chaturthi Chandra Darshan
According to Drik Panchang, Chaturthi Tithi begins at 01:13am on August 19, 2019 and Chaturthi Tithi ends at 03:30am on Aug 20, 2019. Coming to the important part, moonrise time or chandrodaya samay on Heramba Sankashti Chaturthi is at 21:39pm on Monday. Devotees can break their fast after the sight of the moon.
Devotees observe Sankashti Chaturthi to seek Lord Ganesha's divine blessings. The Hindu deity is not only the god of beginnings and good luck but also intelligence, prosperity and wisdom. He is also known to remove obstacles from one's life. It begets him the name Vighnaharta from his ardent followers.