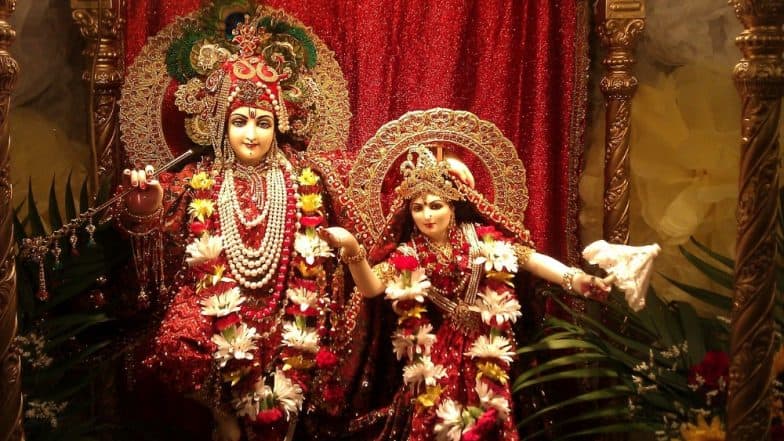 Krishna Janmashtami is a Hindu festival which celebrates the birth of Lord Krishna. Also known as Gokulashtami, the day is observed on the eighth-day Ashtami of the Krishna Paksha in the month of Shravan, as per the Hindu calendar. Going by the Gregorian calendar, Krishna Janmashtami 2019 will be celebrated on August 24. The day is celebrated with great fanfare in North India. On this day, devotees throng Krishna temples where special prayers and programmes are held. The temples are decorated beautifully with flowers and leaves. Pretty swings or palnas are hung inside temples showcasing younger Krishna. As we celebrate the day, we have compiled a list of ways in which you can decorate your house this festive season. Krishna Janmashtami 2019 Festival Date: Significance, Gokulashtami Puja Tithi and Celebrations Associated With Lord Krishna's Birthday.
Jhula decoration is an important part of the decorations for Krishna Janmashtami. Decorated butter pots are also set up inside the temple as young Krishna is known for stealing butter. While Janmashtami is a popular festival in many north Indian states, Mathura witnesses large scale celebration as it is believed to be the birthplace of Krishna. The holy town of Vrindavan also sees various festivities on the day. As Krishna Janmashtami 2019 approaches, we have compiled a list of ways in which you can decorate your house.  How Birth of Lord Krishna is Celebrated At Various ISKCON Temples Across The Nation.
4 Decoration Ideas For Krishna Janmashtami
Bring Vrindavan to Life
You can re-create Vrindavan inside your house by putting together statues of young Krishna and his friends playing with cows in the pasture. Add flowers, leaves and thin rope lights to make the place look colourful.
Hang Pots on Wall
Tie an earthen pot to a wall and let it hang from there. Similarly, tie three to four pots on the wall of your puja room. Decorate the pots by painting them and sticking coloured motifs on it. You can enhance the look by adding marigolds, jasmines and ribbons to the wall.
Put up a Palna
You can explore different ways to decorate the swing. Wooden palnas can be adorned with flowers and quilt. You can also add lace shawls on the adjoining wall to highlight the look of the swing.
Choose a Krishna Idol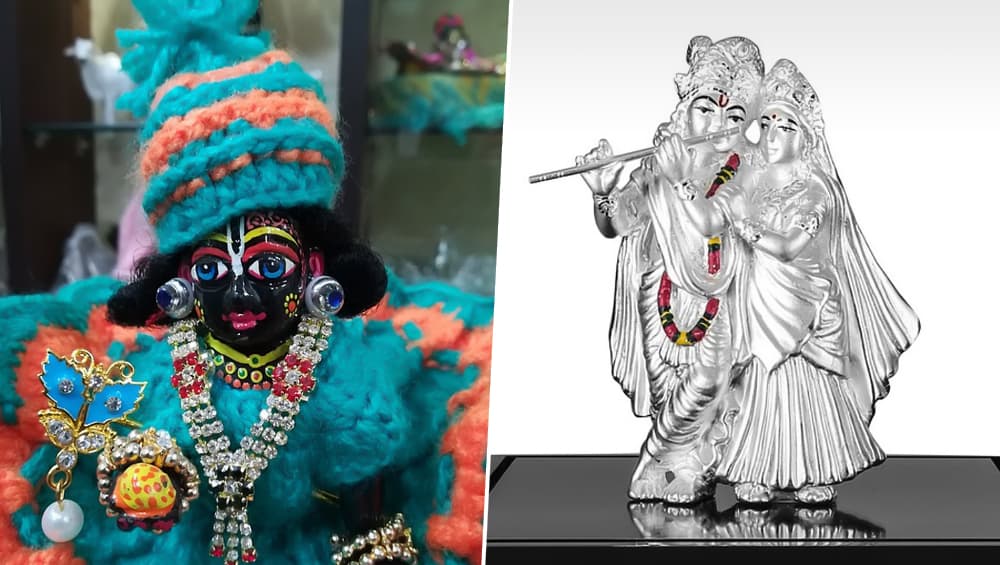 You can shop for two types of Krishna idols. Either go for one that is plain and simple, so that you can use your creativity in it. Otherwise, you can also go a heavily studded idol so that you can save time on decorating it.
Krishna Janmashtami is celebrated is also celebrated in states like Manipur, West Bengal, Assam, Odisha, Rajasthan, Gujarat, Tamil Nadu and others. Various processions, bhajan, kirtans are held in Krishna temples across the country. According to Hindu mythology, Lord Krishna was born during evil times. His uncle King Kansa had decided to kill him at the time of his birth. Hence, after Krishna's birth, his father Vasudeva took him across the Yamuna to Nanda and Yashoda Gokul who brought him up. The day of Krishna's birth is celebrated as Janmashtami festival.