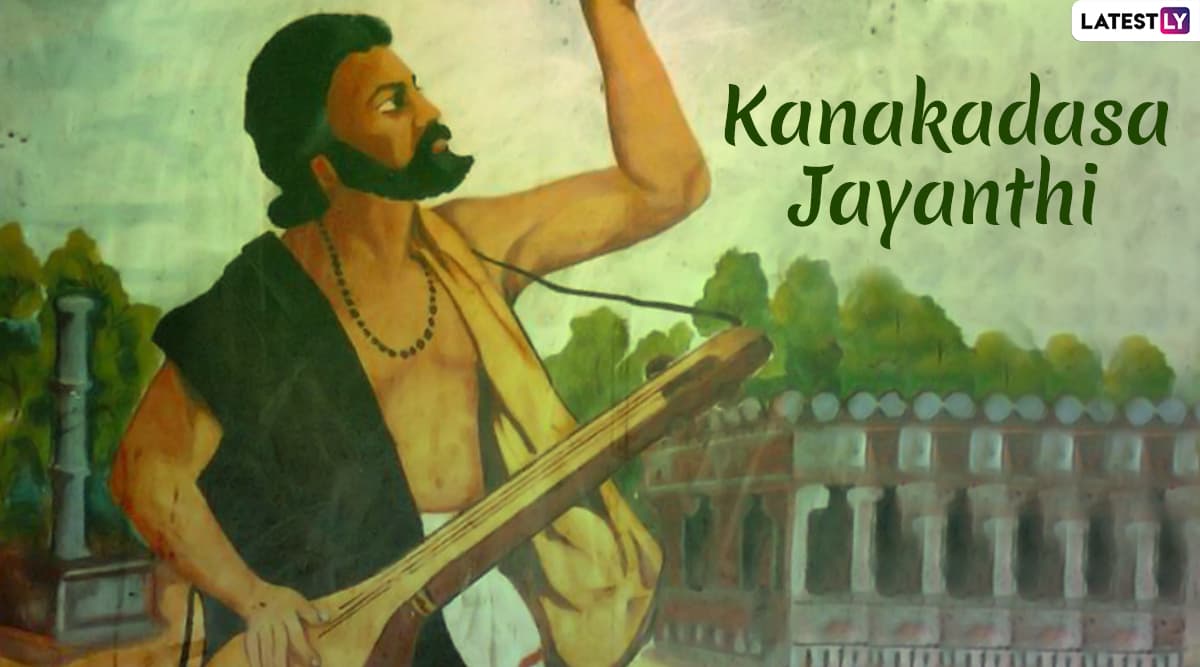 Every year, Kanakadasa Jayanthi is celebrated on November 15 as birth anniversary of the most famous musician, poet, philosopher and composer of modern Karnataka. The celebration is one of the most important festivals in Karnataka and is celebrated more prominently by the Kuruba Gowda community. But apart from that, the whole of Karnataka celebrates Kanakadasa Jayanthi and it is also considered as one of the state holidays declared by the Government of Karnataka. The popular saint cum musician is known for his epic Keertanas and Ugabhoga. Most of his compositions are in the Kannada language for Carnatic music. Mysore Dasara 2019 Dates and Celebrations: Know How Karnataka Celebrates the 10-Day Festival of Mysuru Dusshera During Navratri (Watch Video). 
Kanakadasa was amongst the most popular musicians of his era, till date because he was known to use simple Kannada language and native metrical forms for the composition of songs to reach out to the masses. Not many people know that Kanaka Dasa even fought wars earlier. He was well-educated but since he got severely injured in a war and miraculously saved, he gave up his profession as a warrior.
Check Out Kanakadasa Jayanthi Wishes and Greetings On Twitter:
Nov 15, 🇮🇳 India (Karnataka): Kanakadasa Jayanthi. This General Holiday commemorates the noted poet and saint Shri Kanaka Dasa on the anniversary of his birth in 1509. https://t.co/h6nURZY0RG pic.twitter.com/5hkURpl31l

— Office Holidays (@officeholidays) November 15, 2019
Saluting the Great Philosopher...
Saluting the great philosopher and poet #Kanakadasa on the occasion of his jayanti. His thoughts are widely accepted. His contribution to society is truely remembered.#KanakadasaJayanthi#kanakadasa pic.twitter.com/7o9Z3VqXJh

— Yallappa G.🇮🇳 (@YallappaGulbar1) November 15, 2019
Best Wishes
Shri. #KanakaDasa fought against the social structure to realise equality. His teachings are very relevant even today. We should walk in the path shown by him & create a world filled peace & happiness.

Best wishes to everyone on #KanakadasaJayanthi pic.twitter.com/BZpaGHAuS3

— B Z Zameer Ahmed Khan (@BZZameerAhmedK) November 15, 2019
Wishes From The CM
ತಮ್ಮ ಸಾಹಿತ್ಯದಲ್ಲಿ ವಿಡಂಬನೆಯ ಮೂಲಕ ಸಮಾಜದ ಸಾಕ್ಷಿಪ್ರಜ್ಞೆ ಯನ್ನೂ ಬಡಿದೆಬ್ಬಿಸಿ ದ, ಭಕ್ತಿ ರಸದ ಹೊನಲು ಹರಿಸಿದ ಸಂತಶ್ರೇಷ್ಠ ಕನಕದಾಸರ ಜಯಂತಿ ಶುಭಾಶಯಗಳು.#kanakajayanti pic.twitter.com/xxVabKkERT

— CM of Karnataka (@CMofKarnataka) November 15, 2019
For those who don't know the phrase, "Nanu Hodare Hodenu" that is written in the Kannada language as "ನಾನು ಹೋದರೆ ಹೋದೇನು" is quite strongly related to him. It holds a very powerful meaning amongst his followers and is traditional folklore that has left an impression in the people's mind. The story behind the folklore dates back to the time when Kanakdasa's master once asked him that which of the scholars present at that time could attain moksha aka salvation. To this question, Kanakdasa gave a very cryptic reply and said something that roughly means, "If I gone, I may go" while making the others present there absolutely furious.  However, it was later understood that the phrase had a deeper meaning that said that no amount of scholarship can state whether anyone would receive salvation. Till the time ego exist one cannot achieve anything.