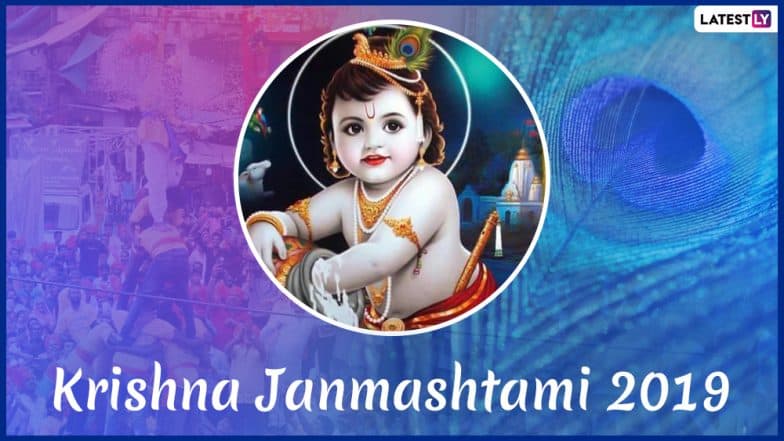 A significant celebration of the Hindus, the festival of Krishna Janmashtami is being celebrated today. This festive occasion marks the birth of Hindu Lord of Shri Krishna. It is a very auspicious occasion since Lord Krishna and is marked with fervour especially at the birthplace. Krishna who is also known as Gopal, is considered the eighth incarnation of Lord Vishnu. Lord Krishna temples are decorated and special puja is performed to celebrate the birth of the Lord. The celebrations of Janmashtami or Gokulashtami take place in much enthusiasm in the cities Mathura, Gokul, and Vrindavan in UP. The celebrations of this festival go on for two days, the next day is celebrated as Gopal Kala or Dahi Handi. Ahead of Janmashtami 2019, we tell a bit more about the significance, puja tithi and celebrations of this auspicious day. How Birth of Lord Krishna is Celebrated At Various ISKCON Temples Across The Nation.
Lord Krishna was born on the Ashtami or the eighth day of Krishna Paksha (dark fortnight) in the month of Bhadrapada according to the Hindu calendar. Devotees of Lord Krishna offer elaborate worship, chant his mantras and seek his blessings. The temples of Lord Krishna depict scenes from his life and the arrangements of the celebrations begin well in advance. A big puja is performed at the exact time of the birth of the Lord. The Nishita Puja Time for Janmashtami 2019 is 12:14 to  12:46 AM August 25. After the puja, devotees leave their fast. Janmashtami 2019 Date and Puja Vidhi: Know Krishna Puja Tithi, Shubh Muhurat to Observe on Gokulashtami.
Significance of Janmashtami
Lord Krishna is a major deity in Hindu mythology. An incarnation of Lord Vishnu, he is known as the god of love and compassion. He plays a central character in the mythological epics of Mahabharata, Bhagavata Purana and Bhagvad Gita. From a child prankster to a supreme being, Lord Krishna's facets have been variedly depicted in Hindu mythology. His popularity does not limit to India alone but there are devotees of the Lord in the western world too. So the birth of Lord Krishna is undoubtedly a big event and sees great festive celebrations throughout the country.
The celebratory arrangements for Gokulashtami begin almost a week in advance, especially in the temples of Mathura and ISKCON temples. The idol of the Lord is cleaned,  decorated with fresh clothes and ornaments. The idol is placed in a cradle and the celebration is marked like the birthday of a little child. There is also recitation of holy books like the Bhagvad Gita and Gita Purana in major temples.