In India, Martyrs' Day, also known as Shaheed Diwas, is observed to honour those freedom warriors who gave their lives in the struggle for India's independence. There are seven Martyrs' Days, with January 30 being Mahatma Gandhi's death anniversary being the most well-known. Several times a year, Martyrs' Day, Shaheed Diwas, or Sarvodaya Day are observed in India to honour those who gave their lives for India's independence from British colonial rule. On Mahatma Gandhi's death anniversary and Martyrs' Day 2023, share these messages, quotes and images as patriotic sayings, Shaheed Diwas photos, famous lines by Mahatma Gandhi, HD wallpapers and slogans with everyone you know. Mahatma Gandhi Punyatithi 2023 Date, Martyrs' Day History and Significance: All You Need To Know About the Father of the Nation on His Death Anniversary.
The most significant Martyrs' Day is observed on January 30, the day of Mahatma Gandhi's passing. The day of March 23, when Bhagat Singh, Rajguru, and Sukhdev were hung in 1931, is the second-most popular Martyrs' Day. Because they tossed explosives into the Central Legislative Assembly on April 8, 1929, while yelling "Inquillab Zindabad," Bhagat Singh and his accomplices were put to death in 1931.
On January 30, the President, Vice President, Prime Minister, and Defence Minister gather at Mahatma Gandhi's Samadhi at the Raj Ghat Memorial to pay tribute to Indian martyrs and Mahatma Gandhi. In honour of the Indian freedom fighters who gave their lives, there is a two-minute silence. Many schools host events where students perform plays and patriotic songs on this day.
In India, several dates are designated as Shaheed Diwas, or Martyrs' Day. The British hanged three courageous independence fighters on March 23, including Bhagat Singh, Shivaram Rajguru, and Sukhdev Thapar. In honour of Mahatma Gandhi, January 30 is also honoured as Martyrs' Day or Shaheed Diwas. You can share these messages, sayings and HD Images with revolutionary lines with your special ones to pay homage to these three revolutionaries on Martyr's Day.
Martyrs' Day 2023 Messages, Quotes & Images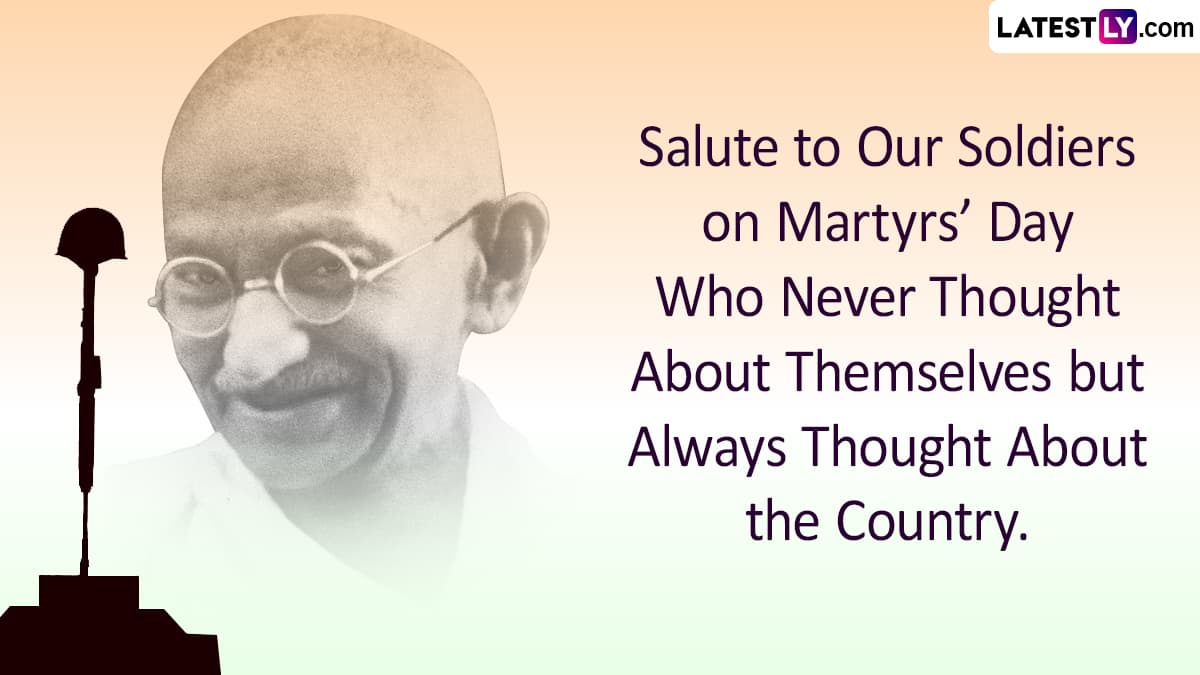 WhatsApp Message Reads: Salute to Our Soldiers on Martyrs' Day Who Never Thought About Themselves but Always Thought About the Country.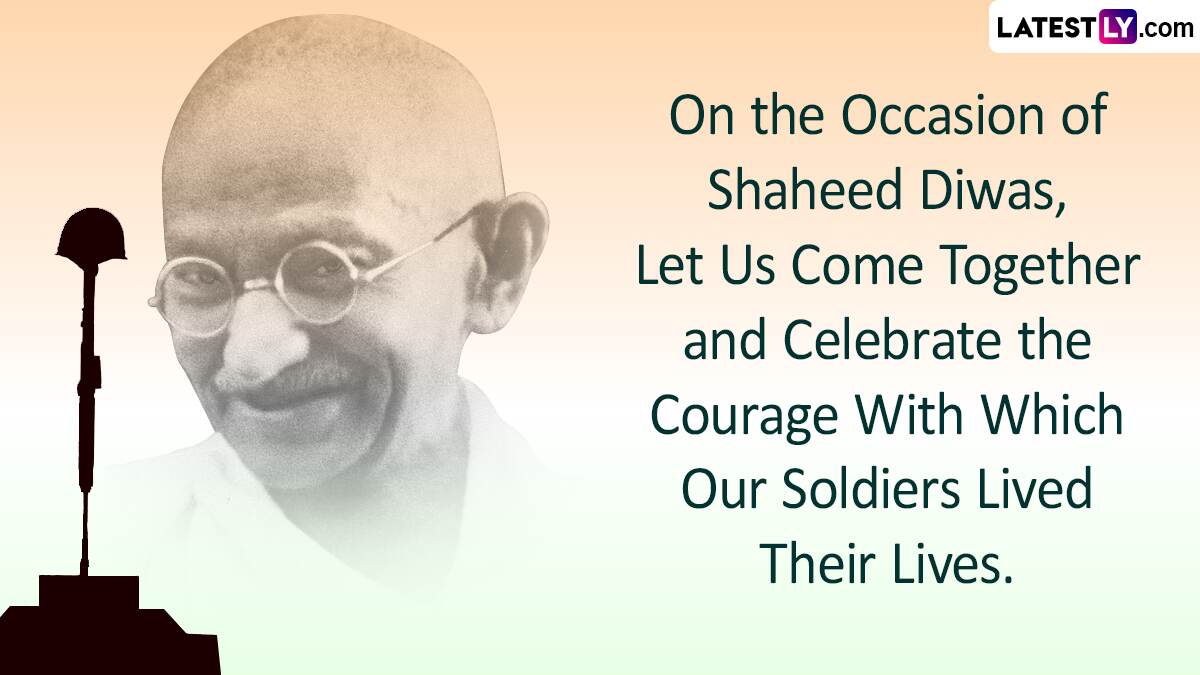 WhatsApp Message Reads: On the Occasion of Shaheed Diwas, Let Us Come Together and Celebrate the Courage With Which Our Soldiers Lived Their Lives.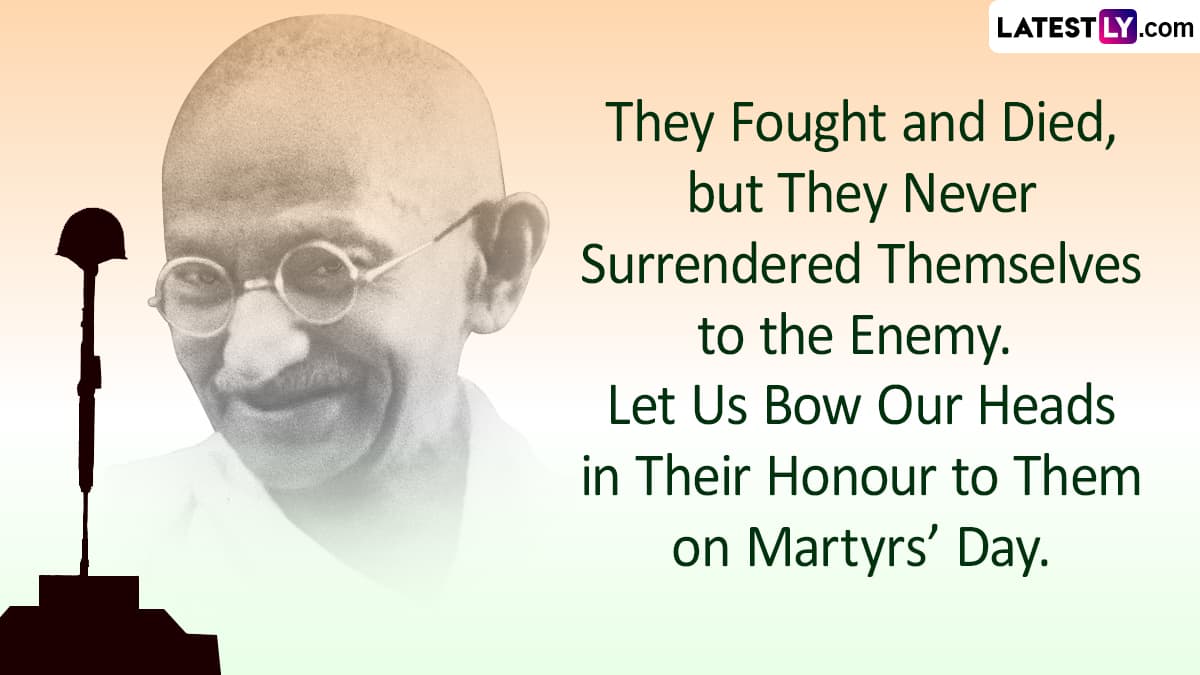 WhatsApp Message Reads: They Fought and Died, but They Never Surrendered Themselves to the Enemy.  Let Us Bow Our Heads in Their Honour to Them on Martyrs' Day.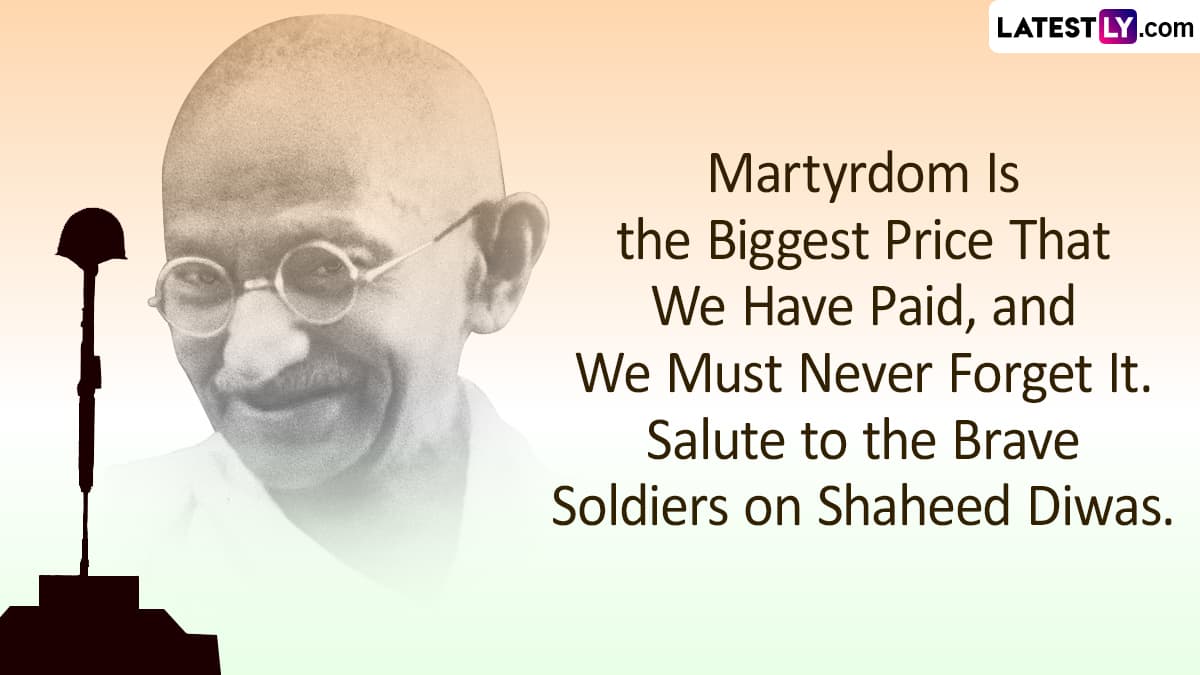 WhatsApp Message Reads: Martyrdom Is the Biggest Price That We Have Paid, and We Must Never Forget It. Salute to the Brave Soldiers on Shaheed Diwas.
WhatsApp Message Reads: When a Martyr Dies, He Leaves Behind an Example for Generations To Follow. Let's Remember Them on Martyrs' Day.
On this day, the Army, Air Force, and Navy leaders join the President, Vice President, Prime Minister, and Defense Minister to lay floral wreaths at Mahatma Gandhi's Samadhi in Raj Ghat, New Delhi. At 11:00 am, a two-minute moment of silence is the best way to observe the day all around the country in honour of the courageous Indians who gave their lives for the cause of freedom without thinking twice.
(The above story first appeared on LatestLY on Jan 30, 2023 08:30 AM IST. For more news and updates on politics, world, sports, entertainment and lifestyle, log on to our website latestly.com).