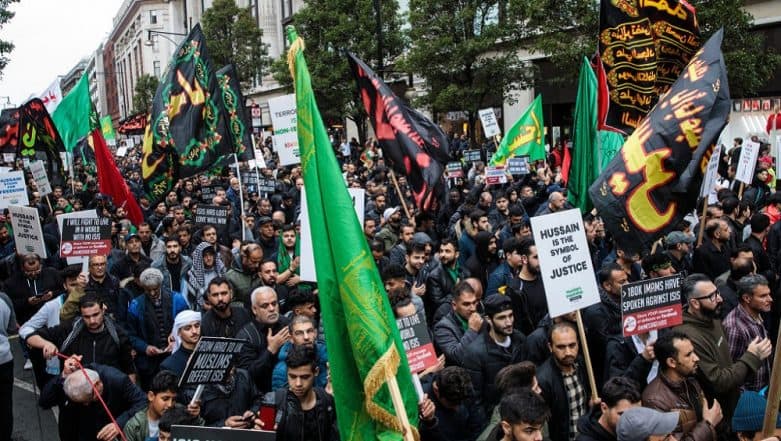 Muharram, the first month of the Islamic new year, is confirmed to begin in the Kingdom of Saudi Arabia and most parts of the Middle East on Tuesday, September 11. In West Asia, Indian subcontinent and far-east, the dates will be determined based on the sighting of crescent moon today.
On the 10th date of Muharram, Ashura is observed. On this day in 680 AD, Imam Hussain (as), the grandson of Prophet Muhammad (pbuh), was martyred in the War of Karbala against the oppressive regime of Yazid ibn Muawiya.
Date of Observance
In Saudi Arabia and parts of the Middle East, Muharram is confirmed to begin tomorrow as today is the 30th date of Islamic month Dhul Hijjah, which precedes Muharram. Ashura, therefore, will be observed on September 20 in KSA, Middle East and most parts of Africa.
In the Shia-dominated Iran, and other parts of West Asia, along with the Indian subcontinent and far east, today is the 29th date of Dhul Hijjah. If the crescent moon is sighted today, Muharram will begin tomorrow. If the moon remains invisible, the new month will begin from Wednesday. Hence, the date of Ashura observance in the above-mentioned regions of the world could be either September 20 or 21.
Relevance, Importance and Key Facts About the 1st Month of Islamic New Year
Throughout the first-ten day period of Muharram, leading to Ashura, commemoration meets are held post the night prayers (Namaz-e-Isha) to recall the War of Karbala.
The battle was necessitated as Yazid, who compromised on key Islamic principles, demanded Imam Hussain (as) to accept his leadership. The Prophet's grandson fought an uphill battle rather than submitting to the tyrannical regime of Yazid.
"By refusing to take allegiance at the hands of Yazid on principles, Hazrat Imam e Hussain (AS) taught this essential lesson to the humankind that those who sacrifice their lives for the sake of principles remain alive and the dictators of the time lose despite their seeming victory and become object of universal condemnation and curse till the Day of Judgment," said Maulana Tahir-ul-Qadri, who heads the Minhaj-ul-Quran International.
The struggle of Imam Hussain has been referred to by non-Muslim figures as well, including Indian independence movement pioneer Mahatma Gandhi, who claimed to had taken "inspiration" from the perseverance, righteousness and patience exhibited by the Prophet's grandson.