The Eighth day of Navratri festival is devoted to Maa Mahagauri, the eighth manifestation of Devi Durga. Sharad Navaratri which falls between the September-October month is considered most auspicious among all the Navaratri. It celebrates the victory of the Goddess Durga over the buffalo demon, Mahishasura to restore the Dharma in the universe. After celebrating all the nine forms of Durga, the tenth-day witnesses grand celebration of Dussehra or Vijayadashmi festival. According to the Hindu mythology, Maa Mahagauri has the power to fulfil the desires of his devotees. Worshipping the goddess helps in getting relief from all the sufferings in life. The eighth day of Navaratri is celebrated as Durga Ashtami or Maha Ashtami, which is considered as one of the auspicious days during Navaratri. Sharad Navaratri 2018: What Are Nine Avatars of Goddess Durga or Navdurga? Pictures, Mantras & Celebration Dates of Navratri Festival.
According to Indian mythologies, In order to attain Lord Shiva as her husband, Maa Parvati went through hard penance due to which her skin colour turned dark. Impressed by her devotion Lord Shiva accepted her and washed her body with holy water of Ganga because of which her body turned white. She is depicted wearing white clothes because of which she is also known as Shwetambardhara. Navratri 2018 Dates, Days & Tithi Calendar: Shubh Puja Muhurat & Time for Aarti During Nine-Day Sharad Navaratri Festival. 
Etymology and Iconography
Mahagauri got her name from the Sanskrit word - Maha (great) and Gauri (White). As the name suggests, Maa Mahagauri is extremely fair. Her fair complexion is compared with the moon, the conch and the white flower Kunda. She is also known as Shwetambardhara because she wears only white clothes. Idols and pictures of Mahagauri depict her sitting in the top of the bull. Mahagauri has four arms. She carries Trishul in the lower right and the upper right is in Abhaya Mudra. Her lower left is in Varada Mudra while her upper left arm adorns damru.
Mahagauri Puja Vidhi - Mahagauri Mantra and Prarthana or Prayer of Mahagauri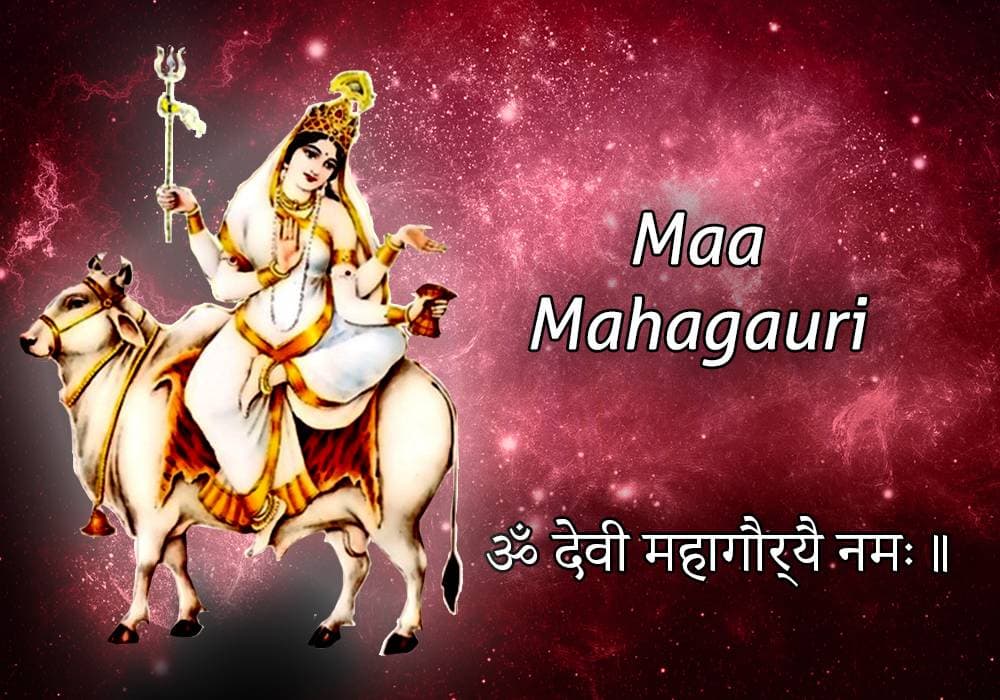 Mahagauri's puja takes place on the eighth day of Navaratri. Devotees first perform Ganesh puja, then Navratri Kalash is worshipped after that Mahagauri's idol is worshipped with water, milk, bath with curd, Chunri (cloth), sandalwood, sindur, Mehendi, etc. The idol is wrapped with red colour cloth and after that mantra's and prayers are performed.
Mahagauri Mantra- ॐ देवी महागौर्यै नमः॥ Om Devi Mahagauryai Namah॥
Mahagauri Prarthana - श्वेते वृषेसमारूढा श्वेताम्बरधरा शुचिः। महागौरी शुभं दद्यान्महादेव प्रमोददा॥ Shwete Vrishesamarudha Shwetambaradhara Shuchih। Mahagauri Shubham Dadyanmahadeva Pramodada॥
In the form of Mahagauri goddess Durga appears affectionate, calm and soft. Devi Mahagauri gives blessings to the devotees, who worship her. It is said that the goddess burns their sins and gives his devotees pure intuition.