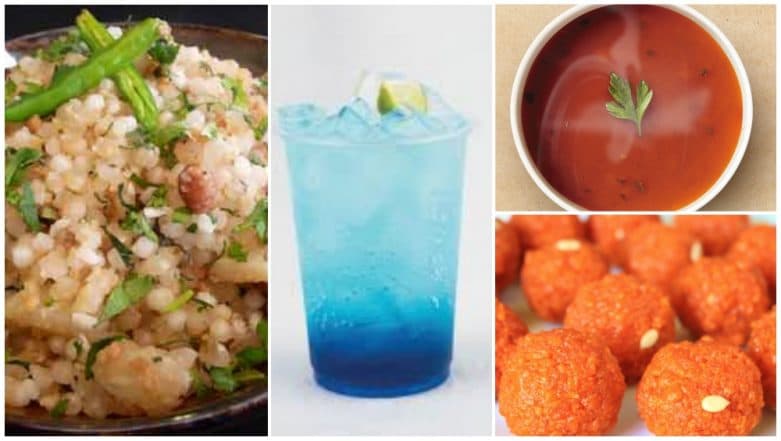 People are busy prepping up for the nine-day Navaratri festival to worship different forms of Goddess Durga. Navaratri 2018 will begin from October 10 and end on Vijayadashmi on October 18. It is not just Navratri alone but its varied forms that are celebrated in different states across the country. And any festival in India has its set of traditions and rituals. For Navratri especially there is a dress code and pattern that is followed by everyone. Attires of nine different colours are worn on each day and special food items are also prepared to mark the festivities. The festival menu may again differ from place to place, but we give you recipes in nine colours to coordinate with each day. Navratri Colours 2018 for Nine Days: List and Images of 9 Colours for Each Date to Wear During Sharad Navaratri Festival.
The festival of Navaratri also sees the worship of not one but nine forms of Goddess Durga, each form depicting a meaning. Thus, according to the day, the saree of the Goddess is also changed and women especially take part in coordinating themselves with all the 9 varied colours. Take a look at recipes based on each colour of the 9-day festival.
Day 1: Royal Blue- Blueberry Ice cream Recipe
The first day of Navaratri 2018 colour is royal blue and to think of something edible that too in blue colour can get difficult, we agree. But you can always opt for blueberry icecreams for a good dessert option. It will not be exactly blue, but no one would say no to blueberry icecreams either.
Day 2: Yellow- Daal fry Recipe
The colour for the second day of Navaratri is Yellow. You can cook simple and yummy daal fry or daal tadka. Made with yellow lentils, it will add a twist to your regular daal with the added spice.
Day 3: Green- Palak Paneer Recipe
The colour of day three is green and coming to green-coloured recipes, you will think of leafy vegetables. Not everyone is fond of palak or methi, but palak paneer is dish loved by the kids to elders alike. You could make a dhaba-style palak paneer, a spicy recipe in a fulfilling meal.
Day 4: Grey- Sabudana Khichdi Recipe
Sabudana Khichdi is a much-loved food for those who are fasting. Several women keep a fast during the nine days. The Sabudana Khichdi is very easy to make and quick fast-friendly option for breakfast as well as a meal. Make sure you soak the sabudana for good hours before you actually plan to cook it.
Day 5: Orange- Motichoor Ladoo Recipe
Motichoor laddoos are a favourite among everyone. They can be a little tedious to make but the sweet ladoos are worth the taste. It can also be served as the Prasad to the Goddess on the last day.
Day 6: White- Sevaiyyan Kheer Recipe
Nothing like a good dessert after a good meal. To coordinate with the colour white, you could make kheer, a sweet rice pudding favoured in almost all households. Kheer is specially made during the festive celebrations so make your Navratri special by cooking sevaiyaan kheer. Depending on your preference you can also make sabudana kheer, rava kheer or plain rice kheer. All these preparations are white in colour with milk as the common base of preparation.
Day 7: Red- Tomato Soup Recipe
Add soups to your meal course with this tomato soup recipe. It is easy to make and will barely take a few minutes to prepare. Give yourself a little break from the regular meal course and add soup to your dinner setting.
Day 8: Sky Blue- Cooler Recipe
If you have guests coming to your house for the day, then the blue curacao cooler will make the best serving, also matching with the colour of the day. A refreshing lemonade with the light flavour, a blue curacao lemonade drink will quench the thirst of the summer.
Day 9: Pink- Pink Rasgulla Recipe
This is one unique recipe which will be loved by one and all. A sweet dessert Rasgulla is more popular in the Eastern states but you could make pink rasgullas at home with the above recipe and stun everyone. It is not very common, thus will impress those who will try it for the first time. Coordinate the day colour pink with this lovely sweet recipe.
We hope these recipes help you to keep up with the colours and the menu for the entire nine days of worship. Which is your favourite recipe among the ones we have stated above? Do let us know in the comments section. Wish you all a feasty and Happy Navratri!