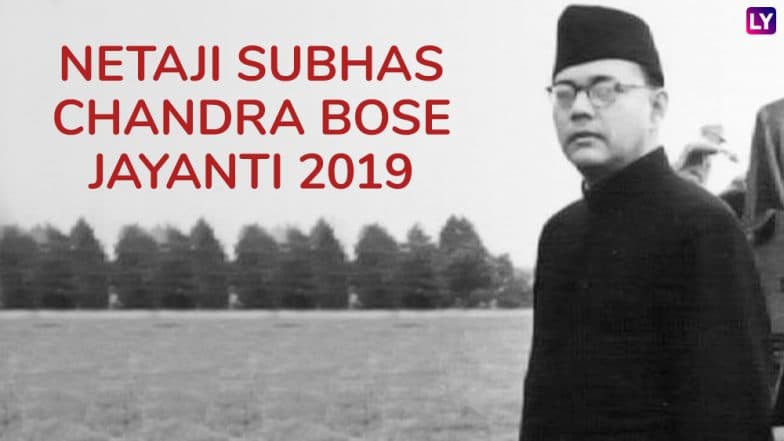 It is the birth anniversary of one of the most celebrated freedom fighters of India, Netaji Subhash Chandra Bose. A charismatic influencer of the youth, Bose's fearless remarks to make India a free nation, still inspire us. Born on January 23, 1897, Subhas Chandra Bose was a great freedom fighter who raised the first Indian National Army (INA), Azad Hind Fauj and initiated an armed coup against the British Empire. He was significantly influenced by Swami Vivekananda's teachings from an early age. It is his 122nd birth anniversary today, and there is no other remarkable way, but to remember his famous quotes that will continue to inspire generations and trigger the patriotism in you. Subhas Chandra Bose Jayanti 2019: Some Interesting Facts About Netaji on His 122nd Birth Anniversary. 
Subhash Chandra Bose studied at Presidency College in Calcutta, but he was expelled in 1916 for nationalist activities. He was from a well-to-do family. His parents sent him to the University of Cambridge in England to prepare for the India Civil Service (ICS) Exam. It was in 1920, when he cleared the ICS examination, but after hearing about the Jallianwala Bagh Massacre, he left his Civil Services traineeship midway to return to India, just the next year, 1921. After returning to the nation, Bose came under the influence of Mahatma Gandhi and joined the Indian National Congress. Subhas Chandra Bose 122nd Birth Anniversary: PM Narendra Modi Pays Tribute to Netaji, to Inaugurate Museums at Red Fort in His Memory. 
During the civil disobedience movement in 1930, he was jailed. After the Gandhi-Irwin pact was signed, Bose was released in 1931. Subhash Chandra Bose was against the Gandhi-Irwin pact and opposed the suspension of Civil Disobedience movement especially after Bhagat Singh, and his associates were hanged. He reportedly disappeared from his house in Kolkata and reached Germany in 1941. Bose sought the cooperation of Germany and Japan against the British empire. In January 1942, Subhash Chandra Bose started his regular broadcasts from Radio Berlin, which stimulated incredible enthusiasm in India.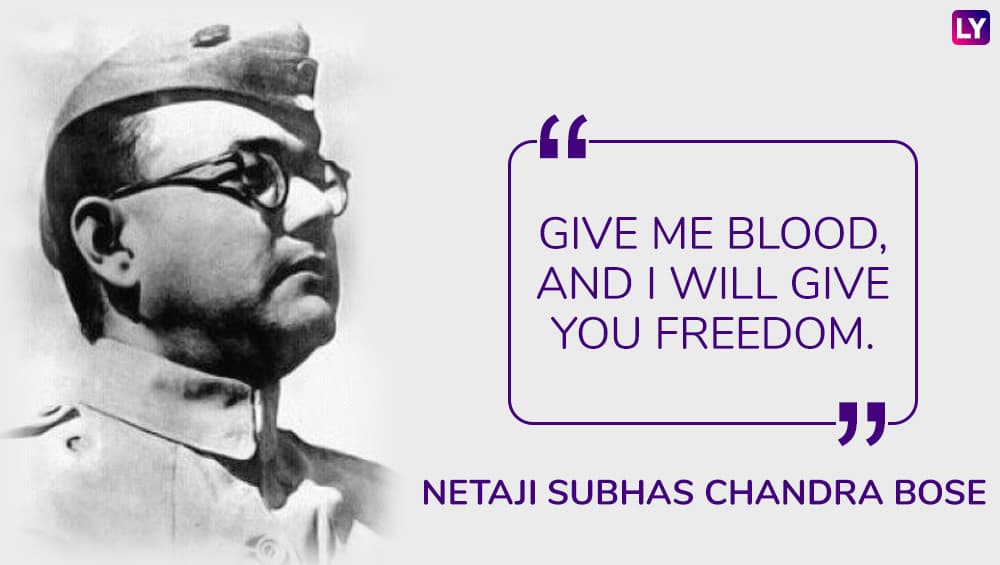 "Give me blood, and I will give you Freedom." Netaji Subhas Chandra Bose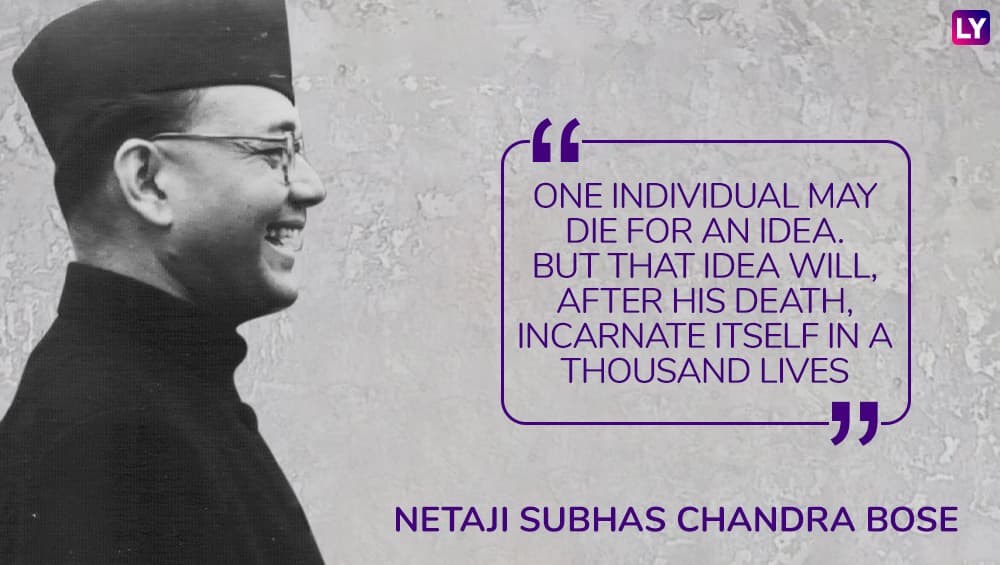 One individual may die for an idea. But that idea will, after his death, incarnate itself in a thousand lives." Netaji Subhas Chandra Bose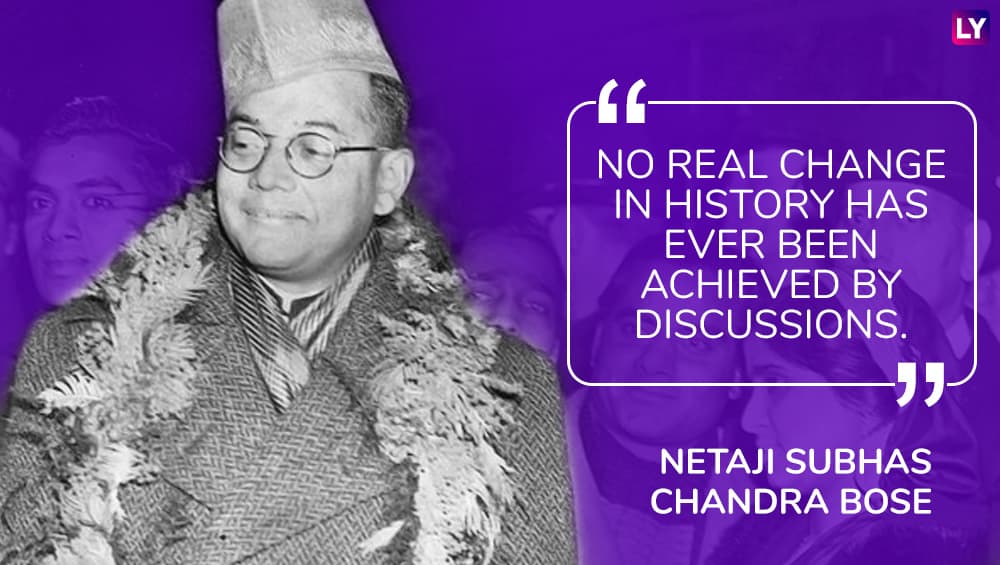 "No real change in history has ever been achieved by discussions." Netaji Subhas Chandra Bose
"Freedom is not given. It is taken." Netaji Subhas Chandra Bose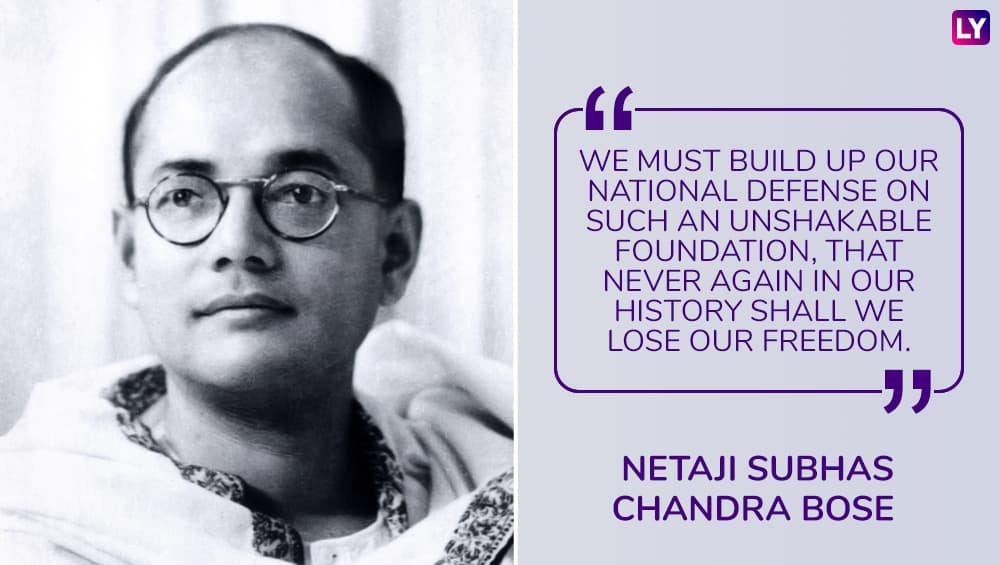 "We must build up our national defense on such an unshakable foundation, that never again in our history shall we lose our freedom." Netaji Subhas Chandra Bose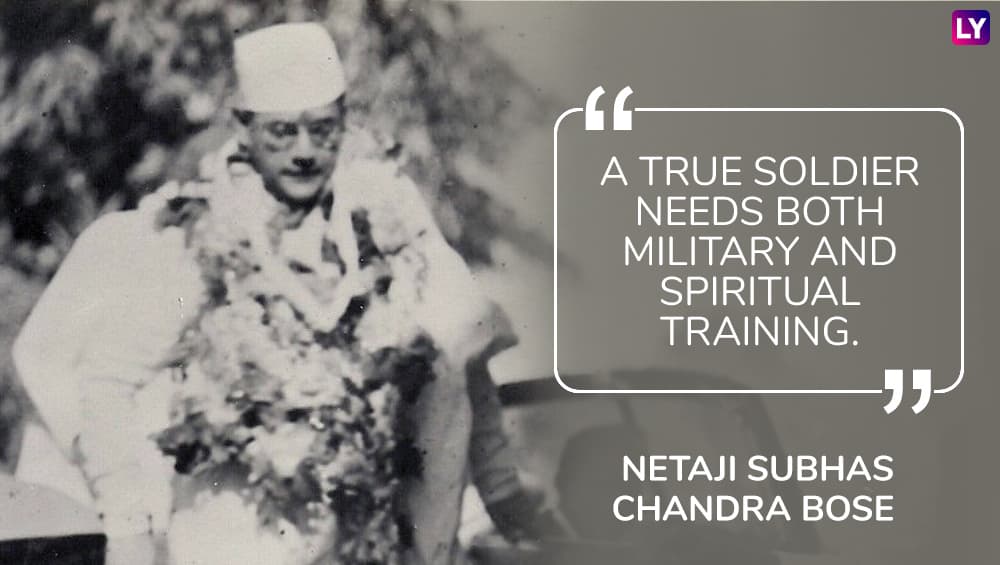 "A true soldier needs both military and spiritual training." Netaji Subhas Chandra Bose
Subhash Chandra Bose was given the honorific 'Netaji' by German and Indian officials in the Special Bureau for Indian in Berlin. He is the creator of the slogan, "Jai Hind," and also the first person to address Mahatma Gandhi as the "Father of the Nation." Netaji Subhas Chandra Bose, reportedly died in Taiwan in 1945, due to a plane crash. However, there have been many conspiracy theories surrounding his death mystery, and his admirers and family members do not really subscribe to the plane crash theory.