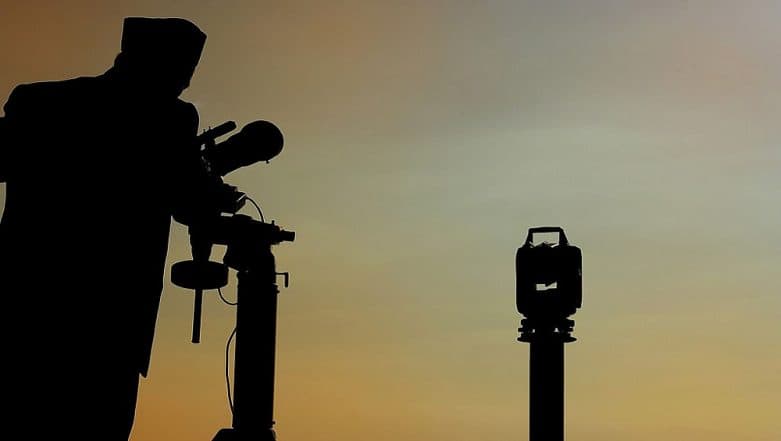 Riyadh, May 4: The Hilal Sighting committee in Saudi Arabia will attempt to look for the crescent moon today, on the 29th date of Shaban. If the moon is sighted, the holy month of Ramadan would commence and the tarawih prayers will begin post Namaz-e-Isha (evening prayers). The live news and updates of Ramadan moon sighting 2019 in KSA could be streamed live via Makkah TV Online, whose embedded link has been provided further below. Catch Live Updates of KSA Crescent Sighting.
If the moon is sighted today, the first roza or fast will be observed in the Kingdom of Saudi Arabia from tomorrow, May 5. If the moon is not sighted today, the holy month of Ramadan will commence post sunset tomorrow, and the first fast would be observed on Monday, May 6.
Ramadan Moon Sighting 2019 in Saudi Arabia Live Streaming on Makkah TV Online: Watch Video Below
Tarawih or the special Ramadan prayers could be streamed live on the above link. The prayers would be held after Isha if the crescent is sighted today.
Most of the Gulf and Africa, along with US, Canada and Europe, are likely to observe Ramadan fasts from tomorrow if an announcement of crescent sighting gets confirmed by the Masjid-al-Haram or the Grand Mecca Mosque today.
In the Indian subcontinent, along with parts of central Asia and Southeast Asia, no attempt would made by the respective Hilal committees to sight the crescent moon, as the entire belt is running a day behind in the lunar calendar. This part of the world usually spots the crescent a day after the world's western hemisphere.