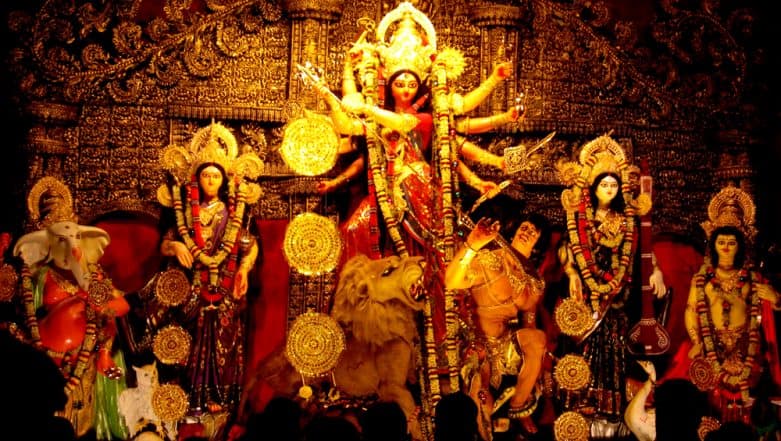 Sharad Navratri is a Hindu festival celebrated in the honour of Goddess Durga.
It is observed on the Pratipada tithi of Ashwin Shukla Paksha which is celebrated during the Gregorian month of September and October. Navratri 2019 will be celebrated from September 29 to October 7. There are four seasonal Navaratri, however, the post-monsoon autumn festival called Sharada Navaratri is celebrated on a large scale. The underlying theme of the festival is the celebration of the victory of the good over evil. And as Navratri 2019 approaches, we have compiled information and schedule of the festival.
Navratra is a festival of nine days in which nine forms of Goddess Durga are worshipped in the given order: Goddess Shailputri, Brahmacharini, Chandraghanta, Kushmandal, Skandmata, Katyayani, Kalratri, Mahagauri and Siddhatri. People observe fast and perform various rituals celebrating the festival. Devotees recite Durga saptashti during the puja ceremony, and a lamp is lighted day and night for all nine days. Durga Puja begins with the ritual of establishing a Kalash.
Navratri  is a Hindu festival in which Goddess Durga is worshipped.

The festival is known as Durga Puja in the eastern and northeastern states, while it is called Navrati is northern and many other parts of India.

The festival is also synonymous with Rama Lila and Dussehra which celebrates the battle and the subsequent victory of God Rama over the demon king Ravana.

In southern states, the festival celebrates the victory of various goddesses in battles are celebrated.

On the final day of the festival, which is called Vijayadashami or Dussehra, statues of demon king Ravana are burnt signifying the victory of God Rama.

In Gujarat, Maharashtra and many other places, folk dances like garbo or dandiya carry a lot of significance.
On the nine days of the festival, devotees pray to the nine incarnations of Goddess Durga. According to Hinduism, the deity symbolises positivity and power which can destroy evil forces. All the nine days are celebrated as per different traditions and rituals in various parts of India. The occasion calls for large scale celebrations, dance events cultural programmes and get-togethers everywhere.