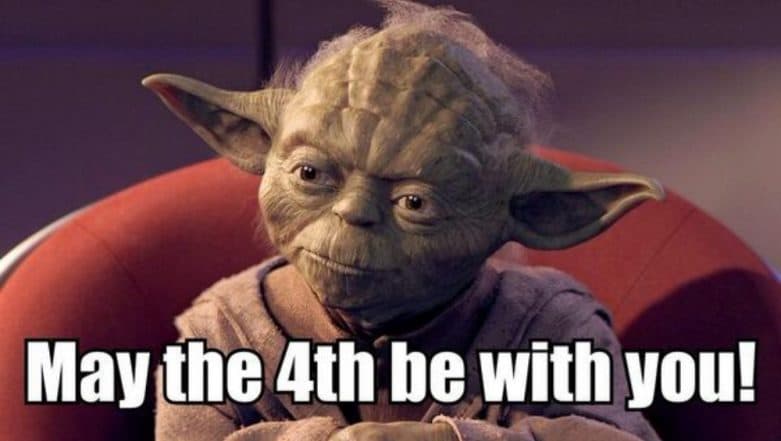 If you are a follower of pop culture phenomenons, you have probably heard of Star Wars day. May 4 is celebrated as Star Wars day. Over the years, it has become a celebratory day for the fans of the franchise but not many know how it all started. Have you heard the term 'May the 4th be with you'? It started off as a pun to the key catchphrase of the film, 'May the force be with you' and soon became a celebration of sorts. It was fans of the franchise set in a galaxy far far away who declared May 4 to be the Star Wars day. Interestingly, the makers did not have anything to do with the formation of a Star Wars Day, although Lucasfilm did realise its importance among fans and have embraced it with true spirit. Peter Mayhew Dies at 74: Best Memes to Remember Our Favourite Chewbacca From 'Star Wars' Films.
Star Wards Days is celebrated like any other festival, fans are often known to host movie marathons of the franchise, there are Star Wars theme/costume parties and of course, the flooding of celebratory messaging over social media. We are sure you're wondering when was it that the Star Wars Day was first celebrated. Let's look at the history of Star Wars day.
History of Star Wars Day:
The first time Star Wars was used as a pop culture reference was back in 1979 on May 4. It happened to be the day, Margaret Thatcher became took office as the first Woman Prime Minister of UK. As a congratulatory message, her party posted an advertisement in the London Evening News writing, "'May the Fourth Be With You, Maggie. Congratulations." This has been recorded as the first instance when 'May the Fourth' was used as a Star Wars reference and ever since, fans of the franchise have taken it ahead and made it into a regularly celebrated day. Star Wars Day 2019: May the Fourth Be With You! 5 Fun Ways to Celebrate May 4
What's the importance of the phrase 'May the Force be with you'?
The catchphrase that gave birth to a day that celebrates the franchise originated in Star Wars: Episode IV A New Hope and has continued to be part of Star Wars stories ever since. The final page of The Adventures of Luke Skywalker, Jedi Knight features the phrase "May the force be with you!" In the films, this phrase is often by characters as they part ways or are about to face an impending challenge.
Fans posting Star Wars Day messages on social media:
Such a pity that #StarWarsDay doesn't fall on a Friday this year - Hope you have a great fourth tomorrow instead! pic.twitter.com/xSO0KfjuqP

— Kay Heald (@KayHealdHR) May 3, 2019
Celebration of Star Wars Day:
The first organized celebration of Star Wars Day took place in Toronto, Ontario, Canada in 2011. Produced by Sean Ward and Alice Quinn, the celebration included an Original Trilogy Trivia Game Show and a costume contest with celebrity judges. Much of the credit for Star Wars Day celebration also goes to Disney. After Disney purchased Lucasfilm in 2012, it has been a marketer's dream what with Star Wars theme parks and merchandise followed by Star Wars themed fireworks becoming a ritual for the Star Wars day.
Star Wars day celebrations with costumes:
Meet a fan and her family who've been making Star Wars costumes, decor, and snacks to celebrate #StarWarsDay for years in today's Fan Spotlight: https://t.co/sJMcMX8evu #MayThe4thBeWithYou pic.twitter.com/oOfuSCWAw5

— Star Wars (@starwars) May 1, 2019
Much of the celebration of this day is also about nostalgia. Fans who have grown up watching the films, like to discuss their favourite moments from the films or even share their favourite Yoda quotes. It also acts as an initiation ceremony for those who haven't been aboard the Star Wars train since the beginning. Many fans are known to invite people who haven't watched the franchise to get blown away by it through movie marathons.
Moreover, the day is also a celebration of George Lucas, who gave the world not only a visual spectacle and immersive characters but also made the film culturally significant through his storytelling. This year, we believe with the unfortunate demise of Peter Mayhew who brought the popular and fan favourite character of Chewbacca to life, social media is expected to be abuzz with best of 'Chewie' moments on the Star Wars Day.