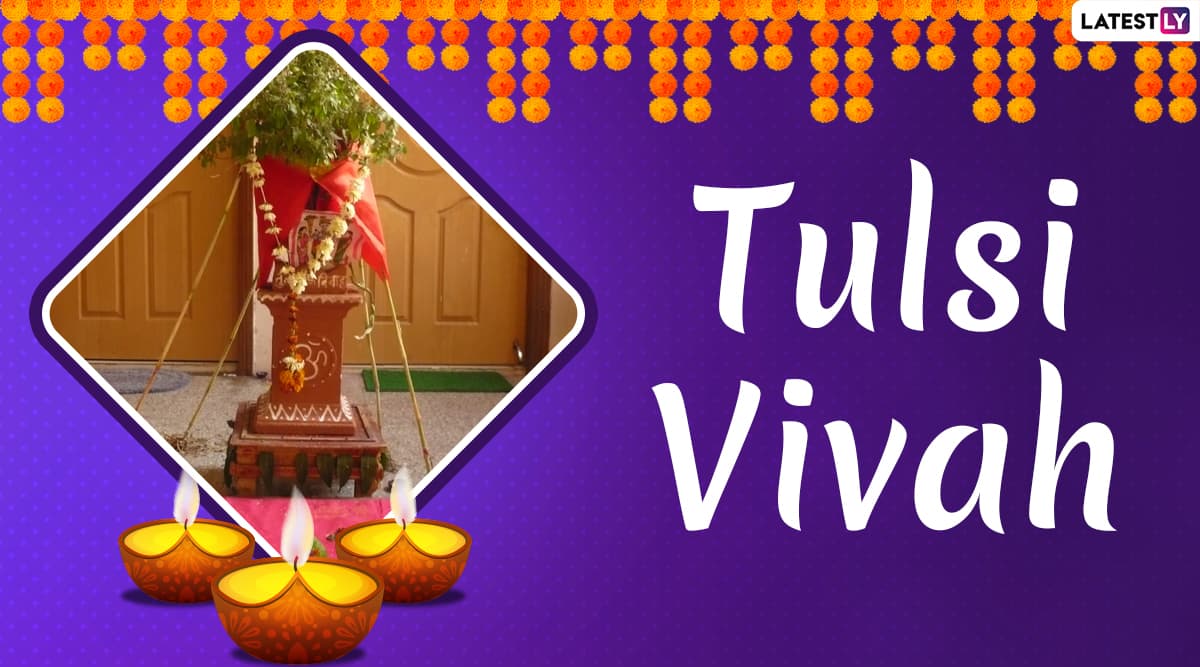 Tulsi Vivah is a ceremonial marriage between Tulsi, holy basil plant to the Hindu God Shaligram or Vishnu or his avatar, Sri Krishna. In Hinduism, the Tulsi Vivah signifies the end of the monsoon and the beginning of the wedding season. The ceremonial festival is performed anytime between Prabodhini Ekadashi which falls during the eleventh and twelfth lunar day of the Karthik month and Karthik Poornima. Also known as Dev Uthani Ekadashi, the observance is based on mythological stories from Hindu scriptures. Tulsi Vivah 2019 will be observed on November 9 this year. 12 Health Benefits of Holy Basil, the Queen of All Herbs That You Should Know.
According to the story behind the practice, Tulsi was originally a woman named Vrinda. She was married to the Asura King Jalandhar who was very powerful and followed evil ways. While he used his powers for the worst, his wife's devotion towards Lord Vishnu made him invincible. Jalandhar held such strong powers that even Lord Vishnu couldn't defeat him. Hence to defeat him,  Lord Vishnu took went to Brinda in the form of her husband and took away her celibacy. Thereafter Lord Shiva killed Asura king Jalandhar.
When Brinda found out the truth, she cursed Lord Vishnu to become a stone named Shaligram and immolated herself on her husband's pyre. Thereafter Lord Vishnu converted her soul into a Tulsi plant and promised to marry her. Keeping his word, Lord Vishnu married Tulsi plant who then came to considered a Goddess.
The Tulsi Vivah Date & Shubh Muhurat Timings in 2019
Sunrise: November 09, 2019 6:40 am
Sunset: November 09, 2019 5:40 pm
Dwadashi Tithi begins on November 08, 2019 12:24 pm and ends on November 09, 2019 2:39 pm
Mantra for Lord Vishnu
' Uttistha Govind Tyaj Nidran Jagatpatye.

Tvayi Supte Jagannath Jagatta Suptam Bhavedidam 4 '

'Utteh Chestte Sarvamuttishottistha Madhava.

Gatamegha Viachaiva Nirmalam Nirmaladisha: 4 '

'Sharadanchi Pushpani Grihaan Mama Keshava.'
Tulsi Vivah is performed on the day when Lord Vishnu wakes up from his four-month-long sleep. It is believed that auspicious work commences from Dev Uthani Ekadashi. The time period is considered auspicious and the commemorative marriage ceremony is held between the Shaligram and Tulsi in a traditional Hindu wedding setting. Devotees wake up early in the morning and take bath. They fast and meditate by chanting the name of Lord Vishnu. People draw the feet of Lord Vishnu in their courtyard and light earthen lamps outside the house. A special sweet dish called Singhara is prepared on this day.