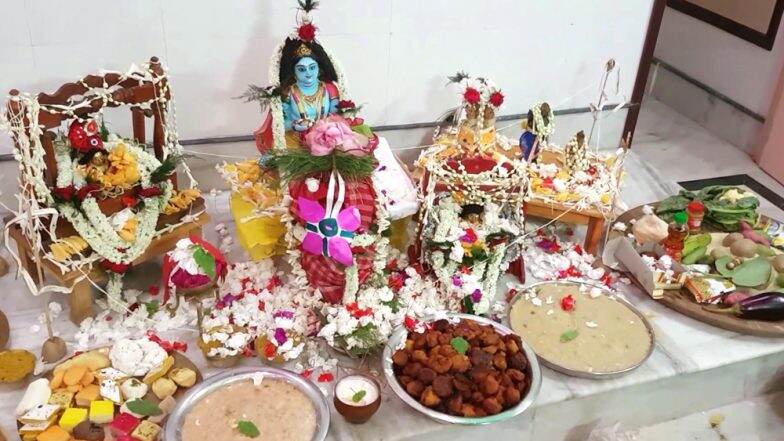 Happy Krishna Janmashtami, everyone! Today on Janmashtami, also known as Gokulashtami Hindus celebrates the birth anniversary of Lord Krishna in India. On this day, the eighth avatar of Vishnu, Lord Krishna was born to Devaki and Vasudeva. He was later raised by foster parents Yashoda and Nanda Baba in Vrindavan. As per Bhagavad Gita, Lord Krishna spent his childhood in Vrindavan where he was popular for two things- stealing maakhan and Raas Leela. Talking about Lord Krisha's fondness for maakhan, on Janmastami, devotees offer the diety sweets made out of milk and maakhan(non-clarified butter) on this day. What is a celebration without good food in India? And when it comes to Krishna Ashtami, binging on sweets is one of the most anticipated parts of the celebration. But before that, here's what you want to know about Krishna Janmashtami 2019 Festival Date, Significance, Gokulashtami Puja Tithi and Celebrations Associated With Lord Krishna's Birthday.
However, buying sweets on this day is not considered to be a great idea. High demands for sweet often leads to sweet shops practising food adulteration and you end up buying low-quality, adulterated sweets. How about preparing your own sweets at home this Janmashtami? It isn't as difficult to make sweets at home as you think it is. However, if you are fasting, here are the types of fasting, vrat or upvas for Gokulashtami and how to fast for Lord Krishna's blessings
Let's check out some popular Janmashtami sweet recipes:
Nariyal Pag
Also known as Panchmewa Bhog or Mewa barfi, Nariyal Pag is said to be one of the most important sweet recipes on Krishna Janmashtami. Coconut and other dry fruits are used to make this sweet.
How to Make Nariyal Pag[Watch Video]:
Five-Minute, No-Cooking Sweet
If you are someone who is too lazy to abide by tedious sweet recipes, here's a hassle-free one for you. This five-minute, no-cooking recipe will give you yummy sweets without much effort.
How to Make Five-Minute, No-Cooking Sweet Recipe[Watch Video]:
Mohanthal
Mohanthal is essentially made by the Gujratis & Rajsthanis as a traditional sweet for Janmashtami. The rich recipe is made out of ghee and gram flour and can be stored for days.
How to Make Mohanthal [Watch Video]:
Chocolate Sweets
Many people do not like the traditional Indian sweet recipes but love chocolates. Here's a fusion recipe for you to try this Gokulashtami.
How to Make Chocolate Sweets [Watch Video]:
Malpua
Another yummy sweet that you might want to try on Janmashtami is the famous Malpua. It is made out of flour and then dipped into the sugar syrup.
How to Make Malpua [Watch Video]:
However, if you are still willing to buy sweets on this day, please buy it from the shops you trust. Look for licensed sweet shops to buy festive sweets to avoid falling prey to food adulteration.