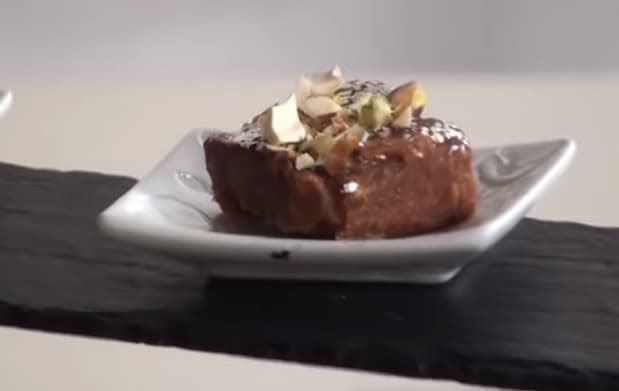 It's Navratri season and people are in a celebratory mood. From pandal hopping to indulging in the best street food, Durga Puja calls for large scale celebrations. Food being an integral part of the celebrations, various dishes other than sweets are prepared during the time. Goddess Durga is worshipped during the nine days of the festival and each day is dedicated to a form of Maa Durga. Each day is associated with a particular colour and devotees dress accordingly. And colour for the eighth day of Navratri is purple which represents the power of the intellect and peace. Goddess Mahagauri is worshipped on this day. People also try to bring in the essence of the colour of the day in other daily items also. You can try to bring in the festive mood by making purple food items like Anjeer (fig) barfi which can also be served as prasad. And here we bring to you the recipe of Anjeer barfi which can be easily prepared at home. Navratri 2019 Colours List for Nine Days: Complete Colour Chart to Celebrate a Sharad Navratri With Dates and Day-Wise Navdurga Puja.
Anjeer barfi is a popular sweet much loved by people. It is quite simple to prepare and is the perfect sweet dish that will bring in the celebratory mood. If you are going healthy this Navratri, you can try making dished out of red cabbage or beetroot. Below is a step-wise recipe to make anjeer barfi.
Ingredients:
Anjeer (Figs) - 1 Cup (200 gms)
Cashew nuts (17-18)
Khus Khus - Tbsp
Ghee - 1 tbsp
Condensed Milk - 1/2 Cup
Cardamom Powder - 1/2 tsp
Steps To Make Anjeer Barfi:
Soak one cup of anjeer for two hours.

Grind the moist figs and make a paste out of it.

Separately, roast khus khus, cashew nuts and powder it.

Take ghee in a non-stick pan and add the anjeer paste to it.

Take milk and mix cardamom powder to it.

Mix it well on low heat and add the mixture of cashew nut powder and mix it properly until it becomes a sticky paste.Put the mixture on a butter paper and spread it evenly.

Sprinkle khus khus over it and roll it into a butter paper.

Refrigerate it for 30 minutes, open the wrap and slice it to small shapes of your choice.
How to Make Anjeer Barfi (Watch Video):
With a higher concentration of vitamins, minerals and antioxidants, anjeer barfi is a healthy snack. While this is one of the simplest ways to make Anjeer Barfi, the sweet can be prepared through various other ways. You can also be creative and try to make the dessert interesting by adding or subtracting ingredients depending on your interests. We wish you a great festive season!