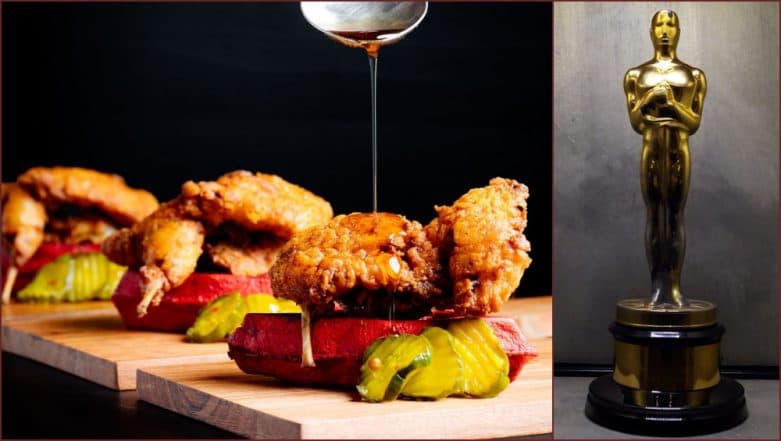 The 91st Academy Awards, commonly called Oscars 2019 will be presented by the Academy of Motion Picture Arts and Sciences (AMPAS) on February 24 (Monday morning in India). In a matter of few hours, winners in 24 categories will be declared. While winning and losing remains part and parcel of the event, no body leaves the event without a big smile thanks to Governors Ball, the official Oscars After Party. And making the post-Oscars celebration a grand success is legendary American-Austrian chef Wolfgang Puck and his famous catering team. For the 25th consecutive year, the 69-year-old master chef will set the stage for Hollywood's biggest night with a menu pairing glamour with innovation. Hint: It includes Nashville-style hot fried quail on a red velvet waffle and the famous chocolate Oscar statuettes covered in 24 karat gold! Oscars 2019 Live Streaming Online in IST: Watch Live Telecast of 91st Academy Awards Red Carpet 5.30 AM Onwards and Main Ceremony 6.30 AM In India.
Chef Puck along with Vice President of Culinary Eric Klein have created more than 60 imaginative dishes, from one-bite hors d'oeuvres to small-plate entrees. There are signature guest favourite dishes such as Smoked Salmon Oscars, Potato and Caviar 2.0, and Winter Truffle Baked Cavatappi and Cheese. And then there are new menu items making a delightful entry such as Heirloom Carrot "Tartare"; Vegan Torchio Pasta with Arugula, Tomato and Caper Berries; Nashville Hot Fried Quail with Red Velvet Waffle; and Loup de Mer with Romesco salsa. There will also be made-to-order sushi and raw bar served atop hand-carved ice. Oscars 2019: Date, Venue, Nominations and Everything You Need To Know About The 91st Academy Awards.
The pastry team of Kamel Guechida, Garry Larduinat and Jason Lemmonier will create a seemingly endless array of three dozen show-stopping desserts including the popular 24K Gold Dusted Chocolate Oscars, Golden Piper Heidsieck Champagne and Strawberry Push-Up Pops, Square Pillow Cake with Coconut Mango and Passion Fruit, Black Forest "Cherry", plus multiple action stations such as Affogato with Housemade Ice Cream and Stumptown Nitro Cold Brew.
Here's what Hollywood biggies from Oscar-nominated films will be eating at 91st Academy Awards Governors Ball:
Savoury Dishes
Amuse Bouche - Crostini of Compressed Watermelon with Citrus Feta Cheese; Crab Deviled Eggs; Avocado Tostadas with Crunch Cabbage and Chipotle Glaze; Crostini with New York Steak, Classic Chimichurri; Spicy Ranch Popcorn; Housemade Potato Chips.
Hors d'Oeuvres - Wild Mushroom Potsticker, Black Truffle Ponzu; Miyazaki Wagyu Beef Tartare on Tapioca Crisp, Togarashi; Mini Taro Root Taco with Miso Glazed Eggplant and Smoked Soy Mushrooms; Heirloom Carrot "Tartare", Pickled Mustard Seed, Horseradish, Sunchoke Bark; Smoked Salmon Oscars Matzo; Miniature Miyazaki Wagyu Burger, Sharp Cheddar, Remoulade; Wolfgang Puck Signature Pizzas; Spicy Tuna Tartare In Sesame Miso Cones; Alaskan King Crab, Crispy Rice Cake, Avocado, Aji Amario-Yuzu Ponzu; Opal Apple "Summer Roll", Cucumber, Shiso, Pomegranate Pearl.
Raw Bar - Spicy Tuna Rolls; California Rolls; Vegetable Rolls; Made To Order Nigiri; Scallop Ceviche, Black Garlic, Satsuma Tangerine Miso, Micro Herbs; Sea Urchin with Eggless Custard, Dashi, Unagi Glaze, Finger Lime; Albacore Tataki, Sweet Onions, Ginger, Momiji Chili, Ponzu; Oysters; Snow Crab Claws; King Crab Legs; Lobster; Shrimp.
Small Plates - Cold: Caramelized Cauliflower, Golden Raisin, Lime, Labneh, Pinenut, Shiso-Za'atar; Frozen Golden Beets, Almond Custard, Meyer Lemon, Ice Lettuce; Snap Peas, Asian Pear, Pomelo Salad, Cacik Cheese, Mint, Walnut; Compressed Persimmon, Cinco Jotas Jamón Ibérico, Burrata, Wild Arugula. Hot: Sunchoke and Fennel Soup, Chips, Truffle Gremolata; Potato and Caviar 2.0; Black Truffle Chicken Pot Pie; Winter Truffle Baked Cavatappi and Cheese; Pea Agnolotti, Black Truffle, Peas Shoot, Parmesan Reggiano Brittle; Miyazaki Wagyu Beef Ny, Carrot Vichy, Spigarello, Yuzu Kotcho Ponzu; Loup De Mer, Calçot Onions, Artichokes, Fennel, Romesco Salsa, Espelette; Nashville Hot Fried Quail, House Made Pickles, Red Velvet Waffle; Torchio Pasta, Arugula, Tomato, Caper Berries, Aleppo Pepper, Black Olive Oil, Basil Flower; Austrian Ricotta Dumpling, Watercress-Pea Pesto, Lemon Brown Butter.
Desserts
Individual & Plated Sweets - 24 Karat Dusted Valrhona Illanka Chocolate Oscars; Ombre Chocolate Dipped Strawberries; Pillow Cake with Coconut Mango and Passion Fruit; Coconut - Chocolate Bar; Yuzu Religieuse; Passion Fruit Cookie with Chocolate Chunks; Chocolate Chip Cookies; Triple Chocolate Chip Cookies; Milk Chocolate and Caramelized Pecan Cookies; Strawberry Cookies; Hazelnut and Almond Brownies; Espresso Macaron; Matcha Cherry Macaron; Hibiscus Orange Pate De Fruit; Piper Heidsieck Golden Champagne Strawberry Push Pop; Mini Wolfgang Puck Dark Chocolate Bars.
Small Plates - Black Forest "Cherry"; Butterscotch Verrine with Dark Chocolate Nest; Tropical Pavlova with Macerated Jackfruit and Dragon Fruit; Strawberry Ginger Cheesecake with Jasmine Gelee.
Lollipops - Passion Fruit Cheesecake; Praline Almond Chocolate; Chocolate Oscars with Strawberry Valrhona Chocolate.
Chocolate Bonbons - Chai Latte; Thai Tea with Young Coconut; Honey Jasmine; Earl Grey Tea Biscuit; Espresso Triple Shot; Praline Roasted Coffee Bean.
Dessert Action Stations - Air Bread "Sea Urchin" with Passion Fruit Caviar; Affogato with Housemade Ice Creams and Stumptown Nitro Cold-Brew.
Vegan Sweets (without gluten) - Hawaiian Superfood Spheres; Red Velvet Whoopie Pies; Cashew Vanilla Tiramisu; Tropical Halo-Halo; Sunflower Raspberry Macaron; Chocolate and Sea Salt Cookies.
Beverages
Rosella: Tequila Don Julio Blanco, white vermouth, fresh lemon juice, simple syrup, Scrappy's Lavender Bitters, Fever Tree Ginger Beer, hibiscus flower, and orange oils.
Ancho Old Fashioned: Tequila Don Julio Reposado, Ancho Reyes Chile Liqueur, Bittered Sling Arabica Coffee Bitters, rich demerara syrup, orange oil mist, orange twist garnish.
Watch Video of Wolfgang Puck's Oscar Worthy Dishes
91st Academy Awards Governors Ball will immediately follow the main Oscars ceremony on Sunday. According to the official Oscars website, a total of 1,500 guests have been invited guests, which include Oscars winners and nominees, show presenters and other telecast participants. More than 900 event staff under Chef Puck's direction will be working to make this evening truly memorable for all the attendees. Academy Award-winning British makeup artist Lois Burwell in the company of event producer Cheryl Cecchetto and Wolfgang Puck are responsible for hosting the Ball, which is an epitome of grandeur and class. The Governors Ball will take place in the Ray Dolby Ballroom on the top level of the Hollywood & Highland Center after the Oscars ceremony concludes at the Dolby Theatre.