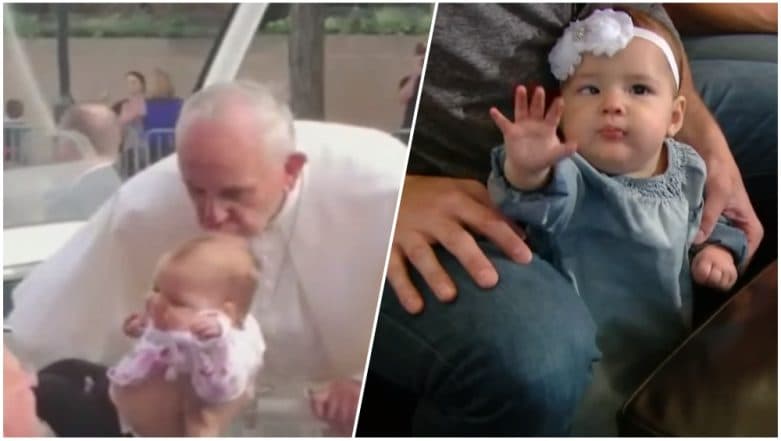 Little Gianna Masciantonio was a one-year-old when Pope Francis planted a kiss on her head during his visit to the US in 2015. At the time, the toddler was battling what her doctors believed was a malignant brain tumour. Weeks after the child was born, her parents, Joe and Kristen Masciantonio, were left shell-shocked after her doctors told them that Gianna's time was running out. But three years later, Gianna has defied her doctor's prognosis and is now preparing to join preschool. In what can be best explained as a miracle, Gianna's cancer turned out to be just a rare blood disorder. Today, her tumour has disappeared, and the Masciantonios are convinced that it was Pope Francis' affectionate kiss on her head that healed her. Read how a pregnant woman wounded in Jammu Army Camp attack delivered a baby
Gianna's Story
According to Daily Mail, when baby Gianna was born in 2015, she seemed healthy by all accounts. However, doctors suspected something was wrong when the child failed her hearing test at four weeks. The doctors discovered a massive brain tumour, which Gianna had survived miraculously at her birth. Given just weeks to live, her grief-stricken parents admitted her to a hospice. The parents who were devout Catholics found solace in their faith while running pillar to post in search of the best treatment for their child. When the news of Pope Francis' visit to the US reached their ears, the Masciantonios went to see him, and they took Gianna along. The Miracle Baby: 900 Gms Newborn was saved after a life-saving heart closure operation in Mumbai
Watch the video:
They went to Market City, Philadelphia where the Pope would make an appearance. They had connections with people in the FBI who pulled some strings and got them a place close to the procession. Without knowing Gianna's backstory, the Pope bent down and kissed the child on her head.
The Miracle
Two months after Pope Francis' visit, the family received the best phone call of their lives and that too on the eve of Christmas. The call was from Ira Dunkel, a specialist from Memorial Sloan Kettering Cancer Center in New York who informed them that Gianna didn't have cancer but Juvenile Xanthogranuloma, a rare blood disorder. After rounds of chemotherapy, the child started recovering and the tumour started shrinking. She started the crawl, pull herself up, walks, eats and talks.
Gianna's mom Kristen's faith has been reinforced. She said that the Pope's kiss is God's way of showing that he's with them on their difficult journey. Gianna is now hale and healthy and will be attending preschool soon.