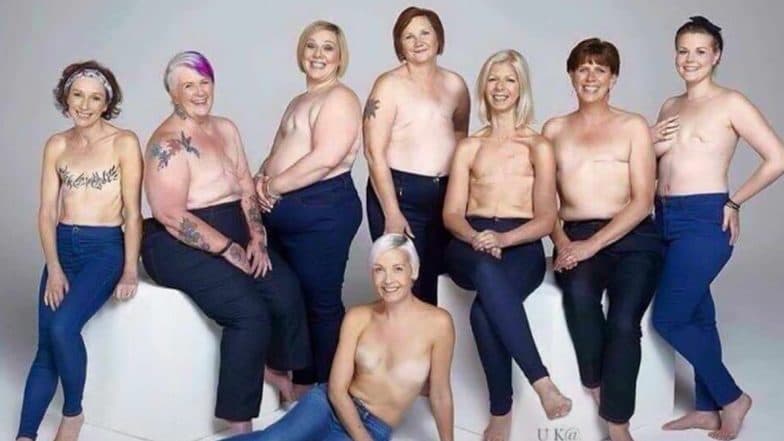 October is observed as International Breast Cancer Awareness Month- an entire month dedicated to the most common form of cancers in women. Today aka October 13 is celebrated as No Bra Day, and as the name may suggest, the day aims at giving freedom from bras to spread awareness about Breast cancer. The annual observance highlights the importance of not restricting your breasts and paying attention to its well-being. Women are encouraged to forgo wearing a bra as a means to promote breast cancer awareness. From Early Signs to Types, All FAQs About Breast Cancer Answered!
Generally, on this day, netizens are encouraged to post pictures and posts about breast cancer and mastectomy using the hashtag #nobraday to promote awareness of breast cancer symptoms. It also encourages others to get screened and take tests to protect themselves. The campaign is international. The month also celebrates The Big Pink as the national fundraising month with Breast Cancer Care. Experts advise checking for any kind of lumps, bumps or any other changes you see on the breast at home. Here's how to check your breasts for lumps.
What is No Bra Day?
As the name suggests, No Bra Day calls for ditching the bra for one day but for creating awareness about breast cancer. The campaign started in 2011 and primarily takes place on social media, where women use the hashtag #nobraday to the campaign to share pictures.  The goal is to reduce the cases of breast cancer by early diagnosis. The day encourages women to carry out self-examinations, screenings and make sure they know the signs of breast cancer. The women who don't want to go braless can take part by wearing something purple for the day.
Why Is No Bra Day Celebrated?
No Bra Day history can be traced back to Toronto, Canada where plastic surgeon Dr Mitchell Brown began the campaign. The event was originally called BRA (Breast Reconstruction Awareness) Day to educate women about their choice for reconstruction when undergoing a mastectomy. For people who don't know, Mastectomy is the removal of the whole breast and there are five different types of mastectomy: "simple", "total", "modified radical", "radical"  and "partial" mastectomy, nipple-sparing mastectomy also is performed in some cases.
People are celebrating the day on Twitter by sharing pictures and posts under #NoBraDay. Check Out some of them:
Most Beautiful Picture
#NoBraDay campaign for breast cancer awareness🙌🙌🙌 The pic below says it all😪😪 😭 pic.twitter.com/CMsqE4eE0B

— Rabee (@Rabindranath081) October 13, 2019
This is Why Awareness Is Important
Take a good look at the skin surrounding the nipple, look at the nipple also

It is called dimpling of the skin, like the skin on an orange or lemon

Sometimes, this is what breast cancer looks like.

Retweet for awareness#NoBraDay#BreastCancerAwarenessMonth pic.twitter.com/ulwNdhOQRH

— Aproko Doctor™ (@aproko_doctor) October 13, 2019
Amazing
I know you probably won't retweet this post because what you're looking for is not in it. True essence of #NoBraDay . Strong women 🙏🏽 pic.twitter.com/IgRT9f8QC5

— MONITORING_SPIRIT (@Sonjoe_Kutuh) October 13, 2019
Here's How to Check Your Breasts For Lumps:
How to check for cancerous lumps in your breasts. #NoBraDay pic.twitter.com/0EGw709oTn

— Sally's Closet (@ClosetSally) October 13, 2019
It is very important to take preventive measures on your own. Getting yourself screened is one way to go. Women must get themselves screened to identify cancers before any symptoms appear. As per WHO, various methods have been evaluated as breast cancer screening tools, including mammography, clinical breast exam and breast self-exam.