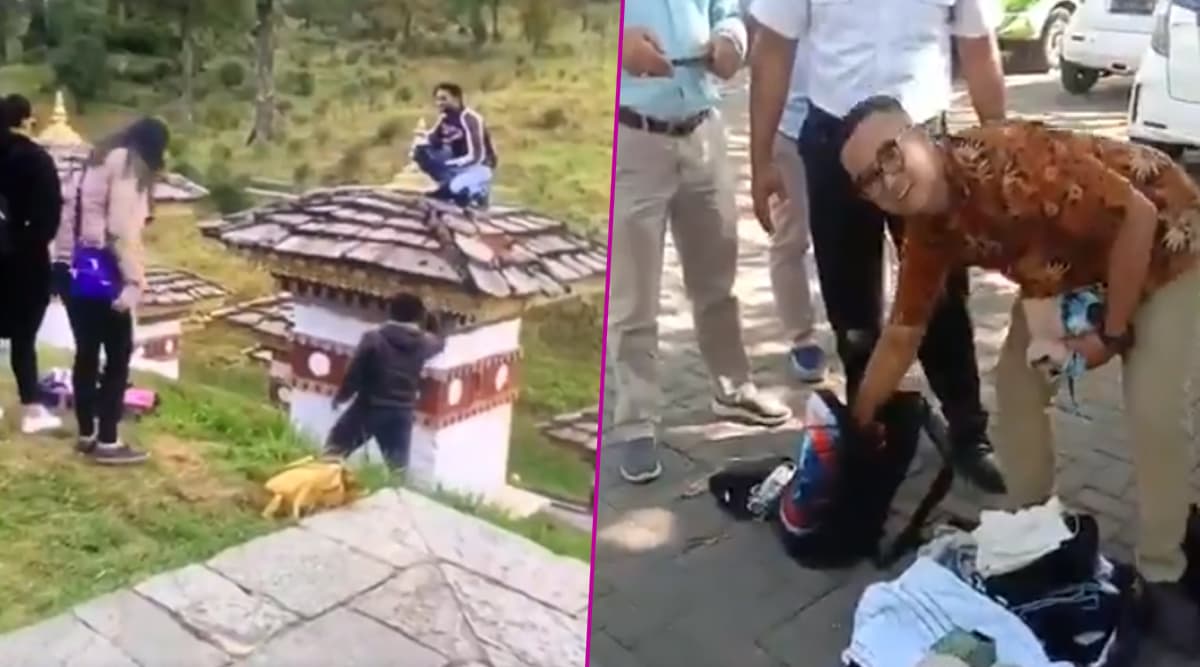 We all love travelling and there are certain rules and mannerisms we should follow while out exploring. The way of travelling may differ from person to person but every tourist is expected to follow basic mannerisms, like no vandalising or causing damage, more so when abroad. But unfortunately, there have been cases where Indian tourists have brought disgrace to the country with their actions abroad or even within the country. Travel Tip Of The Week: 5 Ways in Which You Can be A Responsible Traveller.
The recent example is of an Indian tourist named Abhijit Ratan from Maharashtra who climbed over a sacred monument in Bhutan. A video of him sitting on the religious monument is going viral and netizens are not impressed. We look at other such instances where Indian tourists have brought more shame to the country with such actions.
Indian Biker Climbing Over Monument in Bhutan
Abhijit Ratan from Maharashtra is a biker and in the video, he is seen climbing atop a stupa at Dochula Pass. This place has 108 memorial chortens or stupa-like structures which are built in the memory of Bhutanese soldiers who lost their lives in a military strike. Ratan was on a bike trip with a convoy of 15 other members. A carpenter was working on the repairs of the chorten and thus had a ladder. Ratan climbed over and sat on the chorten. The Bhutanese guide with them was unaware of the incident. Ratan was detained and taken in for questioning. He was eventually let go after he apologised. But a video of his actions was shared online and people are angry.
Watch The Video of Indian Tourist Climbing on Bhutanese Monument Here:
The video of Indian Tourist Abhijit Ratan Hajare from Maharashtra climbing the chorten.

Source: WeChat. pic.twitter.com/MwxzcvjLVl

— The Bhutanese (@thebhutanese) October 18, 2019
Indian Tourists Stealing Stuff From Bali Hotel
An Indian family on a vacation to Bali went overboard with loading freebies from the hotel rooms when they stole towels, electronics, decorative pieces and stuffed in their bags. And while the family apologised for their actions, they even mentioned they were willing to pay for the items! This only made matters worse. A video of them made to empty their suitcases was shared online and Indian netizens were once again not impressed. What Can You Take From Hotel Rooms? Ixigo Shares a Perfect Explanatory Video as Clip of Indian Family Stealing From Bali Hotel Goes Viral.
Check the Video Here:
Why do Indians do this I just can't understand. One shd maintain a certain kind of dignity n class ..What is this #Shame pic.twitter.com/VzmzqmZmVv

— Ginny (@rumilife0612) July 27, 2019
Indian Man Stealing Mangoes From Dubai Airport
An Indian airport staff worker was deported because he stole two mangoes from the baggage of a passenger! The incident had taken place in 2017 when the worker while loading travellers' luggage had stolen two mangoes from a fruit box shipped to India. He later confessed that he was thirsty and thus stole the juicy fruits. He was deported and even had to pay a fine of 5,000 dirhams.
Tourists Vandalising Monument in Hampi
This is not a case from abroad but is still a disgrace anyway. A group of four youths who were in Hampi, broke a historical monument structure while they were clicking pictures. One of the boys just pushed down a pillar at the UNESCO heritage site in Karnataka.
Watch the Video Here:
Local Tourists destroying Stone Pillars in Heritage Site at Hampi, Karnatakahttps://t.co/xkoBTAAMNG pic.twitter.com/mse73jQMRw

— Reddit India (@redditindia) February 1, 2019
These instances are not just shameful but make a bad repute of all Indian tourists visiting abroad. In Switzerland, a hotel Arc-en-Ciel had made a very clear instruction in their information sheet targetting at Indian guests. The note began with "Dear guests from India," and followed up with a list of rules like using cutlery, not being too loud, not stealing etc. As the image had gone viral, the hotel issued an apology for the racist instructions. But it is really a point to wonder for every tourist visiting abroad or even within the country, as to what image are we carrying of ourselves. When we travel as Indians, all we must show and gain is a pride and not bring disgrace.