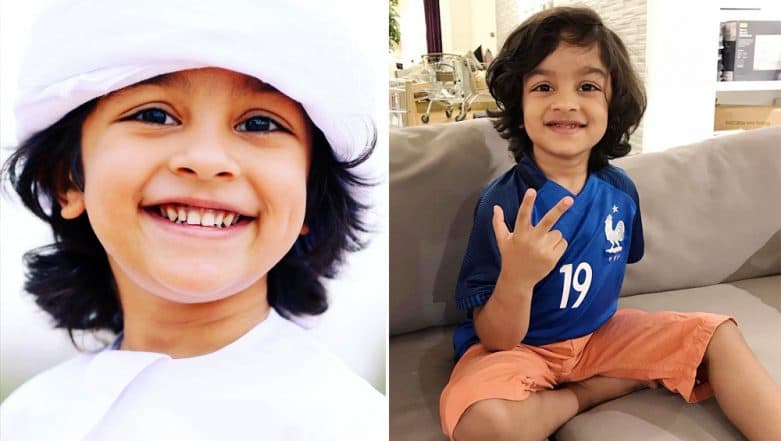 Six-year-old Indian boy Izin Hash who lives with his parents in the UAE is known as Emirati boy. He rose to fame after an array of ads in which he appeared as an Emirati child. As the native to Kerala continues to act in commercials, Izin's parents are glad that their child is being recognised as an Emirati.
The student of International Indian School, Ajman, has featured in over dozens of ads for various known companies. He has also featured in promotions of government agencies like Dubai Tourism, Abu Dhabi Government and Dubai Summer Surprises. The little star has become the face of young Emirati there. Five-Year-Old Rakhim Kurayev From Russia Completes 3,202 Consecutive Press-Ups Breaking Six World Records (Watch Video)
The Malayalee has also worked with popular brands like Warner Bros, Liverpool, Du, Standard Chartered Bank, Ikea, Centrepoint, Home Centre, Jaquar World, Nissan Patrol, Total, Pediasure, Red Tag. Reportedly, Izin's parents saw his inclination towards acting when he started posing for the camera at the age of two. When he was only three, a video of him crying for father's phone went viral on social media. Five-Year-Old Mia Aflalo's Beautiful Hair Makes Her an Instagram Star and Lands Her a Place in British Vogue! (View Pics)
Izin shooting for an ad:
View this post on Instagram
Posing for a photo shoot:
View this post on Instagram
Gulf News quoted Hash Javed, Izin's father as saying, "We are so grateful to the UAE, its rulers and the Emirati community for everything that we are enjoying here, especially in Izin's case." He also said, "Initially, we took him for photoshoots with my friends. Later, I registered him with some professional ad agencies, who call us when they find him apt for a shoot; mostly, it's for Emirati child roles." Izin also played the lead role in a movie which has been nominated among the finalists for Happiness Movie Award.