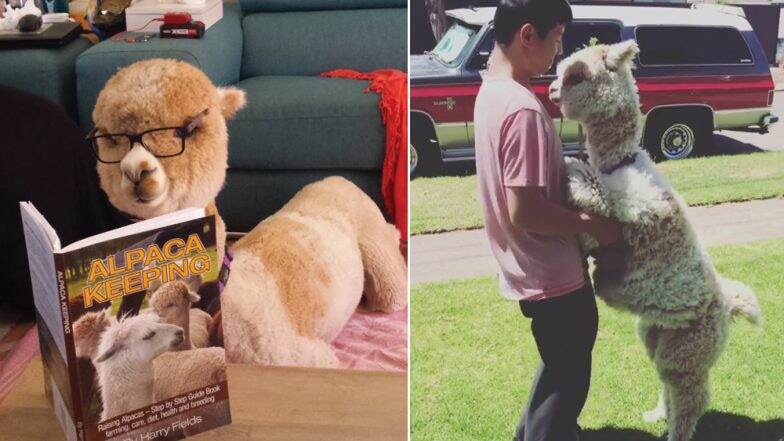 The alpaca is a South American camelid. These animals are grazed and their fiber and wool are used to make warm clothes. Blankets, scarves, hats, sweaters and gloves are more commonly made from Alpaca's woollen coat. A native to South America, these farm bred animals are not seen too often and photo sharing application Instagram has featured one adorable alpaca in their weekly feature called the #WeeklyFluff. Alfie, the alpaca is from Adelaide and already an Instagram celebrity with more than 1,34,000 followers. It was adopted by a family after it saved from a slaughterhouse. Instagram Bear Stepan Poses With Beautiful Women! Viral Pictures Are Un-Bear-Bly Cute.
Alfie's fur was not up to the mark and thus its coat was called undesirable to be used anytime. It thus escaped from an alpaca's mandatory trip to the butcher and has become the luckiest alcapa's with his owner Jeff taking good care of him. "Alfie's fur isn't desired for fleece as it's multicoloured. If unwanted alpaca's aren't adopted within two years end up going to the butcher, so when I found Alfie, I rescued him from that fate," Jeff was quoted to an online report. And Alfie has pretty well adjusted to modern life and even enjoys walking TV in the house. Instagram's Weekend Hashtag Project is All About Capturing Love, Check Some Romantic Heart-y Pictures!
Check Alfie, the Alpaca's Video Featured for Instagram's Weekly Fluff
Alfie, the alpaca is like any other naughty pet. He enjoys eating all rose bushes in the garden and throws tantrums when Jeff tries to stop him. He enjoys taking his daily walks, car rides and even dances around. He is indeed a cute animal to have a pet.
Alfie Is a Keen Reader
View this post on Instagram
Alfie on His Car Ride
View this post on Instagram
Alpaca dancing 
View this post on Instagram
That Smile Tho!
View this post on Instagram
Alfie's Instagram account is sure a delight to go through. It documents his daily life too well and if you want a daily dose of fluff then this alpaca will sure help you with its cute and adorable pictures and videos.