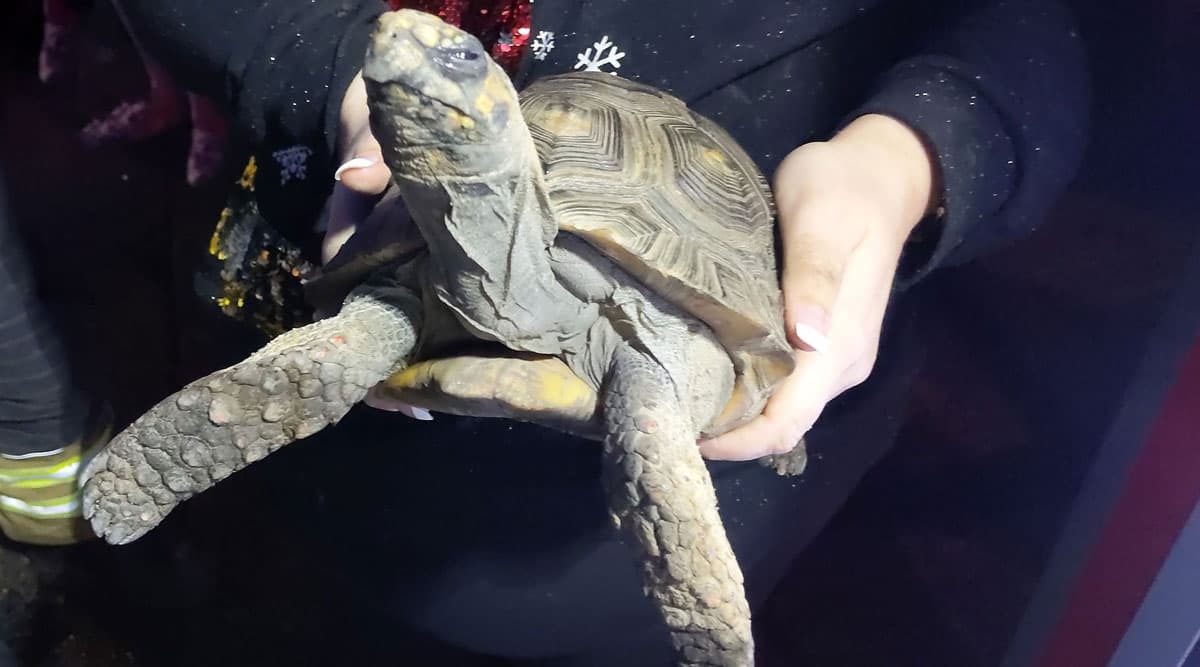 Tortoises look so quiet and calm but a certain tortoise from a home in Essex, England probably wasn't too happy with the cheer of festivals around him. A grouchy-looking tortoise accidentally started a small fire at a house by knocking off a heat lamp on the bedding. The Essex County Fire and Rescue Service came and rescued the 45-year-old reptile. They posted a picture of him on social media and netizens are amused with his angry expressions. The incident took place on Christmas day. Dog Starts Fire at Home in England Town by Turning on Microwave!
According to the fire rescue officials, the tortoise was not even thrilled when the firefighters brought him out, saving him from the blaze. He had knocked off a heating lamp which set his bedding on fire. Thankfully the smoke alarm buzzed, which is when the neighbours alerted the authorities. Officials said that while they extinguished the fire in one room of the house, the entire home was filled in smoke. The crew managed to get the situation under control and found this tortoise covered in soot inside the room. The Essex Fire Service  department have shared its picture on their social media accounts and called it a 'lucky day' for the tortoise. Tortoises Wearing Crochet Sweaters Go Viral on Instagram! Here Are Pictures to Warm Your Heart This Winter.
Check Picture of Tortoise Rescued From Fire:
This 45 year old tortoise might look angry but it's his lucky day. After he set his bedding alight his neighbour heard the smoke alarm and called us. Our on-call crews left their families to go extinguish the fire and gave him a very merry Christmas ➡️ https://t.co/xkk3QsXwGT pic.twitter.com/L3v8fFlu0p

— Essex Fire Service (@ECFRS) December 25, 2019
While most people thanked the heroes for saving the life of the tortoise, others were amused with the 'angry' look of the tortoise. Check how some netizens reacted.
Totally!
— Christopher Rivera (@lethargicnerd) December 27, 2019
Who Gave Him a Lighter
Which damn fool gave the tortoise a lighter? Do they know nothing?

— 🌨️ B12 Days of Simon (@B12Simon) December 25, 2019
That Face Though
That face pic.twitter.com/R8l5Do9dFv

— Clappers (@Neenawweewa) December 26, 2019
He's Not Sorry
He doesn't look very sorry at all. https://t.co/OjsKBHpBJ4

— Karen DaltonBeninato (@kbeninato) December 27, 2019
Face of a Villain
The face of a villain if I've ever seen one. https://t.co/QgtkmWzi2C

— NamiSwaannn (@Nammiiieeee) December 27, 2019
"This tortoise has had a very lucky Christmas Day -- he is 45 years young and will now hopefully continue to live a long and happy life thanks to working smoke alarms," Manager Gary Wain of the Great Dunmow Fire Station Wain told to BBC. The tortoise is too grumpy probably not enjoying the festive cheer. But the incident also highlights the importance of smoke alarms at home. Had the help not arrived in time, it could have turned into a major fire.