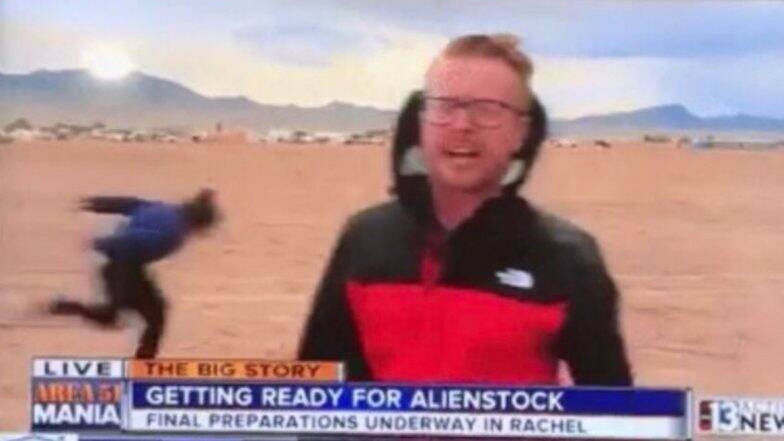 Americans' fascination with extraterrestrial life is simply alluring. While until now, for the youth it was restricted to movies, comics and TV shows, social media is helping them explore more on the subject (or rather not). The hype created by a Facebook event behind Area 51 resulted in people flocking Rachel in Nevada, the US on Friday for Alienstock. Reporters were also among the thousands that drove to the scarcely populated town. And one of the videos from the event going viral on social media shows a guy Naruto-running behind a reporter on live TV. The clip has gone viral with internet users laughing at how people have taken the whole scene a little too seriously. Funny Area 51 Memes and Jokes: While 809K People Sign Up for 'Storming' Area 51, Hilarious Jokes Take Over Social Media.
Naruto-run refers to the way a Japanese animation where the main character, Naruto Uzumaki runs flinging his arms behind him. It all started in June 2019 after a 21-year-old named Matty Roberts from Bakersfield in California created a Facebook event titled Storm Area 51, They Can't Stop All of Us. While it started off as a joke, it made people want to raid the United States' government facility on September 20. Storm Area 51 Event Training Video Goes Viral, Funny Clip Shows People Practicing How to Rescue Aliens. 
The original Facebook Area 51 event description reads, "We will all meet up at the Area 51 Alien Center tourist attraction and coordinate our entry." It further states, "If we Naruto run, we can move faster than their bullets. Let's see them, aliens."  While it started as an event to storm the gates of Area 51, we are glad Rachel witnessed a peaceful gathering of people with foil masks holding alien toys.  'Storm Area 51' Raid to Search Aliens! Facebook Event Invites Everyone to Search for Extra-Terrestrials in Nevada on September 20.
Video of Man Naruto-Running Behind Reporter At Area 51:
RT masumilovebot: we live in such a great times we can witness a dude Naruto running his way to area 51 now folks im not usually sentimental but that shit's beautiful #Area51storm pic.twitter.com/76UBACwTcQ

— Frida Caceres (@FridaCmendoza) September 20, 2019
BTW, That's Naruto-Running:
Close Enough, Right?
And as the video went viral, Twitterati couldn't stop laughing at the guy's dedication.
Check Out Some of The Twitter Reactions Below:
My faith in humanity has been restored, that was glorious.

— PeskyPhlamingo (@PPhlamingo) September 20, 2019
Oh, Yes!
Timmy has been practicing his Naruto run for the Area 51 raid pic.twitter.com/6GGZN5Vlp8

— Butch Hartman (@realhartman) September 20, 2019
He Ran For All of Us!
The hero we need but don't deserve

— Ja to the cobo (@Whogivesonemate) September 21, 2019
Hush! The Aliens Are Listening
If we Naruto run we can move faster than their bullets. 🔥🔥#Area51storm pic.twitter.com/RnmlifIKyW

— My love💕 (@Fadel__010) September 20, 2019
HAHAHAHA, True!
what a nice day to be alive🙂

— 𝕙𝕠𝕓𝕚 𝕝𝕚𝕝 𝕤𝕦𝕟𝕤𝕙𝕚𝕟𝕖💫#feelspecial (@cultcalledkpop) September 20, 2019
Let's Clap For Him
Kudos for the superb balance!

— Nathan Rohde (@rohde_nathan) September 20, 2019
That's What We All Want To Believe
Beautiful form, I bet he made it all the way through

— Chad Boulanger (@0Chad) September 20, 2019
However, as the popularity of the event grew, the US Air Force had to intervene by issuing a warning to anyone who may actually show up at the training range. Following which, Matty, the creator of the event said that it was intended to be a viral joke and that he scared that the Federal Bureau of Investigation (FBI) would show up at his door. Facebook had also taken down the event from the social media platform claiming that it was a 'violation of community standards'. However, many continue to believe that Area 51, the highly classified the United States Air Force facility in Nevada have aliens.